If you're looking for a classic place to live in Clark County, take a closer look at 11522 Morning Grove Drive in Las Vegas, Nevada. This single-family residence is an elegant estate located in the city's leading master-planned community, where you can enjoy everything the City of Las Vegas has to offer its most affluent residents all year round. For the luxury buyer who is in the market for a home that offers the opportunity to lead a country club lifestyle, you'll feel right at home once you invest in a prime piece of property on the western side of Summerlin.
These 10 must-see features at 11522 Morning Grove Drive in Las Vegas are a great place to start when getting to know this elaborate estate and finding your dream home in southern Nevada.
1. The Location
The location is one of the most appealing aspects of this million dollar mansion, as it's situated on the western periphery of the City of Las Vegas and the valley as a whole. Because you'll have easy access to the Bruce Woodbury Beltway, Summerlin Parkway and more while living in Summerlin, this home will open up the city to your family. You'll have the chance to experience the world class attractions in and around the Las Vegas Strip, while you'll also get to take in the natural beauty that surrounds this urban center. Given that this home is also near Red Rock Canyon and the Spring Mountains, you'll be getting the best of both worlds after buying a new luxury property in Sin City this year.
2. The Community
In addition to taking advantage of the convenient location at 11522 Morning Grove Drive, you'll be able to make the most of living within Summerlin in southern Nevada. This wealthy master-planned community is considered to be one of the best places to live in the country, while it's ranked as the top spot to settle down and raise a family in Las Vegas. With everything you need to live a life of luxury right outside your door, you'll be living the good life in no time once you become a part of this affluent residential community. Summerlin also stretches across 22,500 acres of premium desert landscape, letting you enjoy a range of activities reserved for the elite in the Las Vegas Valley.
3. The Amenities
One of the perks of belonging to an exclusive community like Summerlin is the host of amenities you'll have both at home and in the neighborhood while living in Sin City. As the amenities are one of the 10 must-see features at 11522 Morning Grove Drive in Las Vegas, you'll need to come by the home in person to experience them for yourself. The sprawling courtyard welcomes you and your family to this grand estate, while the luxury finishes inside the home help you picture yourself living the good life at home. Once you've seen features like the 4-car attached garage and more during your time visiting the home, you'll be ready to prepare your offer and make this home your own.
4. The Space
Because the immense size of this high-end home in Las Vegas offers plenty of room for amenities, you'll have more than enough space for your friends and family at home. The 6 bedrooms and 6 bathrooms stretch across a total of 5,555 square feet, where you'll find a range of cozy living spaces that have been painted and carpeted recently. If you want to know where you and your spouse can spend your time at 11522 Morning Grove Drive, the vast master suite offers a resort-like atmosphere where you can kick back and relax. You can make use of the enormous walk-in closet and spa-like master bathroom in this huge bedroom, while the rest of your family can enjoy the other oversized bedrooms.
5. The Rooms
The luxurious master suite isn't the only living space where you can pamper your loved ones at home, as this place is complete with a range of comfortable rooms for your family. Whether you're looking to spend quality time together in the expansive formal dining room or family room, you'll have plenty of spots to enjoy each other's company. You'll find a bedroom downstairs as well as a separate den, which can serve as comfortable guest quarters if you're planning to have visitors while living in Las Vegas. Alongside these versatile shared spaces, the functional office, game room and more are also part of the 10 must-see features at 11522 Morning Grove Drive in Las Vegas.
6. The Kitchen
When you're ready to learn more about the convenient living areas in and around this high class estate, you should set aside time to appreciate the enormous kitchen. The large center island and top-of-the-line stainless steel appliances are some of the most attractive features in this room, while the rich granite counters also give it a nice touch. If you're searching for a home where you can take care of your friends and family every day and entertain guests on occasion, 11522 Morning Grove Drive is the ideal place. You can cook up a storm in this impressive kitchen for both your loved ones and your guests and then either enjoy the meal inside or outside your high-end Las Vegas estate.
7. The Backyard
The emphasis on outdoor luxury living in Las Vegas homes ensures that this estate's backyard will take your breath away, especially if you love to entertain friends and family. Given that this enchanting outdoor space is one of the 10 must-see features at 11522 Morning Grove Drive in Las Vegas, you'll fall in love with the backyard at first sight. You'll be investing in a sizeable golf course lot when you buy this home for sale, and then you'll get to spend endless days and nights using its many outdoor amenities. With a resort-style pool, spa and palapa decorating this ample yard, you'll have enough space to spend time outside with your loved ones all year long under the gorgeous desert sky.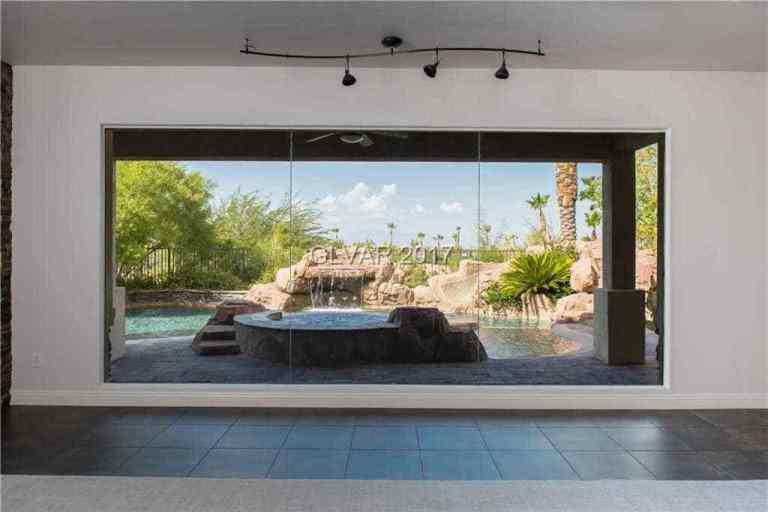 8. The Views
Whether you're spending time in your spacious backyard or you're staying inside your elegant home, you'll experience amazing views while at 11522 Morning Grove Drive. This prime location ensures you'll get to look out over the golf course throughout your property, which is one of the perks of belonging to this upscale country club community. Alongside these one-of-a-kind golf course views, you'll also get to take in the Mojave Desert's natural beauty every time you gaze toward the encircling mountain range. The panoramic views of the golf courses and mountains make living in the Las Vegas Valley a treat, as you can wake up and go to sleep with this beautiful background every day.
9. The Golf Courses
You'll get the chance to look out over the golf course at any time of day while living in this custom estate, while you'll also have to play golf close to home. Whether or not you're an avid golfer, you can enjoy the option to catch a round of golf at both of the pristine courses located near this exquisite single-family residence in Las Vegas. The Arroyo Golf Club and the Red Rock Country Club are only a short walk away from this address, so you and your loved ones can head over to these attractions anytime. With Arnold Palmer's lush greenery near your place, you'll see why these two golf courses are one of the 10 must-see features at 11522 Morning Grove Drive in Las Vegas.
10. The Country Club
For the days when you want to spend time with friends and family under the warm desert sun, you can head to the Red Rock Country Club near 11522 Morning Grove Drive. This destination is a great place to play a few rounds of golf by your country club home, while it's also a hotspot for things to do with your loved ones in the Las Vegas Valley. Given that the Red Rock Country Club is located only a quick walk from this residence, you can pop down to the club anytime to go to the gym, grab a bite to eat and more. You'll find amenities like tennis courts and spas at this location, which lets you bask in the comfort of living in Las Vegas both while you're at home and when you're at the club this season.
These 10 must-see features at 11522 Morning Grove Drive in Las Vegas are an excellent place to start when learning more about this amazing house on the western rim of Summerlin. With every amenity at your fingertips while at home and out and about in the community, you and your loved ones will be living in comfort once you take the plunge and move into this place. This address is ready to be occupied and it's going for an affordable price, so take the next steps toward making this single-family residence before someone else makes an offer.
If you have any questions about this available home on the western side of Las Vegas, please don't hesitate to
contact me
and make an appointment to receive a private tour of the property today.