If you're looking for a majestic estate in Clark County,
2201 Paiute Meadows Drive
is a one-of-a-kind home for sale in Las Vegas, Nevada. This single-family residence is ideal for an elite buyer who is looking to spend a few million dollars on his or her next house in the Silver State. Whether you're drawn to this upscale property based on its location, amenities or more, it's a great find in Sin City's booming luxury real estate market.
You can explore these 10 reasons to fall in love with 2201 Paiute Meadows Drive in Las Vegas when you're ready to take the next steps toward finding your dream home and settling down in Summerlin, Nevada.
1. The Location
One of the home's main selling points, especially if you're in the market for a convenient place to live, is the location on the western periphery of Las Vegas. Given that this estate is nestled right off of the I-95 freeway and the Summerlin Parkway, you'll have easy access to the entire City of Las Vegas once you invest in this accessible home. This gem in the Summerlin community, which was built in 2005, has been around for over ten years, making it great home at an even more exceptional price if you're hoping to snag a deal. Because you'll be close to high-end shopping, gourmet dining and more in this part of the city, you'll have everything you need to live comfortably in the Las Vegas Valley.
2. The Neighborhood
In addition to being situated near some of the most accessible motorways in the city, 2201 Paiute Meadows Drive is also in one of the best master-planned communities. Summerlin, Nevada is the go-to place for the elite in Las Vegas, as this gate-guarded neighborhood is home to a range of amenities designed for living the good life. When you're ready to experience this exclusive community and its many perks for yourself, you can get to know Mountain Trails, where you'll find this multi-million dollar mansion. The signature way of life in Summerlin is enough to make any Sin City resident swoon, so start picturing yourself living a life of luxury in this affluent 22,500-are community now.
3. The Space
The luxury living in Summerlin starts with each upscale home in this celebrated community, where you'll enjoy an assortment of lush living areas both inside and outside. With 8,422 square feet at your family's disposal, you'll come to find that the space is one of the 10 reasons to fall in love with 2201 Paiute Meadows Drive in Las Vegas. This home has a selection of 6 bedrooms and 9 bathrooms with features like the extraordinary master suite, which includes closets and a grand master bathroom. Alongside this impressive room, which also includes an office that can double as a gym, you'll be pleased to discover comfortable living spaces for all of your loved ones too.
4. The Finishes
Throughout every spacious room in this sprawling mansion, you'll get to enjoy stunning finishes that make this home a beautiful, classy place to live in Las Vegas. You'll be greeted with a spectacular entry way with a stunning double staircase upon entering this home, which you can explore further to learn more about its smart, stylish construction. While you're making your way through this exquisite property, you'll come across the elegant formal living room, which includes both a 25-foot ceiling and floor-to-ceiling windows. This breathtaking living room is merely one aspect of 2201 Paiute Meadows Drive you'll fall for, as it's an all-around outstanding example of a home finished well.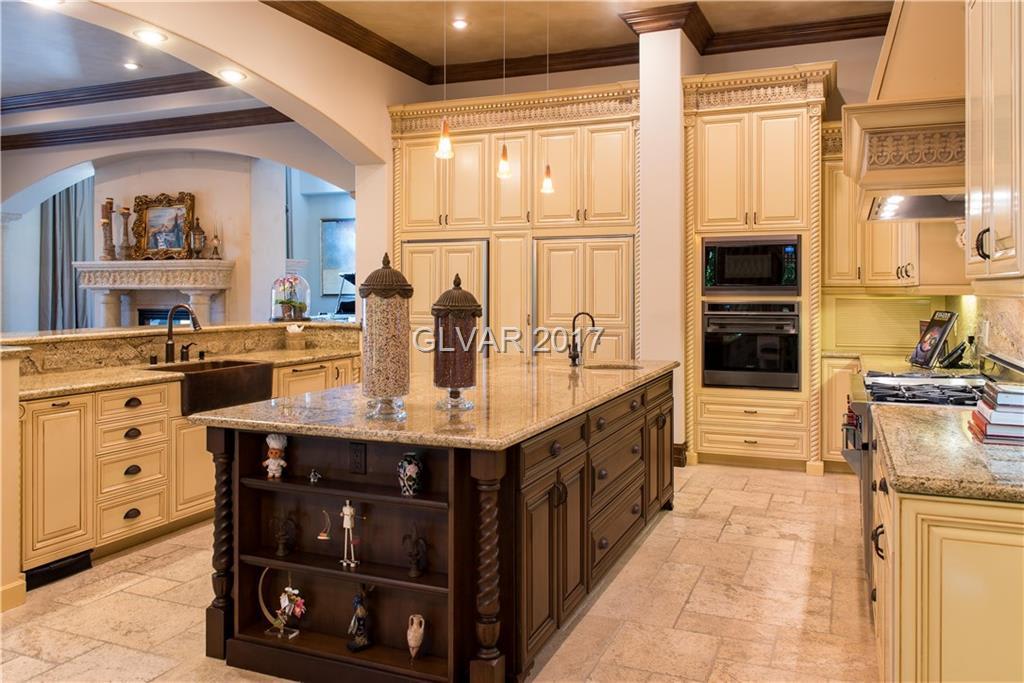 5. The Kitchen
Another one of the 10 reasons to fall in love with 2201 Paiute Meadows Drive in Las Vegas is the kitchen, especially if you plan to host friends and family while at home. With an enormous kitchen featuring two large islands, you'll be able to fit your entire family in one room while taking advantage of features like the tremendous counter space. The Wolf and Sub-Zero appliances also make great additions to this shared space, as you can cook every meal in style using these state-of-the-art household appliances. Whether or not you're planning to spend your time entertaining at your estate in Las Vegas, the kitchen is a great addition to the convenience of living in this modern Nevada estate.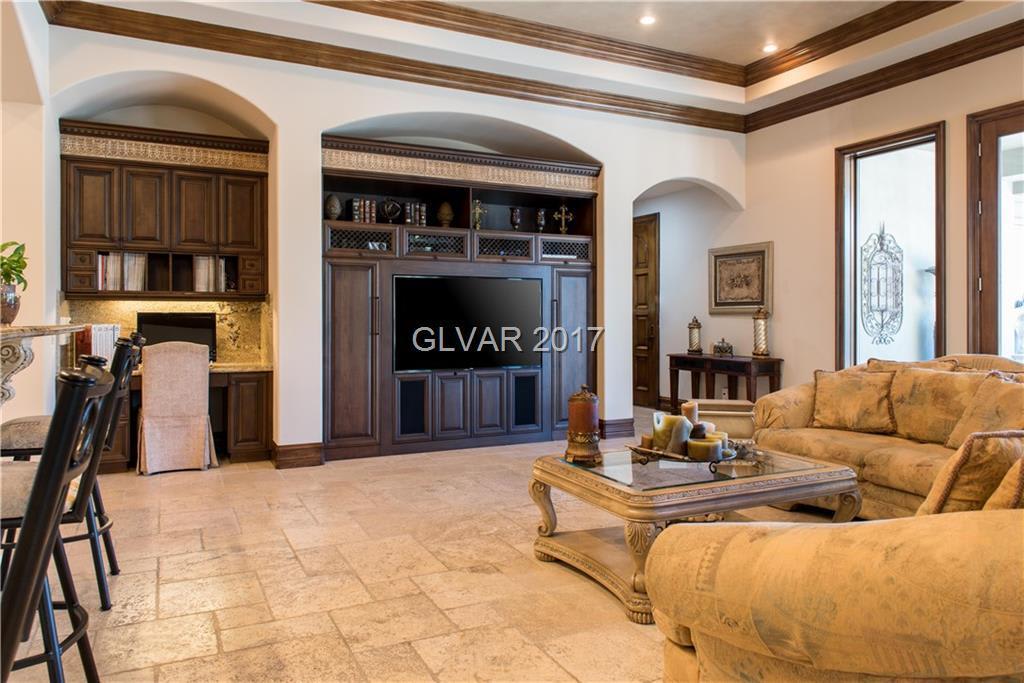 6. The Family Rooms
2201 Paiute Meadows Drive was designed with spending time with friends and family in mind, so you'll also appreciate features like the large family room and more. In addition to the spacious kitchen and formal dining room, this house has perks like the game room, which you and your loved ones can use all year round in southern Nevada. You can spend your downtime hanging out in the media room, while you also have the option to enjoy some peace and quiet in the secondary master suite downstairs. Because this elegant room is being used as a library currently, it's a great place to lay low whether you're spending time alone or bonding with your loved ones while at home in Las Vegas.
7. The Lot
Given that the lot is also one of the 10 reasons to fall in love with 2201 Paiute Meadows Drive in Las Vegas, you'll be spending time inside and outside. This home is located on a cul-de-sac lot that offers over half an acre of the street corner, so you'll have access to everything you could possibly want outside your Las Vegas estate. Alongside the fully-detached guest house, which is great for entertaining and housing guests, you can make use of the large covered cabana when the weather is warm. You'll also get to use the wood burning fireplace when the air gets colder, which makes this home a great place to spend time in the great outdoors all year long in southern Nevada.
8. The Views
The views are some of the most sought after features in Las Vegas luxury homes, and this estate is no exception with its large windows, balconies and more. If you're hoping to live in a place where you can soak in dazzling views of the Las Vegas Strip, 2201 Paiute Meadows Drive makes appreciating the beauty of Las Vegas easy with its keen design. You can go out on one of the balconies or cuddle up in the crow's nest den on the third floor to kick back and relax with the city's sparkling skyline stretching toward the horizon. Because this home is built with Red Rock Canyon and the Spring Mountains in the background, you can also bask in the stunning natural landscape in southern Nevada.
9. The Amenities
When you're looking for more than 10 reasons to fall in love with 2201 Paiute Meadows Drive in Las Vegas, get to know the amenities throughout the property. You can spend time relaxing in the massive game room with your loved ones, while you can also transform this cozy space into a movie theater to entertain your friends and family. For the days when you want to pursue a more active lifestyle, you can run around with your kids in and around the half-court basketball while shooting some hoops. This home is also equipped with features like an elevator, wine cellar, and four-car garage, so you'll have access to the daily necessities that help the elite live comfortably in Las Vegas.
10. The Schools
2201 Paiute Meadows Drive is a smart real estate investment for a buyer who is looking to settle down and raise a family in one of the best places to live in America. In addition to living in a family friendly neighborhood with things to do with your loved ones year-round, you'll be living in close proximity to some of the best schools in Las Vegas. Your children, whether they're about to start school or finish it, will feel at home in Summerlin, and they'll benefit from attending the area's most notable institutions. With the community containing some of the best neighborhoods in the Clark County School District, you'll find the right fit for each member of your family in this part of the city.
These 10 reasons to fall in love with 2201 Paiute Meadows Drive in Las Vegas is a great place to start when you're in the market for a high-end home in the heart of Summerlin. With access to top-notch amenities in your house, throughout the neighborhood and around the city, you'll be living the good life with your family once you make this smart real estate investment. A home of this magnitude offers its residents the very best of luxury living in Las Vegas, where you can cater to your family, friends and more while at home all year long. Once you're ready to live a life of luxury with your family in the Las Vegas Valley, take a close look at this property to learn more about the signature way of life for the rich and the famous on the western rim of Sin City.
I would be happy to answer any questions you may have about this impressive estate, so please don't hesitate to
contact me
and set up a tour to view this property privately today.