With year-round sunshine, beautiful landscape and a location in America's entertainment capital, what would be better than enjoying a challenging round of golf with your favorite friends? Whether you're looking to strike your next business deal or want to spend a relaxing afternoon on the greens, Las Vegas offers a wealth of exceptional golf courses to choose from.
From local hideaways to sprawling resort-style courses, you'll find the perfect location for your next round here in Las Vegas.
Las Vegas Golf Courses You Must Play
Here's our list of some of the top golf courses in Las Vegas.


Bear's Best
Bear's Best Las Vegas is a unique golf experience that brings together 18 of Jack Nicklaus' favorite holes into one Las Vegas golf course. Nicklaus and his design team scoured photos and plans from hundreds of holes from many of his most notable golf course designs around the world to come up with these 18 holes, saying after the process that it just might have been more challenging to organize the existing 18 than to create all new holes. But by borrowing from the past to shape the future of Vegas golf, the end result is a must playing experience that stands alone.
Shadow Creek
Ranked as one of Golf Magazine's top 100 courses you can play, Shadow Creek is considered one of the nation's best. Located just 15 minutes north of the strip, this Tom Fazio designed course is known for its breathtaking beauty. Every hole at Shadow Creek speaks for itself with its towering waterfalls and lush gardens. As a registered guest of an MGM Resort International destination, you're given access to this great course and all its amenities. It will be a true golfing experience and one to be remembered.
Cascata
Cascata is also ranked in Golf Magazine's top 100 courses you can play. The par-72 course provides panoramic views of the mountains including 3,600 foot peak at Red Mountain, lush greenery, lakes and streams. When you golf at Cascata, you're also given access to the 37,000 square foot Tuscan-style clubhouse which offers a luxury on its own. Complete with attentive and friendly staff members to Class A PGA professionals, you know you'll be take care of in this private and exquisite club.
Coyote Springs
Located just 55 minutes off the Strip, this Jack Nicklaus designed course is a must-play in Las Vegas. Since its opening in 2008, Coyote Springs boast regal mountain range views and beautiful views of the sky. This par-72 course has one of the largest and most diverse practice facilities in the world and measures 19 beautiful acres. The practice facility features more than 100,000 square feet of tee area including chipping and bunker practice areas. Coyote Springs is considered to be one of Nicklaus' best creations.
Las Vegas Paiute, Wolf Course
Drive just 25 minutes northwest of the Las Vegas Strip, you will find this international golf destination offering three challenging championship golf courses. Sculpted by the talented Pete Dye, these courses are spectacular and offer stunning views. The Wolf Course continues to lead the pack when it comes to Las Vegas courses as one of the most challenging course you will face. As the longest one in Nevada, the Wolf Course offers a total of 7, 604 yards with a par-72 layout. With varying tee options, this course offers a unique challenge to any player level. The Wolf Course is recognized for its outstanding design and steep slope changes sure to test your skill level.
Rio Secco
Featuring perfect greens and a back nine through the desert canyons, Rio Secco is the place to play. Located just 25 minutes south of downtown Las Vegas, Rio Secco Golf Club is also home to the number one golf instructor, Butch Harmon and the world famous, T-Mates. Designed and built in 1997, Rees Jones provides you with 7,400 yards of difficult playing targeted at testing your skills. If you want a truly memorable golfing experience, head over to Rio Secco and test your game on this 18-hole championship course.
Wynn Las Vegas
Designed by Tom Fazio and Steve Wynn, the Wynn Golf Club offers its patrons 18-holes of rolling greens and white-sand bunkers. The Wynn Golf Club is the only golf course attached to a resort on the Strip and offers complimentary clubs if you are unable to bring your own. This course was designed with the southern states of South Carolina and Georgia in mind and their rolling hills.
Royal Links
The Royal Links Golf Club was built and designed to honor the history and tradition of golf. Royal Links is perhaps the most distinctive courses with 18 holes that pay homage to holes that can be found on British Open courses, all designed by Pete Dye. Throughout the course you will find monuments that mark special moments that have taken place in British Open history. Royal Links Golf Club has been recognized as the "Best Course in Las Vegas" in the 2006 Review Journal "Best of Vegas" poll and also recognized as one of "America's Best Courses" by GolfWeek. Don't miss the opportunity to play this famous course while enjoying the beauty of Las Vegas.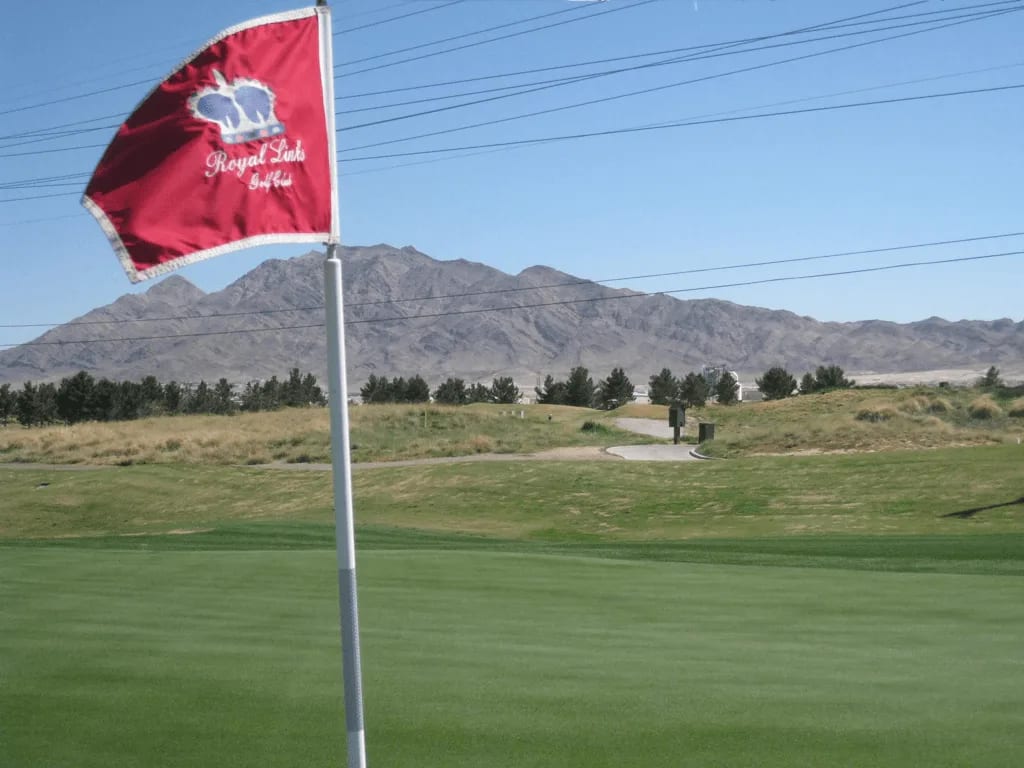 Need More Info on Golf Courses or Golf Course Homes in Las Vegas?
With more than 50 golf courses available in Las Vegas within close proximity to the Strip, there truly is an endless variety of playing for every type of golfer. Don't leave Las Vegas without playing one of these great courses and take home a memorable golfing experience.
If you're looking to relocate or explore this wonderful city, give me a call and let's find you some great real estate to invest in. With my experience and knowledge of the local market, I can help guide you to
premier areas
that boast the lifestyle you are seeking.