If your dream is to live in a luxurious mansion, then 1 Awbrey Court will make your wish come true. The impressive home rests atop an elevated lot in the esteemed Anthem Country Club in Las Vegas, so you can enjoy this premier estate while taking in the neighborhood's beauty. Because this place has been renovated inside and out with quality materials from around the world, you'll have to pinch yourself to make sure you're not dreaming once you call this place home.
These ten things to love about 1 Awbrey Court are just the beginning. Contact us to view this exquisite property and you'll feel right at home in no time.
1. The Neighborhood
The neighborhood is one thing you'll love about this prime property. The Anthem Country Club offers fine dining and fitness amenities, such as restaurants, golf, and tennis. Its spectacular views of the mountains and The Strip provide a gorgeous backdrop for enjoying one of the best luxury home communities in Las Vegas.
2. The Rooms
The rooms are a second thing you'll adore about this brilliant find. With the home's seven bedrooms and their en-suite bathroom, high ceilings, and open floor plan, you'll have a range of ways to relish in the 10,313 square feet of living space. You can continue to stretch out in one of the huge family rooms, formal living rooms, and elegant dining rooms.
3. The Pool and Spa
The pool and spa are a third thing you'll appreciate about this hidden gem. With the private, in-ground pool and its corresponding spa area, you'll be able to pamper yourself in the comfort of your own home. They take advantage of the built-in barbeque and covered patio for quality time spent with friends and family.
4. The Gym
The gym is a fourth aspect you'll lust over when it comes to this great steal. With the extravagant workout room, which pairs well with the wellness loft, you'll maintain your physical fitness in pure luxury. There is enough space for a variety of exercise machines, weights, and other health-related accessories.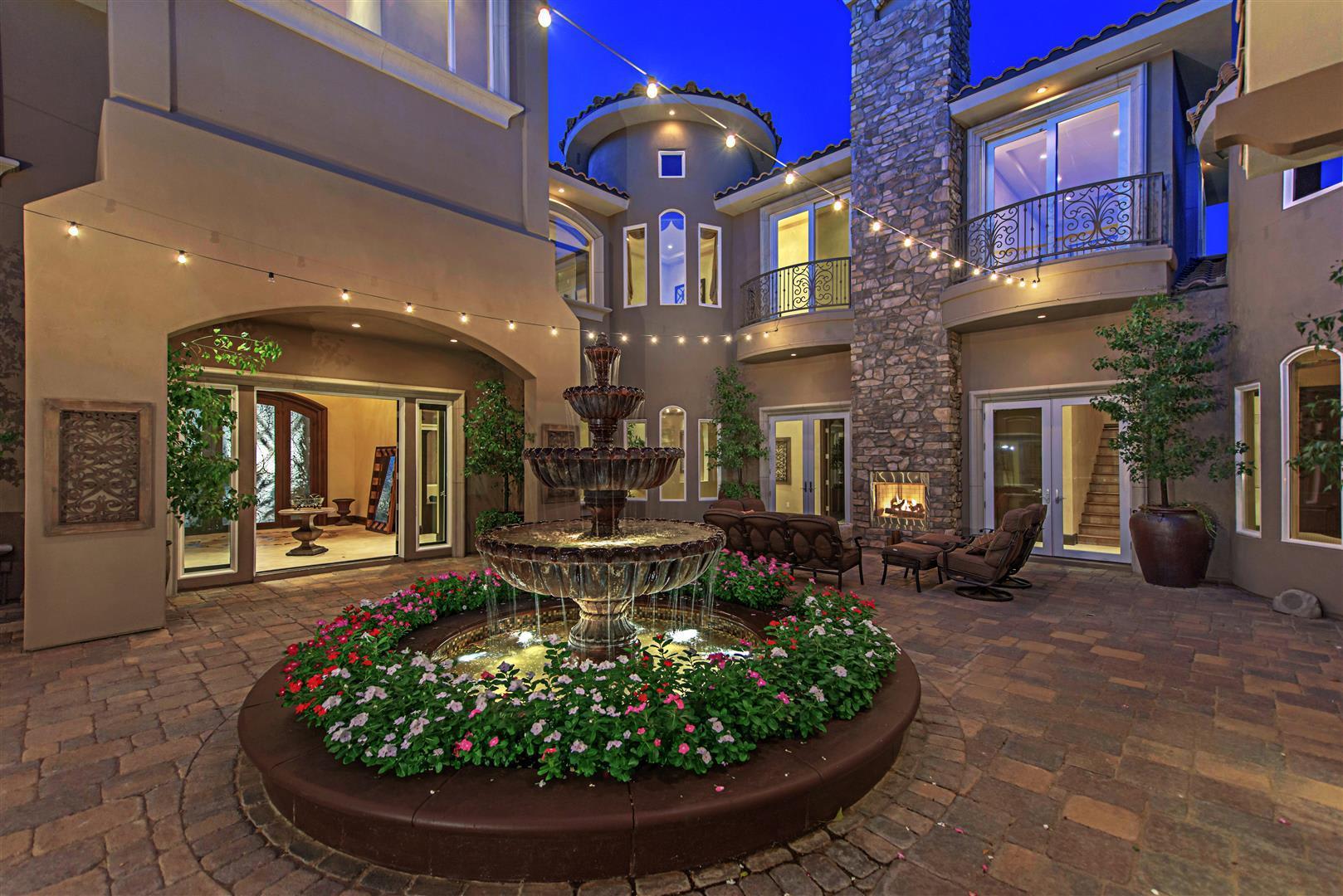 5. The Central Courtyard
The central courtyard is a fifth thing you'll grow fond of in this Sin City palace. The serene fountain and snug fireplace nestled alongside the mature landscaping create a delicate and welcoming atmosphere. Undoubtedly, the grand central courtyard will be one of the ten things you'll quickly love about 1 Awbrey Court.
6. The Movie Theater
The movie theater is the sixth thing you'll cherish about this valuable treasure. With its twelve large, comfortable seats, state-of-the-art projector, and warm, cozy vibe, you'll have the capacity to entertain a dozen friends and family at a time without leaving your home.
7. The Office
The office is the seventh thing you'll adore about this sophisticated abode. Its wide floor plan, sleek flat surfaces, and extensive storage areas provide room for whatever you need. Whether you install a large desk, additional workspace, or an array of personal belongings, this room is perfect for work or play.
8. The Attached Garage
The attached garage is the eighth thing you'll admire about this striking building. With its space for four cars and automatic door openers as well as the shelves and other storage areas, you'll have space to store your both cars and personal belongings. Additionally, it provides easy access to the house.
9. The Master Suites
The master suites are the ninth element to love about this amazing architecture. With its two huge master suites, you'll have one suite upstairs and one downstairs available to use however you like.
10. The Kitchen
The kitchen is the tenth and final thing you'll drool over in this luxury home. With its enormous floor space, double built-in oven, and cooktop, you'll have the amenities you need to cook anything you can imagine. Enjoy using top-of-the-line appliances while you're at it.
With stunning open space both inside and out, you won't have trouble adjusting to this magnificent home's spacious rooms on its half-acre lot. These amenities and others will ensure that you're living like a king in a residence that's finished to the highest level.
If you're looking to learn more about this listing or the Anthem Country Club, please don't hesitate to contact me. I'm only a phone call away when you're ready to take the next steps toward finding more than ten things to love about 1 Awbrey Court.