If you're looking for an immaculate place to live in Clark County, take a closer look at
2990 American River Lane in Las Vegas
, Nevada. This exquisite single-family residence is a great option if you're looking to spend over a million dollars on a home that was constructed in the 2000s. Because this luxurious estate has housed Sin City's elite for over a decade, it's a stellar location in the Las Vegas Valley and a great way to experience life in the 89135 zip code.
You can take the next steps towards finding your dream home in the Mojave Desert by discovering the 10 things to take your breath away at 2990 American River Lane in Las Vegas now.
1. The Community
Summerlin, Nevada has been deemed one of the best places to live in the United States, making it an appealing spot to put down your roots on the western rim of Las Vegas. When you're looking for your ticket to living a life of luxury in Sin City, investing in one of the high-end homes in Summerlin is a smart way to establish yourself in society. This affluent master-planned community will open doors for you and your family members, as you'll get to interact with the city's wealthiest residents every day. For the buyer who is looking to live life to the fullest in the Las Vegas Valley, Summerlin is the place to go if you want to live in the comfort like other members of the elite in Nevada.
2. The Neighborhood
Once you've started looking at luxury real estate in Summerlin, you can hone in on Willow Creek to narrow down your search for a top-notch home in the desert. This neighborhood is one of the top guard-gated communities in Las Vegas, as it's home to a host of upscale estates that cater to the elite on the western periphery of the city. Because you'll have easy access to everything Summerlin has to offer its residents, you'll feel right at home surrounded by the very best of Las Vegas at 2990 American River Lane. Your address has the ability to enahnce your lifestyle while living in Sin City, so make sure you choose the right home and residential community for your loved ones.
3. The Age
Willow Creek is a sought after community in Las Vegas as a result of its location although it's also known for its custom properties, which have been around for years. Given that this estate's age is one of the 10 things to take your breath away at 2990 American River Lane in Las Vegas, it's become an attractive place to live over time. This property was built as a custom home in 2001, and it's undergone a number of remodeling projects throughout the years to develop its classic yet chic style. As this place underwent a head-to-toe renovation recently, hundreds of thousands of dollars have already been spent to keep this Summerlin gem updated with a modern design.
4. The Space
Because every home improvement project in the past decade and a half has made this house one-of-a-kind, you'll have a great time exploring its custom living spaces. This 5,268-square-foot home includes 4 bedrooms and 5 bathrooms, which have been remodeled recently to reflect the changing landscape of contemporary desert homes. With living areas like the vast master suite, which entails a spa-like master bathroom and a huge walk-in closet, you'll feel right at home with your spouse in this luxury estate. 2990 American River Lane has room for the whole family, while you can also arrange some living spaces to cater to guests from in the city or out of town all year round.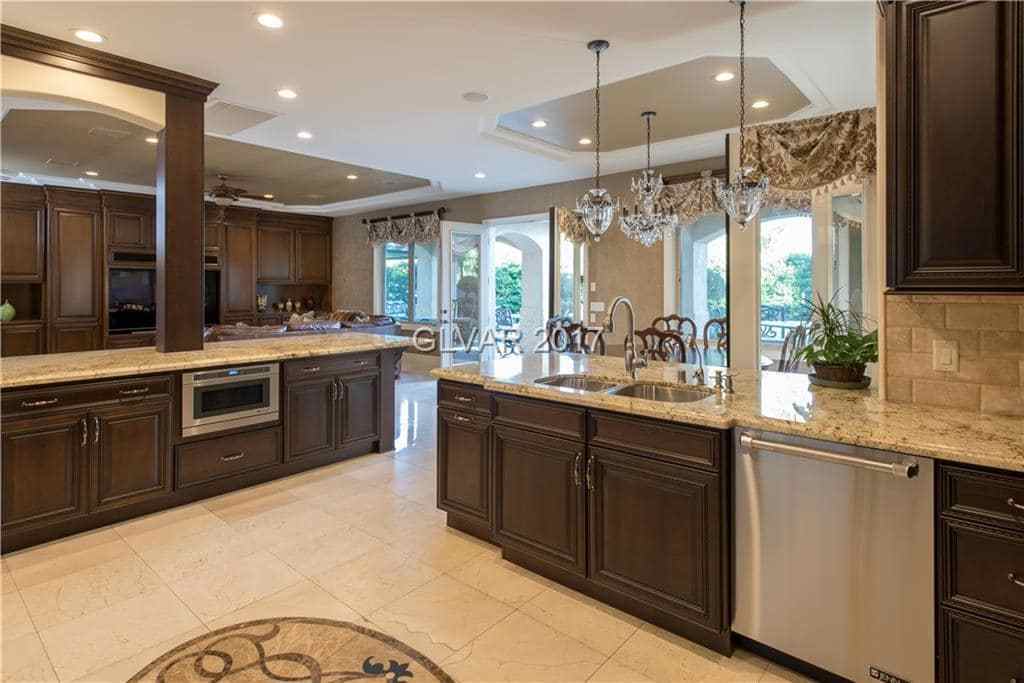 5. The Kitchen
The huge kitchen is another one of the 10 things to take your breath away at 2990 American River Lane in Las Vegas, as it exemplifies the best interior design on the market. With top-of-the-line appliances integrated into this essential living area, you'll get to cook every meal using the best household tools money can buy for your family. You'll also be amazed by the elegant granite counters and classic travertine flooring, which will catch your eye as soon as you step foot in this sprawling Las Vegas home. In addition to encompassing everything you need to feed your family and friends, this bright, open kitchen illustrates how every room in the house is complete with glowing natural light.
6. The Rooms
When you're interested in learning about more than the enormous kitchen at 2990 American River Lane, you can explore the other rooms in this million dollar mansion. You'll find an elegant formal dining room perfect for entertaining your guests on the weekend as well as a comfortable living room ideal for relaxing with your family after a long day. Alongside these sprawling shared spaces, you'll get to bask in the glory of the enormous master suite upstairs or use the oversized bedroom suite downstairs. You'll get to have an en-suite bathroom and large walk-in closet wherever you end up in this home, where you can live like a king with your loved ones in the beautiful Mojave Desert.
7. The Backyard
In addition to the thousands of square feet of living areas inside this grand estate, you'll have plenty of space to enjoy your free time in this impressive 16,000-square-foot lot. The backyard is one of the 10 things to take your breath away at 2990 American River Lane in Las Vegas, as you'll have access to a sumptuous pool and spa. Alongside the huge pool and spa, you'll find a private fire pit area, covered gazebo and more, which will make entertaining while at home in Las Vegas a breeze. This spectacular estate was designed for spending time with friends and family, so you can take advantage of features like the huge built-in barbecue area to treat your loved ones.
8. The Amenities
You'll come to love every high-end amenity at 2990 American River Lane whether you're planning to spend the majority of your time inside or outside in southern Nevada. Because the expensive homes in and around Summerlin emphasize outdoor living, you'll get the chance to spend quality time with your loved ones outside throughout the year. The yard at this address is complete with a lot of real grass, while it's also equipped with resources like a built-in outdoor kitchen to make spending time outside effortless. With help from additional features like the oversized three-car garage, you can keep your valuables safe and sound whether or not you're entertaining guests while at home.
9. The Details
After you take the time to learn about every amenity you'll have at your disposal at this estate, you can take a closer look at the details that make this type of property unique. The wrought iron staircase is merely the beginning when focusing on the features that make this home a rare find, as you'll also have access to built-in cabinetry and more. Once you explore household features like the large, upstairs loft and look at how amenities like elegant GFRC fireplaces inform the home's design, you'll be eager to move in. These details are some of the 10 things to take your breath away at 2990 American River Lane in Las Vegas, as they create a more welcoming living space.
10. The Location
The home itself is only the beginning when you're exploring everything this part of Las Vegas has to offer its residents, as you'll be situated in a prime Sin City location. Because you'll be within walking distance to institutions like The Alexander Dawson School, Summerlin is a convenient place to settle down and raise a family in the valley. You'll also enjoy excellent freeway access at 2990 American River Lane, so this address will also connect you to the many things to do in and around southern Nevada. With attractions like high-end shopping, gourmet dining and more right outside your door, you'll never be bored while living in one of the best places to live in the entire country.
These 10 things to take your breath away at 2990 American River Lane in Las Vegas are great ways to acquaint yourself with this elegant estate in the heart of the Las Vegas Valley. When you're in the market for a classy place to call home in Sin City, investing in a house of this magnitude is one way to start living the good life as one of the city's most elite residents. Your family, friends and more will want to spend time at your place around the clock, so you'll get to spend your days and nights catering to your loved ones both in and around the city. With everything from its convenient location to its upscale amenities, you won't regret buying your dream home in one of the city's most celebrated residential communities this year.
I would be happy to answer any questions you may have about this premium home for sale, so please don't hesitate to
contact me
and set up an appointment to receive a private tour today.