Are you planning to use your new luxury home in Las Vegas to host the city's elite? Sin City's wealthiest residents have demanding social calendars year-round, so it's important to buy a place where you can entertain friends and family at any time. The beautiful weather in southern Nevada makes throwing parties a breeze every season, so you can spend quality time with your loved ones while making use of your opulent abode.
Given that Las Vegas is the country's leading party destination, you're also bound to discover a number of features you won't be able to go without once you start living the good life. Here are 10 must-haves for outdoor entertaining in Las Vegas luxury homes that will help you hold a successful get together in the comfort of your own backyard every time.
Outdoor Entertaining in Las Vegas Luxury Homes
Outdoor entertaining in luxury homes is always a dignified occasion courtesy of the many perks that come with being one of the city's most affluent residents. When you can't find the time to organize an indoor party or the weather is too great to pass up, your new Sin City mansion will have everything you need to move the festivities outside. The breathtaking views of the mountains, premier golf courses and Las Vegas skyline create the perfect backdrop for exquisite celebrations, so you can bring every party to life amidst this stunning scenery.
Whether you have an affinity for outdoor entertaining or you're hoping to make it your new weekend tradition, each luxury home in Las Vegas is equipped to host dazzling events your guests will never forget with these ten essential features.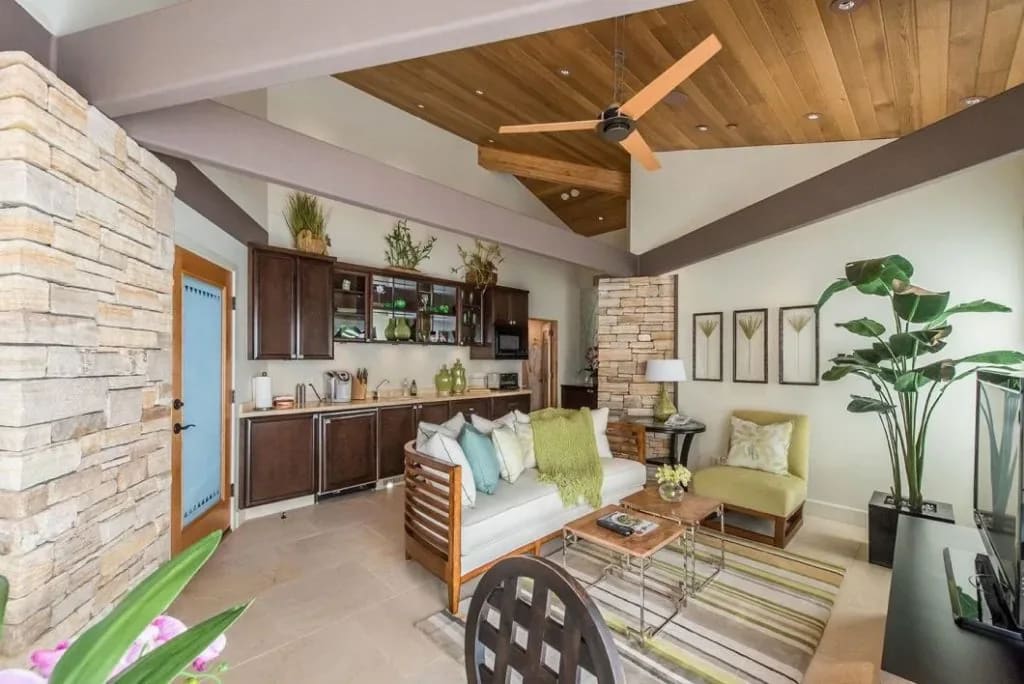 1. Casitas
A quaint casita is one necessary feature to look for when you're investing in a luxury home in Las Vegas ideal for outdoor entertaining. With a small house that works as an extension of your main house or a separate one all together, you can use this extra space to encourage your guests to relax and enjoy your home.
The tranquil casita or separate guest house also lets you host people for a few hours, days or weeks. By giving them the opportunity to experience the privacy and tranquility that comes with living the good life in Sin City, you'll become the master of outdoor entertaining with your new luxury home.
2. Pools
A resort-style pool is a second fundamental feature when you're looking to buy a luxury home perfect for outdoor entertaining in Sin City. Perfect for pool parties, neighborhood barbeques, family time and more, you can use this refreshing amenity to entertain your guests within your spacious lot.
A beautiful pool grants the perfect opportunity to swim, float and lounge around under the glowing desert sun. Also, by offering a family-friendly space for kids and adults of all ages, you'll be the center of attention as far as outdoor entertaining goes with your next luxury home.
3. Spas
An invigorating spa is a third imperative feature to aim for when buying a luxury home for outdoor entertaining in Las Vegas. With a bubbling hot tub surrounded by a rejuvenating spa area, you can create a small resort in the comfort of your own backyard.
The lush lawns, beautiful trees and vibrant plants set the stage for relaxing time in the sun, while decorations like Koi ponds make this private outside getaway the place to be while in the city. By creating a calm destination with dynamic views, you'll become one of the best hosts in town when it comes to using a lush luxury home for outdoor entertaining.
4. Bars
A lavish bar is a fourth crucial feature to shop for when you're in the market for a luxury home perfect for outdoor entertaining in Sin City. With an area complete with your favorite drinks, you can fuel a refreshing place to rehydrate and take a break from the desert heat. A full bar equipped to keep your favorite beverages on tap will especially be a game-changer when you're entertaining friends and family.
By presenting a fresh way to have a drink and beat the heat without going inside, your luxury home will be one of the best places to hang out when entertaining in the great outdoors.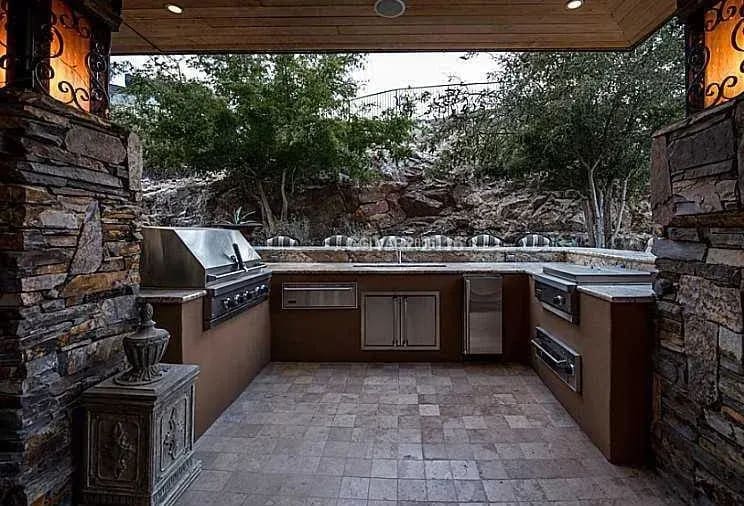 5. Kitchens
A full kitchen is a fifth indispensable feature to have at the top of your list when seeking out outdoor entertaining in Las Vegas luxury homes. With top-notch appliances, quality countertops and roomy cabinets at hand, you can whip up a meal at any time without leaving your backyard party. Therefore, the ability to cook full meals in a vast cooking space lets you hold parties of all sizes comfortably. By cooking up a storm and providing delicious meals, your luxury home will keep your guests coming back for more.
6. Fire Pits
A glowing fire pit is a sixth necessary feature to keep an eye out for when investing in a luxury home in Sin City created for outdoor entertaining. With fire pits in your backyard, you can create a space for good conversation, roasting marshmallows, and warmth under the desert sky.
The soft heat and quality time with loved ones makes high-end fire pits more than worth your while. By having a space where your friends and family can cozy up on cool winter nights, you'll be one of the most thoughtful outdoor entertainers simply through living in a luxury home.
7. Barbecues
A large barbecue is the seventh out of the 10 must-haves for outdoor entertaining in Las Vegas luxury homes. With a magnificent grill to cook meat, vegetables and other tasty treats, you can feed your whole family delicious food outside all year long.
The
modern luxury homes for sale in Las Vegas
are known for their awe-inspiring outdoor retreats, which often come with one or more barbecues for frying up mouthwatering meals. In addition, by making use of cooking in the great outdoors, you'll be sure to hone your outdoor entertaining skills.
8. Patios
A shaded patio is an eighth important feature to consider in a luxury home perfect for outdoor entertaining. With detailed floor areas and cover from the blazing sun, you can provide comfortable seating and encourage meaningful conversation right in your backyard.
A cool place to sit back and relax will benefit your family and friends, as a convenient place to take a load off makes staying out of the sun easy. Also, by providing a space where family members and guests alike cool down, your luxury home will be the go-to place for outdoor entertaining every weekend.
9. Balconies
An assortment of balconies is a ninth leading feature to look for in outdoor entertaining in Las Vegas luxury homes. Because spacious overhangs on every floor help you extend your parties beyond the backyard, you can socialize with your guests drink in hand while overlooking beautiful landmarks like the Las Vegas Strip.
The majority of rooms in high-end houses open up to large balconies facing the majestic Nevada landscape. Give your guests the option to take in everything your opulent luxury home has to offer, and then you'll revolutionize outdoor entertaining with some help from the area's most ravishing sights.
10. Cabanas
A luscious cabana is a tenth and final feature to consider when buying a luxury home for outdoor entertaining in Sin City. With a detailed structure that offers plentiful seating and shade from the hot desert sun, you can help your family and your guests relax in the middle of your scenic backyard. This essential fixture ensures you can chat and eat in style without having to think twice about intense sunlight or the other effects of the desert climate.
Finally, by opting for a pleasant place to sit and have a snack amidst your impressive lot, you'll take outdoor entertaining to the next level with help from your new luxury home.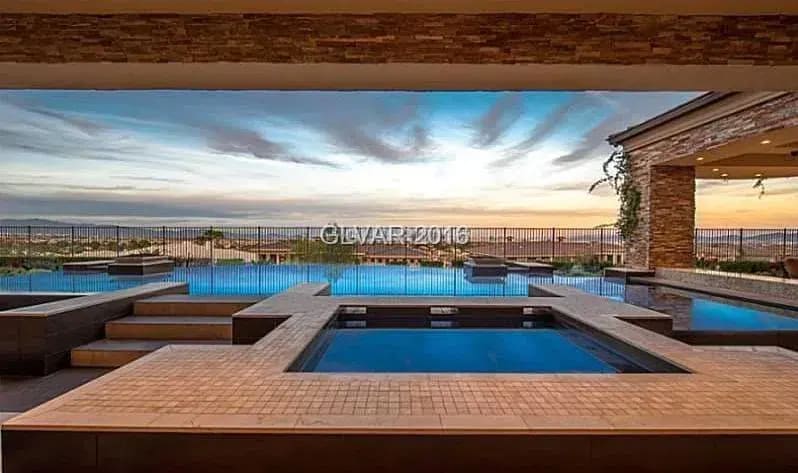 These 10 must-haves for outdoor entertaining in Las Vegas luxury homes are some of the benefits that come with being a wealthy member this area. Because the city's animated social scene is busy all year long, you need an enchanting place to put on parties under the glowing southern Nevada sky. Sin City's premier neighborhoods offer a variety of spacious residences overlooking the mountain range, golf courses, Las Vegas Strip and more. By living here, you can invite your friends and family over for an afternoon or evening alongside the city's dynamic scenery.