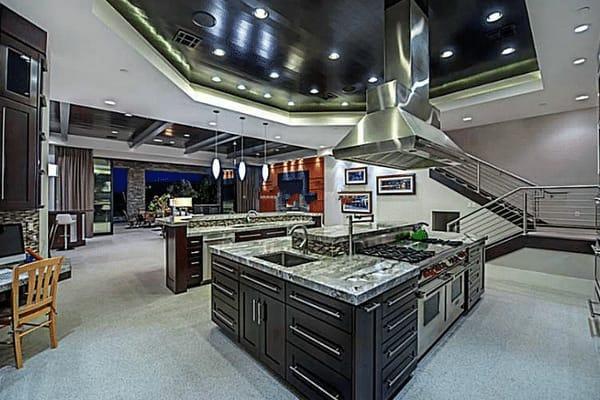 Luxury lives inside, especially when you incorporate these 5 interior features that are must-haves for 2016 luxury Las Vegas real estate. This list was challenging to assemble, as there are so many remarkable products on the market today in the home interiors segment.
For this list, I dove a little deeper for must-have luxuries, as you have Pinterest for latest trends regarding decor. This collection is more of a marriage between advancements and forethought on the interior front.
Las Vegas Luxury Homes – New Features
Responsibly Sourced Materials
We see a lot of new construction and renovation here in the Las Vegas luxury real estate niche. Personally, I think it's commendable that builders and homeowners are going the route of locally available or renewable resources when it comes to construction or a home makeover. Whether you're building a retirement home or a vacation residence, these practices pay off in the long run.

Responsible sourcing is a little, yet significant thing we can all participate in to make the world a bit better. If you're not sure about the origination of your choice in flooring or other building material, ask your contractor. With the evolution of resource planning, most residential products are traceable to their source. The more we demand accountability for our homes, the greater the supply from manufacturers.
Sustainability-infused Products
Sustainability-infused products like toilets and showerheads and rainwater collectors. While the earth is 75% water, only 3% of that H20 qualifies for consumption. That statistic is leading the march to more water-efficient residential spinoffs of traditional necessities like toilets, shower spouts, and lawn maintenance equipment.

Although Las Vegas is typically described as a desert, we do get enough rain to justify a rainwater collection device for our homes. WaterFence is a corporation as well as a product that ensures privacy as well as rainwater harvesting.

WaterFence was one of the five finalists selected for "Best Product of Show" at the Las Vegas Home Builder's show in 2015. It looks like a wooden fence, but it's Polyethylene, constructed from 100% recycled materials. In addition to collecting thousands of gallons of rainwater from your rooftop, the fence is non-flammable and will act as a fire suppressant to your roof. You can buy a pump that has a battery backup and remote control via a smartphone app. So, if you get a notification that your smoke detector activates, you can send water to your roof from your phone. It also acts as a gray water system for recycling water through interior plumbing.

Related to shower technology is one not yet available in the United States, but hopefully soon this incredible-looking showerhead will be. A company called Methven in the UK produced a showerhead that is a halo of streaming water. According to the enterprise's website, they transform a regular stream of shower water into an experience similar to a rain shower. Angled plates inside the ring bounce water off each other like a pinball. According to reviews, Aurajet takes showering to a whole new level of experience.



Nanotechnology
Nanotechnology is now available to reduce bacteria formation in bathrooms and kitchens, resist dirt and stains, and clean the air around your house.

A product called Hydrotect, developed by Crossville, Inc. is a coating that uses titanium dioxide and other anti-microbial metals, plus the sunshine to form a barrier to dirt and oil, reduce the reproduction of bacteria, and clean the air around the tile. Crossville, Inc. uses Hydrotect on tiles for the exterior of buildings or even pool decks. These tiles self-clean by preventing dirt and oil from sticking using the barrier technology with either rainwater or humidity. The tiles also neutralize nitrogen deposits caused by automobile emissions, improving the air quality around your house.
Customizable Everything
Having a say in your interior design right down to the print on tiles is definitely a luxury. With the advancement of CAD, combined with 3D printing, options for interior design are limitless. Digitally printed designs on porcelain tile can transform any surface into a one-of-a-kind statement piece or floor.


3D is Coming
At some point, we will use 3D printers that can build a house, maybe even construct one from existing materials on site. In Japan, WinSun Decoration Design Company is "printing" homes and even manufactured a six-story apartment building with recycled concrete. Reinforcements like rebar and other components for this project were assembled off site then added to the fundamental pieces. It won't be long before we see more of this on construction sites, as 3D printing technology is becoming available.
Explore Las Vegas Luxury Real Estate
Ready to learn more about the Las Vegas real estate market and the innovative new products being used throughout the region?
Connect with me today
. I'm always just a phone call away and look forward to speaking with you.