Do you want to live in a house with a modern architectural style? If you're searching for a state-of-the-art home in the heart of Las Vegas, the city's leading luxury neighborhoods have exactly what you've been looking for. Sin City's exclusive communities take great pride in working with the industry's top architects. Each new home exhibits taste and style through contemporary designs and modernized finishes as a result. There are several brilliant modern homes on the market today for you to explore.
Here is our list of 5 top modern luxury homes for sale in Las Vegas
1. 4222 Bronze Ridge Street
4222 Bronze Ridge Street is the type of home that Las Vegas residents gravitate toward in The Ridges. With its bright white interior and open floor plan, this present-day establishment exudes Las Vegas luxury. It illustrates how sleek architecture and an exclusive neighborhood can work together to create a breathtaking Las Vegas home. It is likely to set trends for future developments. Because this brand new home is complete with the highest standard of finishes in its shining interior, it's an elegant example of one of the area's most modern homes for sale.
2. 24 Sun Glow Lane
24 Sun Glow Lane and places resembling it are the sort of houses Nevada locals aim to live in at The Ridges. With its exceptional finishes and indoor/outdoor design, this cutting-edge mansion encompasses over a dozen luxury features. It demonstrates how the combination of expansive square footage and cutting-edge technologies formulate a revolutionary living space in Las Vegas that will make living in comfort a breeze. This novel home incorporates the stunning Nevada scenery into its design at every turn. It serves as a striking lesson in the high caliber modern homes available in this neighborhood.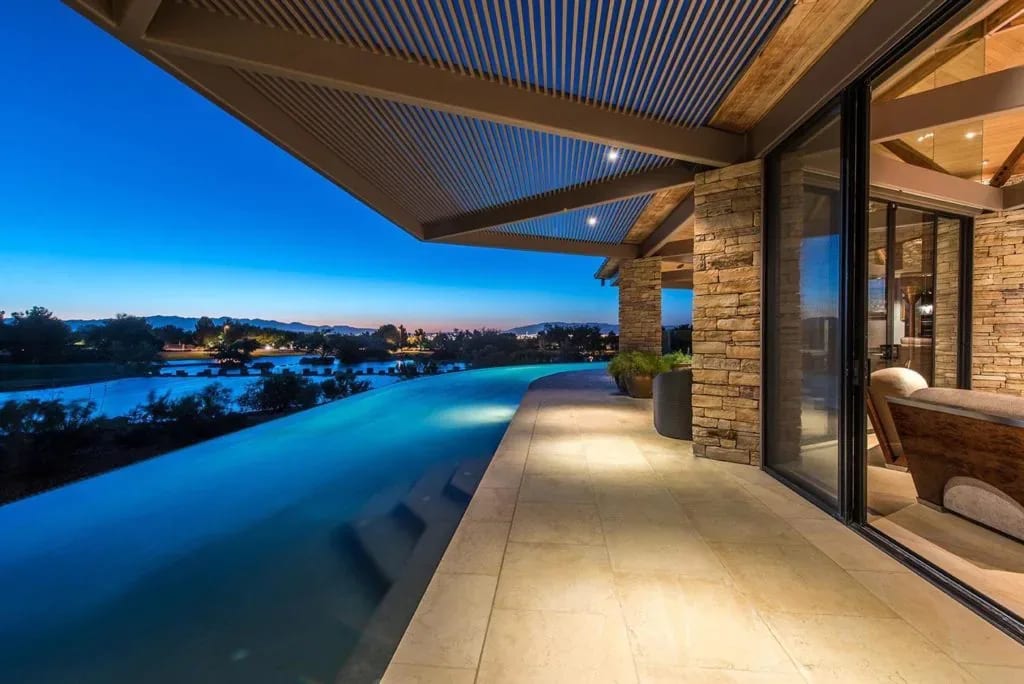 3. 3 Anthem Pointe Court
3 Anthem Pointe Court and nearby residences are spaces to invest in within the Anthem Country Club. With its timeless elegance and open spaces, this modernistic abode emanates Las Vegas extravagance. It shows how the sharp mind of an award-winning architect and a prestigious neighborhood are a winning formula for modern homes in Las Vegas. 3 Anthem Pointe Court exudes Las Vegas luxury through top-notch finishes and exceptional furnishings. It earns its reputation as one of the freshest modern luxury homes for sale in Las Vegas.
4. 31 Golden Sunray Lane
31 Golden Sunray Lane and homes mirroring it are places Nevada's elite favor in The Ridges. With its inspired styling and exquisite finishes, this recent setup works countless luxurious details into its excellent floorplan and resort-style backyard. It exemplifies how prime real estate and its corresponding views inform a home's design to establish a breathtaking work of art. Because this opulent estate takes advantage of the neighboring golf course and thriving trends in the kitchen and courtyard design, it epitomizes a dream-like oasis ready to buy near the Las Vegas Strip.
5. 26 Promontory Ridge Drive
26 Promontory Ridge Drive is the standard for what properties Las Vegas buyers hope to purchase in The Ridges. Its immaculate living spaces and elaborate outdoor retreats include a number of amazing features designed to make life easier. Its magnificent formal rooms are coupled with indoor and outdoor recreational facilities. Together, they manifest into a brilliant collection of interior and exterior designs you can only find in Sin City. This delightful getaway in the heart of the city's most exclusive neighborhood boasts a range of opportunities for leisure and enjoyment with features like the pool, spa and fire pit. Finally, it consolidates its position as one of the most sought after places in Nevada ready for purchase.
Next Steps
These extravagant home exhibit the latest trends in construction and decor that Nevada has to offer its affluent residents. Whether you're smitten with one of these modern luxury homes for sale in Las Vegas, or you're drawn to the avant-garde residential designs in general, taking the latest movements in architecture to heart is a great way to start your house hunt in this area. If you're interested in learning more, I welcome you to browse the
featured listings
page on my website. Please
reach out to me
with any questions you may have about these gorgeous contemporary houses.