There's a wide selection of luxury homes in Las Vegas within the golfing community, an increasingly popular type of residence for good reasons. Golfing communities now provide some of the most prestigious, sought-after, and secure homes in the most desirable neighborhoods.
As well as providing you with immediate access to the golf course, what residents love about a golfing community is that when they're done well, they perfectly balance all that you could want from a home. They are private and exclusive but also generate a great sense of community and belonging. They're luxurious and sophisticated yet also incorporate their natural surroundings to enhance your home. They're safe and secure but never oppressive and restrictive.


Benefits of Owning Real Estate in a Golf Community
Below are the best reasons why owning a real estate property in a golf community can be beneficial to you:

It almost goes without saying that golf communities are the perfect place for golfing enthusiasts to locate themselves. Immediate access to golf courses is the main benefit of living in a private golfing community. You can start your day by reaching for your golf bag, stepping outside and walking straight onto the tee.

Homeowners can polish their golf skills by taking lessons and playing against golf pros.

Residents can also expect exclusive discounts on membership to the golf courses, as well as easy access to other activities depending on their chosen neighborhood.
An exclusive community is a secure community
One of the biggest benefits to exclusive communities is the extensive security you can expect to be present over the entire neighborhood. Not only do residents enjoy enhanced security, but every measure is also taken to preserve a peaceful and quiet environment for homeowners.

Families have complete peace of mind that their kids can play outside. Those who enjoy nighttime walks can do so, easily in the knowledge that the area is safe and secure.


Easy access to an active community
Golf communities are often home to all the essential amenities, including fitness centers and pools. There are often programs for their residents and club members. Having these facilities contained within the community means not having to travel. There is no traffic to contend with, rarely if ever will there be overcrowding, and likely you'll be using amenities with neighbors and friends.


Meet people with the same interests
Naturally, being in the same area as people with the same interests as you and your family makes it easier to establish great connections with your community. A golf community provides a beautiful home within an environment that is equipped to foster great relationships between neighbors.

Look out for a community with the right events that are regularly hosted, where you can see yourself and your family engaging and thriving. Luxury homes in Las Vegas are often set in neighborhoods that may be expansive, however, homeowners organize events that keep the residents engaged and give them the opportunity to get to know each other.
Wide open space makes for a comfortable neighborhood
As these communities are meticulously planned, houses are typically a fair distance away from each other. You can rest easy about the usual worries of denser communities, such as noise complaints and obstructed views and all the other tensions that arise when homes are placed too close together.
Picturesque locations for your luxury homes
While these homes are built and furnished with all the top of the line bells and whistles, the outdoor space is just as important as the indoors.

Homes in golfing communities are built to maximize the scenic environment that surrounds the community. This will mean great views of the golf course, dessert, hills or body of water.
Community grounds and neighborhoods are well-maintained
Part and parcel of golfing communities being as exclusive and as coveted as they are is the service and support provided to homeowners in such neighborhoods. Expect these luxury homes in Las Vegas to be as perfectly landscaped and professionally maintained.

Certainly, you can adjust your property's own landscaping as you see fit. However, the grounds around your home will be maintained to the highest standard.
An engaged community with regular events
As you would expect, golf communities regularly host golfing tournaments and events that residents and guests can enjoy. As many of these golf courses are designed by renowned architects and legendary names in golf, they frequently play host to professional tournaments.

This gives you a chance to invite friends and family, host a weekend getaway for them, and celebrate the event together. This can be just wonderful leisure time spent with family and close friends, or an opportunity to develop and nourish networks and business opportunities.
High demand in home resale market value
Luxury homes in Las Vegas are in high demand, with their many benefits proving so inviting to people from all over the country. Las Vegas has a comparably lower cost of living than other major US cities, with low-income tax rates when compared to places like California.

This is a positive for your overall return on investment – should you decide to sell your home in the future, you can expect good resale market values. Bear in mind that unlike the rest of Nevada, Las Vegas has no sales tax.
Featured Golf Communities in Las Vegas
Las Vegas is home to a number of golf communities, some more exclusive than others. Choose among its many, semi-private, and private neighborhoods, each having its own perks, facilities, and world-class amenities for its residents and club members to enjoy.

Here's just a sample of what is available and what type of luxury home you could get in a Las Vegas golfing community.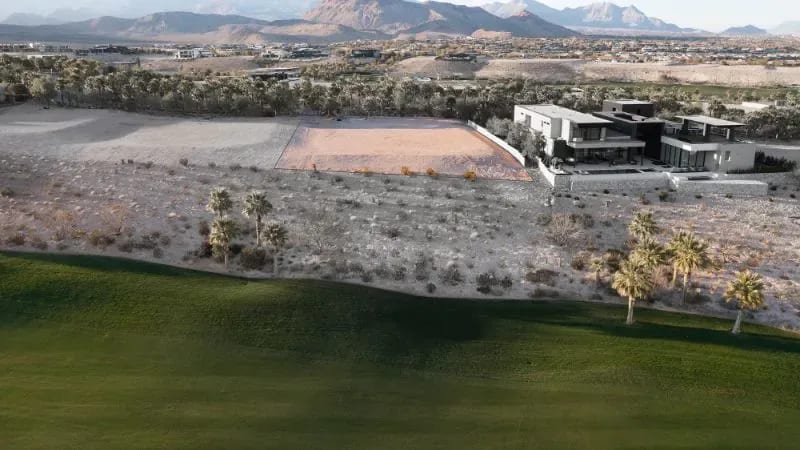 This property is ready and waiting as the house of your dreams, sitting comfortably in the midst of the Summit Club golf course.
This incredible lot has stunning views of both The Strip and fairways. Set in one of the most exclusive neighborhoods in Las Vegas, it's popular with celebrities, athletes, entrepreneurs, and the Las Vegas elite.
You can expect superior security, many options for outdoor recreation, as well as the utmost privacy for its homeowners. The property at 11357 Summit Club Drive is 1.08 acres in size and is listed at $8,500,000.
15 Bright Hollow, Las Vegas, NV 89135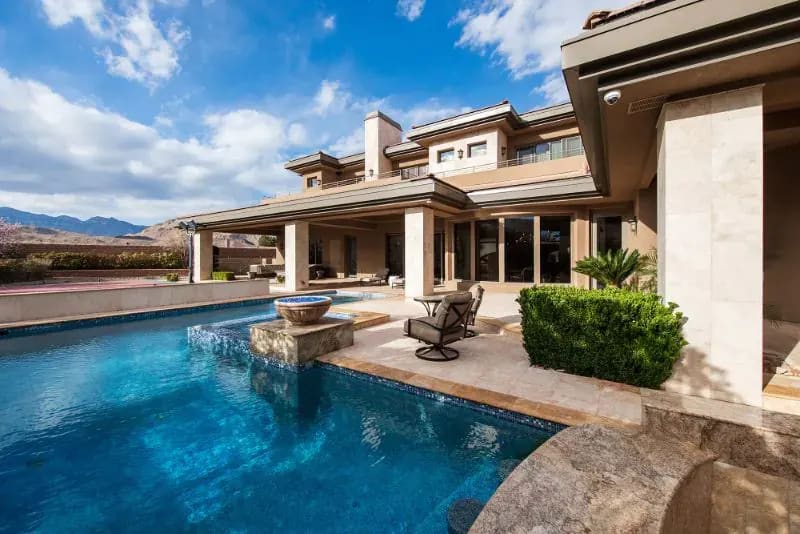 Built in 2011, 12 Bright Hollow is an exceptional home in The Ridges. It's a stunning property set at the cul-de-sac with a wonderful vista of the mountain ranges. Its future homeowner can look forward to hosting the best gatherings in the community, with plenty of room to spare, thanks to its large, bright rooms, all naturally lit in the sunny climate of Las Vegas.
The property is valued at $7,250,000, with 5 bedrooms, 8 bathrooms. It covers 9771 sq. ft. of living space, all within .55 acres of land. In it, you'll find a full entertainment complex, comprising a movie theater, a game room, an impressive wine cellar, and a delightful "Italian street" feature.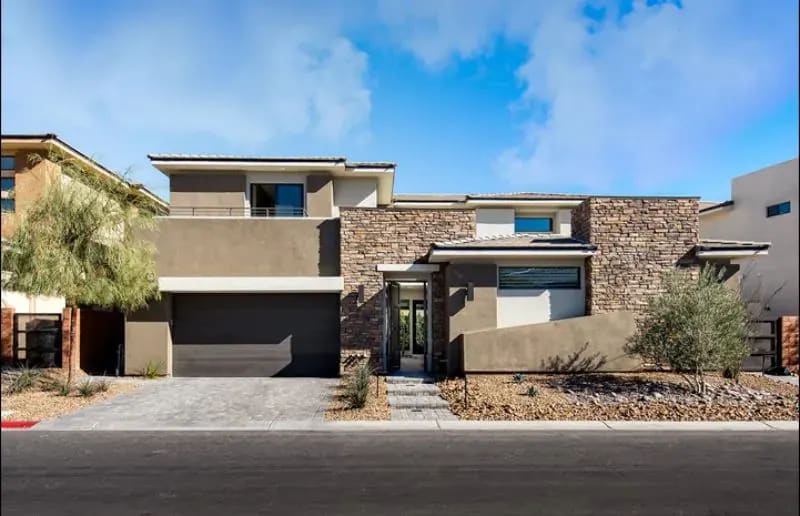 68 Grey Feather is a stylish and sleek property in The Ridges, open for customization once it meets its future residents. The home features an excellent floor plan, making great use of the natural lighting, as well as high ceilings that make its rooms all the more spacious. It blends the indoor and outdoor space well together, while also affording its residents a fair amount of privacy tucked into a comfortable neighborhood. A key highlight is that the property includes a pool and spa.
The property was built in 2015, is priced at $2,499,000, and features 3 bedrooms, 3.5 bathrooms, with 3562 sq. ft. of living space, within .17 acres of land.
6985 Stargazer Ridge Court, Las Vegas, NV 89135
Also known as the Desert Cabin from Jewel Homes, 6985 Stargazer Ridge Court is a remarkable property designed by world famous photographer Peter Lik. It features an elevated farmhouse aesthetic, with an industrial style accent, all in an extraordinary contemporary design. Every room is well-designed for sunny Las Vegas, with warm, rustic tones creating a very relaxed but sophisticated home in the desert.
The property was built in 2021, is priced at $4,499,000, features 4 bedrooms, 5 bathrooms, with 4485 sq.ft. of living space, within .51 acres of land.
6945 Stargazer Ridge Court, Las Vegas, NV 89135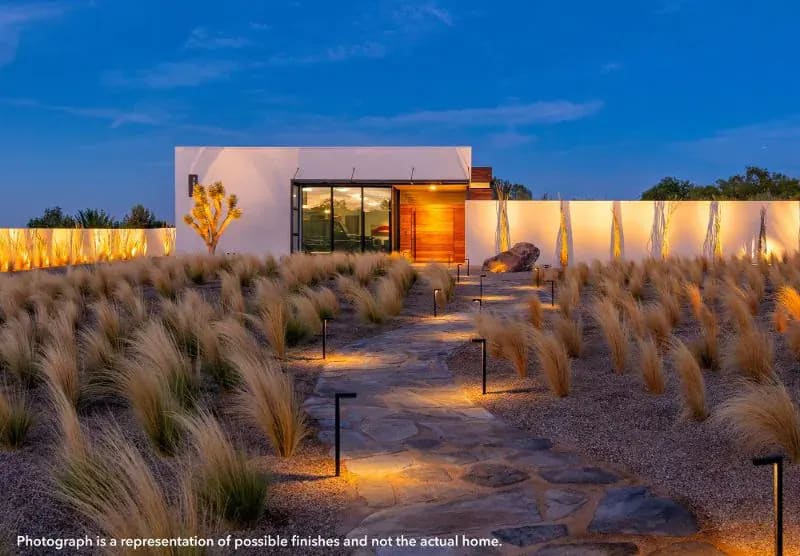 Dubbed as Moonflower, 6945 Stargazer Ridge Court is a Jewel Homes development, designed by world renowned photographer Peter Lik. Like many of their homes in the area, this property features an elegant take of an industrial aesthetic, accented with warm tones and natural hues. Each nook is as picturesque as you could imagine, making full use of the stunning, sunny scenery of Las Vegas.
It was built in 2021, with a market value of $3,999,000. It has 4 bedrooms and 5 bathrooms, with 5,101 sq. ft. of living space, within .51 acres of land.
6940 Stargazer Ridge Court, Las Vegas, NV 89135
Another one of Jewel Homes' developments, 6940 Stargazer Ridge Court is also known as Azure. It features a contemporary design, also from Peter Lik, with rustic and industrial elements. It's one of a selection of designs in the same neighborhood, blending the beautiful outdoors with the outstanding interior architecture. It's an expansive property that also manages to be warm and welcoming with its design accents.
The property was built in 2021, has a market value of $3,999,000, featuring 4 bedrooms, 5 bathrooms, with 4,822 sq. ft. of living space, all within .51 acres of land.
Why Las Vegas can be your next home
Still contemplating whether a luxury home in Las Vegas is the way to go? Below are a few reasons why you should consider a move to Nevada:
Warm climate for sunlight enthusiasts
Make no mistake about it, the desert is warm and sunny. The majority of the time, you'll also enjoy the pleasant, clear climate that's perfect for people who appreciate the great outdoors which they can explore to their heart's content. Even during the winter months, when the area can become chilly, you can expect clear, blue skies.
Low tax rates
Perhaps the biggest benefit to living in Las Vegas, is the low tax rates which are a very welcome relief, particularly for those moving in from bigger cities. People moving from California or New York are drawn to the lower tax rates and lower cost of living in Nevada.
Variety of entertainment options
Las Vegas is arguably just as sleepless as New York, with a wide range of entertainment options in the Strip alone. However, the casinos and the shows, along with the many dining choices are not the only attractions to explore. Additionally, Las Vegas is growing quite the creative community who are constantly coming up with new and exciting events to keep the city invigorated and refreshed.
Proximity to outdoor adventures
Aside from the indoor entertainment, such as the casinos and shows, there's also so much of the outdoors to experience. Las Vegas has great hiking trails, climbing spots, sporting events, and even good, old picnics to be had. When you live in a tight knit community, you can enjoy these interests with like minded people who've moved to the same area for the same reason you have.
Work with a Las Vegas Real Estate Professional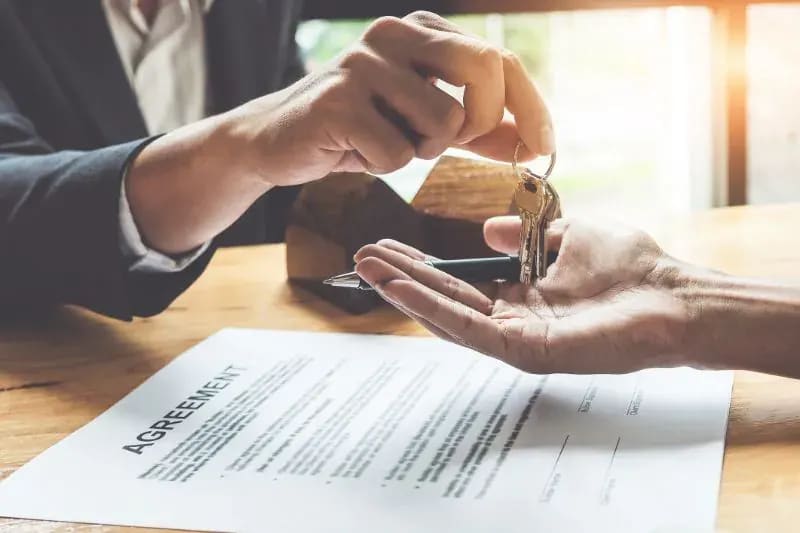 Working with the right real estate professional is key in finding the right home for you.
Gavin Ernstone
leads Simply Vegas in matching his clients with the perfect property. He provides pristine service, exceptional expertise and unmatched local knowledge of the market, thanks to over 25 years of experience. If you're looking for a home in The Ridges, MacDonald Highlands, and Red Rock Country Club, getting in touch with Gavin may be the smartest decision you'll make as you work towards your next investment in real estate.