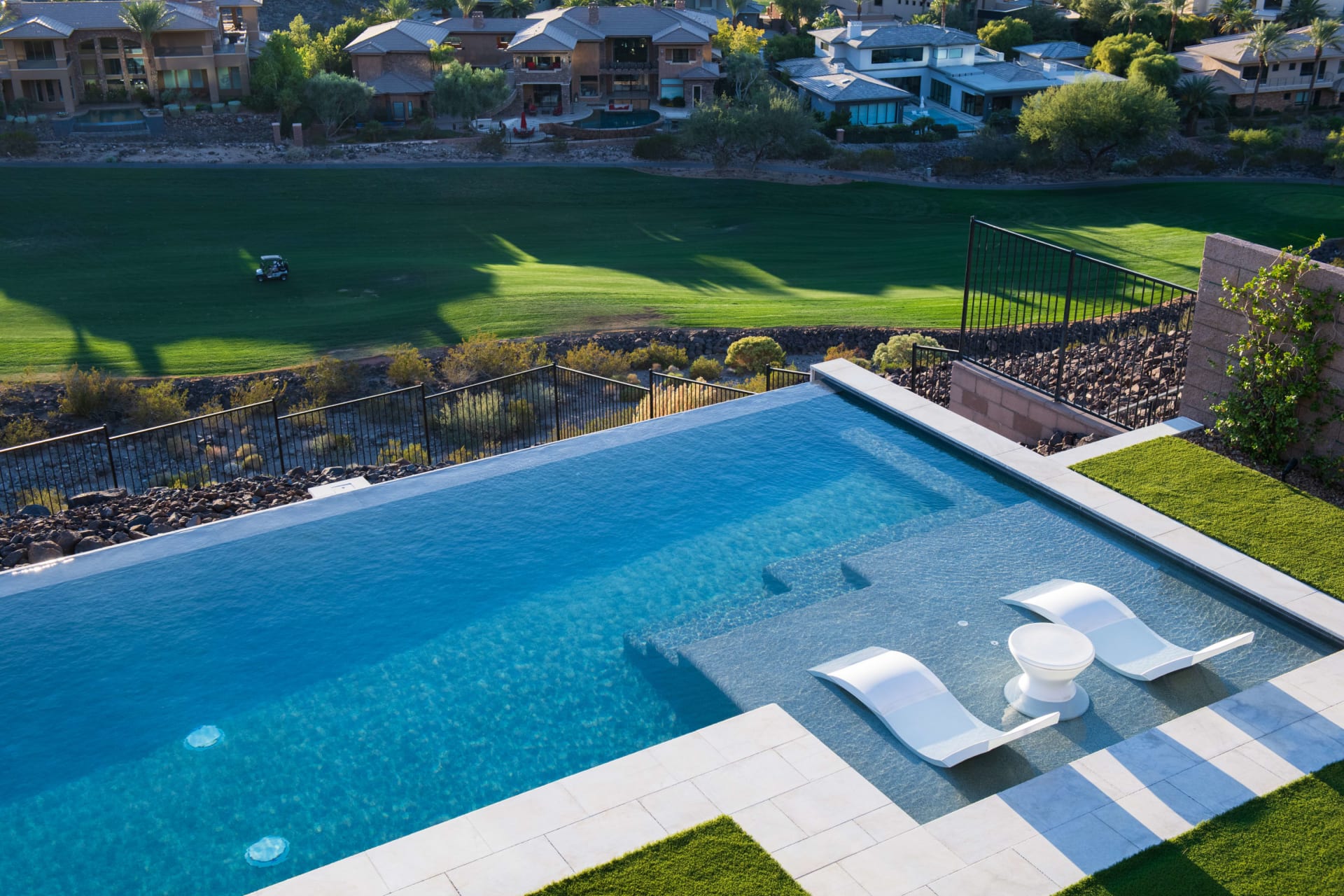 If you're a modern home enthusiast looking for a place to live in Clark County, you'll love the world-class mansions in Las Vegas. These estates are nestled within some of the most distinguished master-planned communities in the country, so you'll get to experience the Las Vegas luxury life of comfort and style. While you're getting to know the up-and-coming residential neighborhoods in and around Las Vegas, you'll find that real estate in this region does come with a higher price tag. The contemporary luxury homes for sale in Las Vegas don't come cheap, but they're bound to impress even the most discerning luxury home buyers.
The Available Properties in Las Vegas, Nevada
The contemporary homes for sale in this part of southern Nevada start at around one million and go up to over 30 million dollars. Because each home's groundbreaking architecture and elegant design makes it a rare find in this competitive real estate market, expect to pay top dollar for gorgeous amenities like high ceilings and wide-open windows.

An investment in a contemporary luxury home in Las Vegas will pay off in the end, however, as each one is built to last with the guarantee that it'll stay up-to-date throughout the next few decades. If you're looking for a secluded mansion in Las Vegas or Henderson, take a look at these modern estates to find a peaceful place to call home away from the hustle and bustle of downtown Las Vegas.
The Latest Trends in Luxury Home Technology
Because the latest trends in luxury home technology are one of the features that set contemporary homes apart from other types of real estate in Las Vegas, you'll discover how smart home technology is incorporated into every living space. Each new residence includes the recent technologies that are designed to enhance life in Nevada at the touch of a button. Whether you're looking for voice-activated devices or state-of-the-art televisions, these listings have everything you need to live the good life in Las Vegas.

You can also depend on innovative household gadgets like smart home security systems to guarantee your family's safety and automation systems to monitor your household's functions for a secure, controlled environment inside and outside one of these contemporary luxury homes for sale in Las Vegas.
The Smart Home Technology in Contemporary Luxury Houses
These high-end estates take the latest developments a step farther by using the latest trends in energy efficient smart home technology to create sustainable households and maintain prosperous lifestyles. With the drive toward more efficient energy use taking center stage this year, these new technologies are changing the way affluent homeowners live in Las Vegas. A sustainable home reduces consumption and lower costs, which makes owning a luxury home even more enticing in this city. If you build a sustainable home, you'll enjoy leading a cost-effective lifestyle while taking the Mojave Desert and surrounding areas into consideration.
The Mojave Desert and Luxury Estates in Las Vegas
While household features like better lighting and insulated windows help maintain comfort while at home, luxury homes in Nevada are also designed to protect and preserve the Mojave Desert. Every premier residential community in Las Vegas lies near the country's natural landmarks, which makes maintaining the city's natural surroundings a key part of introducing sustainability to each house. With environmentally friendly homes made with the best building methods and leading materials, you'll enjoy living in a place that's always conscious of the environment.

Every home is made to enhance the scenic desert landscapes, which are a key selling point for contemporary luxury homes in Las Vegas, while coexisting with the nearby national treasures.
Outdoor Living in Las Vegas Luxury Houses
The natural beauty that's integrated into each home's design in Las Vegas paves the way for top-of-the-line outdoor living areas. Because you can enjoy the same amenities outside as you can inside your house in southern Nevada, you'll get to bask in over 300 days of sunshine every year from the comfort of your home.

The luxury buyers in this market expect no expense to be spared when creating fluidity between a home's interior and exterior, so you can be both inside and outside at the same time throughout your place. As retractable walls, motorized screens and sliding glass doors connect these two living spaces seamlessly, you'll gain access to more than a resort-style backyard in these contemporary luxury homes for sale in Las Vegas.
Las Vegas Luxury Homes with Outside Spaces
If you're intrigued by the easy access to indoor and outdoor living in Las Vegas, learn more about the outside spaces that make this type of Nevada real estate unique. Your home will serve as a private getaway within the city limits, where you'll be able to enjoy luxurious amenities inside and outside. Whether you're excited about decorating or entertaining in your backyard, you can customize your private residence with swimming pools, barbeques and more. You can start by investing in a designer swimming pool that blends in with the natural surroundings and then use it as a centerpiece for your home and yard's architectural design.
The Outdoor Amenities in Las Vegas Luxury Estates
Your infinity pool and spa are merely the beginning when you start to add outdoor amenities in and around your luxury home in Las Vegas. When you're ready to customize the outside spaces throughout your estate, you can choose items that suit your taste and match your lifestyle. The focus on living, dining and entertaining in Las Vegas informs each new outdoor space, so you'll want to think about investing in a home with unparalleled amenities like an outdoor kitchen and patio. Once you have state-of-the-art appliances and comfortable seating outside your home, you'll understand the strong appeal of contemporary luxury homes for sale in Las Vegas.
Las Vegas Luxury Homes with Rooftop Decks
When you're looking to take luxury living to the next level in Las Vegas via your new home, shop around for modern estates that encompass rooftop decks. The latest properties in Las Vegas and Henderson include simple, geometric designs, which allow cube-shaped areas on and under their flat roofs. With help from each home's modular architecture, the developers designing and building these elegant estates have incorporated rooftop decks into the area's most sophisticated abodes. These rooftop decks work alongside terraces, patios and balconies to offer panoramic views of the city, mountains, golf courses and water right from your place.
The Views from Luxury Houses in Las Vegas
Contemporary luxury homes for sale in Las Vegas offer these views right from your home:

Because the city views are one of the most breathtaking sights in Las Vegas, the majority of new homes exhibit the glittering lights of the Las Vegas Strip. This world-famous landmark makes outdoor living even more exquisite, as you can gaze down at the sparkling downtown area from nearly every room in your new luxury estate.

The mountain views are another commodity for high-end property owners, as you'll be surrounded by the Red Rock National Conservation Area in Las Vegas and the Sloan Canyon National Conservation Area in Henderson. Because the desert landscape is the backdrop for most communities, you'll love having the Mojave Desert in your backyard.

If you're willing to spend a little extra money on your new luxury home in Las Vegas, you'll get a place with golf course frontage. You can live on one of the farriers of the Bear's Best Golf Course, for example, to have fresh green grass, lush landscapes and access to one of the world's most renowned golf courses right outside your front door.

You'll also have the option to opt for a property either on a golf course with water or near an attraction like Lake Las Vegas, so you can enjoy fun in the sun all year round. Whether you're satisfied with an infinity pool and spa or you'd like a larger body of water in your backyard, the homes in Las Vegas include a range of dynamic water features.
Blue Heron Las Vegas Luxury Homes
When you're ready to wake up to one or more of these stunning views, take a look at Blue Heron Las Vegas homes to see if one of their upcoming neighborhoods suits your lifestyle. This green builder is leading the modern home movement in southern Nevada by incorporating the desert into every household design. With the goal of enhancing both the community and the natural surroundings, this custom design build firm is creating sought after luxury estates with contemporary desert style.

The 360-degree views of the Las Vegas Valley are simply the beginning when learning more about the custom homes in the company's exclusive master-planned communities, so work out your needs, preferences and budget to watch your new home come to life and start leading a luxurious lifestyle in the heart of Las Vegas this year.

The contemporary luxury homes for sale in Las Vegas encompass cutting-edge architecture and design, which makes them a sound investment if you're planning on moving to this area. With help from the latest innovations in technology and more, every high-end property exhibits the taste and extravagance being a part of the elite affords you in Sin City. I would be happy to answer any questions you may have about modern luxury homes in southern Nevada, so please don't hesitate to

contact me

and start living the life you deserve in Las Vegas now.