Unlike other areas in the country, the real estate market in Las Vegas seems to be forever hot. Las Vegas offers a wide range of properties for investors and homebuyers alike. From single-family homes, condo units, and penthouses to commercial and rental spaces, Las Vegas is continuously growing, and the market is always competitive.
If you are looking to invest in the Las Vegas housing market this 2022, here are the recent and present trends to inform your decision. Read on to find out if purchasing a Las Vegas property is the right choice to make.
Recap: How Las Vegas Real Estate Performed in 20221
Las Vegas saw its visitor volume drop significantly
due to the pandemic. Although 2021's numbers (29.23 million visitors for the first 11 months) were a marked improvement from 2020—a 64.3 percent increase to be exact—they were still not close to pre-pandemic figures.
For a city that relies heavily on tourism, the massive loss of business could have been devastating to the Las Vegas housing market. Fortunately, that potential disaster did not materialize, and the market remained unscathed.
Rental Vacancies Remained Low
Median Home Prices Soared
Las Vegas Housing Market Prediction for 2022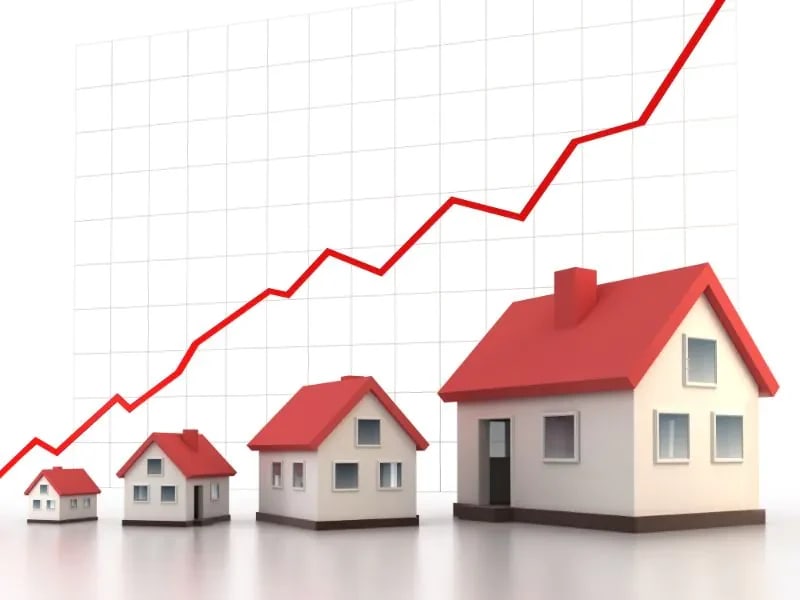 Now that you know how the Las Vegas housing market fared in 2021, it's time to take a look at what to expect in 2022. Get to know some of the biggest trends and forecasts to see if Las Vegas is the right place to make your investment.
Las Vegas Real Estate Trend #1: Still an "On Fire" Housing Market
The Las Vegas housing market is expected to remain strong into the near future, with sales and prices seeing steady growth for the following years. That said, supply is predicted to remain low, which will mean strong competition among buyers bidding for homes.
Experts estimate Las Vegas house prices to increase by as much as
5.7 percent this year
, while the Las Vegas housing market itself is
forecasted to grow by 10.6 percent
. Experts suggest that these conditions could make it increasingly difficult potentially for first-time homebuyers looking for single-family homes.
Las Vegas Real Estate Trend #2: An influx from California
Despite its glamorous nature, Las Vegas, along with the rest of Southern Nevada, actually boasts an affordable cost of living. In fact, residents of prominent Californian cities like Los Angeles will only need around two thirds of what they usually spend to have the same standard of life in LA.
According to LasVegasRealEstate.org, 30 percent of Las Vegas home buyers emigrated from California. They've found that even some of the priciest luxury homes are a bargain for buyers and investors from the Golden State.
Las Vegas Real Estate Trend #3: Low property tax rates will continue to be an asset
Aside from having no income tax, Las Vegas also has very low property tax rates, which
rank among the lowest in the US
. At 0.60 percent, the state's average effective property tax rate is well below the
national average of 1.1 percent
. This means that if you were to purchase a USD 217,500 home, you would only have to pay a property tax of USD 1,310 annually.
Likewise, the assessed value of a home in the Silver State is equal to just 35 percent of the taxable value which puts more money in the homeowner's pocket. The low assessed value, combined with Nevada's property tax abatement law that
puts a 3 percent cap on annual property tax bills
, lets homeowners enjoy an enticingly low effective real estate tax rate.
Las Vegas Real Estate Trend #4: Mortgage interest rates are likely to rise
A hot market usually means an eventual increase in interest rates, although it remains to be seen how fast the rates will rise.
"I anticipate a rise in the interest rates, which will create an easing of the price increase," said Brandon Roberts, president of Las Vegas Real Estate Agent, in a news interview. Roberts expressed concern about the rates going up too fast, because it could prove to be a deterrent to many homebuyers.
"I am concerned on how fast interest rates go up, and what that would do with our market in the slowing in the prices, which would create more inventory. More inventory with less demand would slow things up," he said.
Roberts is hoping for a gradual increase, as this could help with inventory struggles. Current housing supply is about one month's worth of listings, according to him.
Las Vegas Real Estate Trend #5: There's no better time to buy than now
As the inventory of single-family homes are snapped up, condos are expected to grow in popularity. Fortunately for those in the market for this type of property,
inventory is high
, which means less competition and lower prices than what they may find for single-family homes.
Looking ahead, there seems to be no end in sight for the hot Las Vegas housing market. If you're looking to buy a home in Las Vegas in the near future, it's important to begin your research, and save now as prices are only going to go up. Feel free to contact an experienced agent like Gavin Ernstone today for more information on current real estate market trends and what they mean for you.
Top 5 Reasons to Invest in Las Vegas Real Estate
Las Vegas homes rank among the most desirable properties in all of the US. On top of the many beautiful and vibrant homes to be found here, homeowners get to enjoy proximity to world-class tourism and entertainment options. Whether you're looking for your next investment or your family's next abode, these five reasons may convince you that the Las Vegas housing market is where you should put your money.
1. Affordable housing options
It's widely accepted that Las Vegas houses are relatively easy on the pocket, especially when compared to homes in the state of California. Despite the limited inventory, Las Vegas boasts a wide range of housing options including single-family, condos, apartments, and more. The communities here are also highly livable, such as The Ridges, Red Rock Country Club, MacDonald Highlands, and Anthem Country Club, to name a few. Keep in mind that as inventory shrinks, that affordability diminishes, so it's important for interested buyers to act fast.
2. A tax-friendly and thriving economy
Las Vegas' booming housing market is directly tied to its aggressively growing economy, and pundits believe there's plenty of reason to be excited about Las Vegas in 2022.
"Conventions are going to be coming back stronger, and international tourism is going to be coming back as well. For the smallest of our businesses here in Southern Nevada, all of those things bode well for a great economy and a great outlook for 2022."
Another significant reason for Las Vegas' success in the real estate arena is the zero tax levied upon personal income. The city also doesn't collect any corporate tax, franchise tax, or inventory tax. As mentioned, the property tax rate is also very inviting.
3. A long-flourishing tourism sector
A total of 43 million people visited Las Vegas in 2019 before the pandemic hit. Even with COVID restrictions in place, the
city managed to attract 19 million tourists in 2020
and a whopping 29.23 million in 2021. The numbers are only expected to grow as restrictions ease.
This bodes well for homebuyers looking to rent out their property. Thanks to the strength of the local tourism industry, you're practically assured of healthy and constant returns on your investment.
4. Year-round and all around entertainment and recreational opportunities
Las Vegas has a reputation as the gambling capital of the USA, but its leaders have made serious efforts to shed some of that negative reputation and give Las Vegas a more family-friendly atmosphere. Residents and visitors alike can indulge in various activities such as shopping, golfing, hiking, museum-hopping, helicopter riding, and more. Some of the city's biggest attractions include the Red Rock Canyon National Conservation Area, Fountains of Bellagio, The Mob Museum, Hoover Dam Bypass, and of course, The Strip.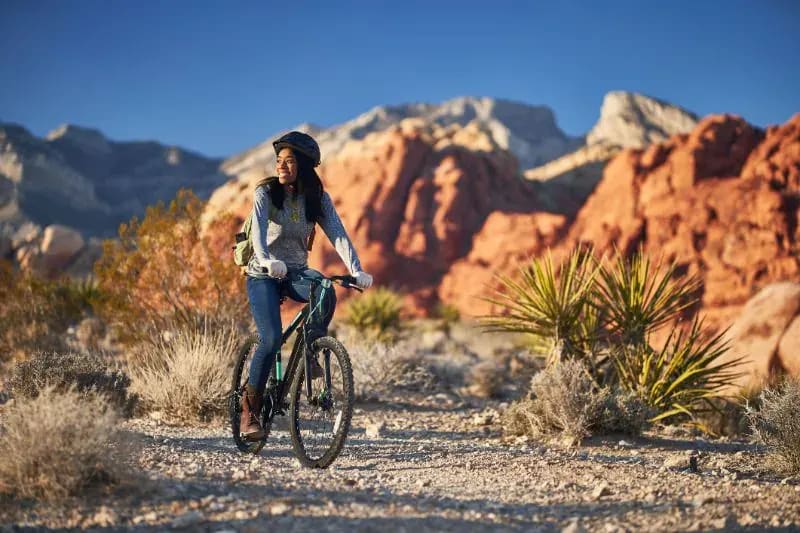 With so many family friendly and adult oriented activities and entertainment here, it's easy to see why buying a home in this location is so attractive.
5. Undeniable growth potential
Like any other American city, the Las Vegas real estate market faced many challenges throughout the pandemic. However, successful planning has placed the city in a better position to bounce back and recover faster than most contemporary US cities. As demand for property rises with the easing of restrictions, the immense potential for growth is reason enough for anyone looking to invest. If you're a budding investor or buyer, it's best to begin your home purchase journey now before the market becomes too hot and properties get priced out of your range.
If you don't know where to start, working with an experienced professional agent like Gavin Ernstone can help put you on the right track and keep you there. With a savvy real estate agent representing you, you will be able to make the right investment and avoid mistakes and disappointments that could be costly.
What to Look For in a Las Vegas Property
Whether you're looking for your next home or another property investment, the first step is to do your research. As you begin your real estate journey, here are some important points to consider when shopping for the right property to put your money on.
1. Location
Choosing the right location is your first consideration when buying a home. You have to check the quality of the community, as well as the access to basic goods and important amenities. You may also want to look into how the area may change over time. For instance, if there is a lot of new construction going on in the area, that's a sign that the value of your investment could go up significantly in a short amount of time.
2. Property Type and Amenities
There are three basic types of property: residential, commercial, and industrial. It's important to first understand the differences between these different property types to fully know which one you want to invest in. Likewise, consider the facilities and the state of the property you want to purchase. If it's a new construction, then it's likely you won't have any serious maintenance problems in the near future. However, if it's an old property, you will have to perform a thorough inspection to ensure that the layout, structure, and features are sound.
Knowing the condition of the property will help you decide if the investment is worth it or not. For instance, the property may seem affordable at face value, but if it's going to need heavy renovation and modeling to bring the quality up to scratch, then you could end up with you digging yourself into what seems like a bottomless money pit. Buyer beware.
3. Curb appeal
The exterior of the home is the first impression you will have about the property you intend to buy, so you want to make sure it's positive, inviting, and well-suited to your lifestyle. You may want a Victorian or Tudor-style home or something simpler and more rustic.
4. Floor plan
You may already have a dream home in mind, but is it practical for you? If you'll be living alone, then buying a four-bedroom, four-bathroom house may be overkill even if you're planning to raise a family at some point.
Consider how each space in your home will be used and how it will fit into your lifestyle for both the short and long term.
Talk to Gavin Ernstone Today
With so many considerations to think about when
buying a Las Vegas home
, it's best to have a qualified real estate professional guiding you from beginning to end. This is where
Gavin Ernstone
comes in. Las Vegas' very own Dream Home Specialist, Gavin will be with you every step of the way to help you maximize the returns of your investment. Contact him at
(702) 523-3677
or you can leave a message at
[email protected]
.