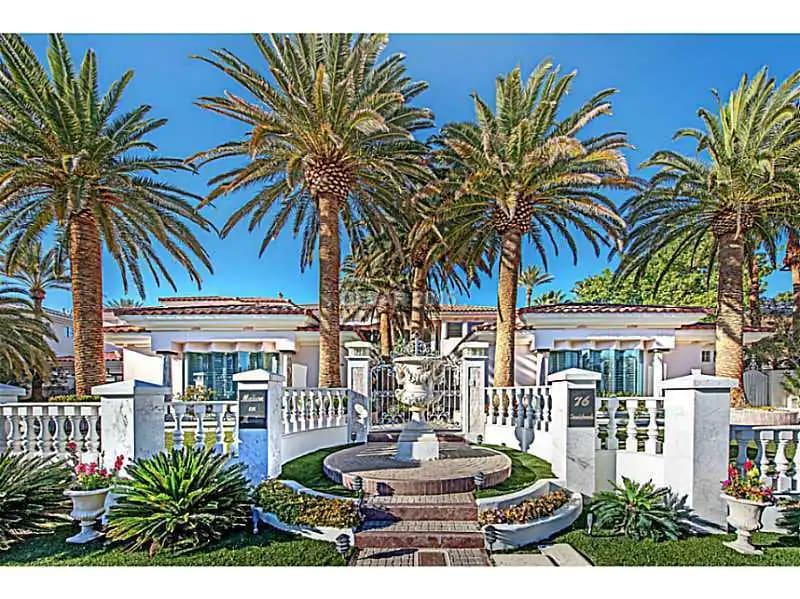 Whether you're building a home from the ground up or looking to purchase an already-built estate, Las Vegas has many choices when it comes to
luxury home communities
and design.
The most common type of homes in Las Vegas are ranch-style homes. Traditionally one-story, Ranch style homes most commonly have a "L" shape or are one-dimensional. Some ranch-style homes include one or two car garages while larger designs offer more. Known for its long and close-to-the-ground profile, ranch style homes create an informal and casual living style
Split-level homes are also sometimes referred to as multi-story homes. Starting in the 1950's, split level design homes give some variation to the traditional ranch style. The idea behind split level homes is to offer a sense of privacy or seclusion from the other living areas. Many split level homes include an area right above the garage for added living space.
While many of the homes in Las Vegas feature ranch and split-level designs, larger estates feature more unique styles such as Tudor, Spanish, Italian Villa, Pueblo and Mediterranean. More information about these grand styles can be found below.
Las Vegas Home Styles That Buyers Love
Tudor
Dating back to the Tudor period (1485-1603), Tudor homes were based on many Medieval and early Renaissance-style homes. These homes included several features that distinguished them from other designs. During the Tudor period, Tudor-style homes of the wealthy featured an "E" or "H" shaped floor plan with brick and stone masonry and half-timbers.
Today, American Tudor-style homes can be identified by their steeply pitched gable rooflines, stucco or stone walls, decorative stone trim, elaborate masonry chimneys, decorative half-timbering and embellished doorways.
Spanish
Spanish-style homes are based on Moorish and Mediterranean architecture which dates back to the styles found in the old country. These homes are expressive and the design focuses on entertaining family and friends in a comfortable and relaxed setting.
With tiled roofs and stucco walls, Spanish style homes offer both beauty and function by keeping the interiors cool during hot months. Many Spanish style homes feature towers, balconies and wrought iron details. It's not uncommon to find the home centered around a courtyard with shaded galleries.
Tuscan
Tuscan-style homes are built with a classic Italian design complete with an old world European charm. Similar to a Mediterranean design, Tuscan homes usually feature a stucco exterior and stone accents giving the home a rustic yet elegant feel. From iron accents to terra-cotta tiles, the elegant and detailed designs are a true sight.
Tuscan-style homes stick to their earthy hues and simple windows allow the use of natural light to fill the home. Textured wall finishes, enclosed courtyard and painted ceramic objects bring together the Tuscan feel.
Pueblo
A style popular in the southwest, Pueblo style homes borrow their design from the Pueblo Indians' simple, sleek and multi-family structures. Made to withstand hot and dry weather, many Pueblo style homes were made from traditional adobe while others are built with stucco, mortar or concrete to achieve the same look.
These homes also included heavy doors and ceiling beams that add a bold touch to the smooth walls. Much like Spanish architecture, Pueblo style homes were often build with a common space in mind and the home was added around it, incorporating a patio or courtyard. Roofs of Pueblo homes can be flat or sloping and often with parapets.
Mediterranean
Mediterranean-style homes are inspired by Italian and Spanish architecture during the Renaissance era. These homes boast low-pitched tile or terra cotta roofs and stucco walls. More notable are the arch motifs, balconies and mosaic touches which give Mediterranean style homes their distinction.
Along with the decorative wrought iron that can be found in the home's design, Mediterranean floor plans allow open space and an open flow between rooms of the home and often open up to lush gardens or lavish pools.
Which Home Style Do You Prefer?
Each style of home in Las Vegas has its own unique design and style. Whether you're searching for the perfect Tuscan estate or grand Tudor home, you're sure to find it in one of
Las Vegas's luxury communities
.
When you're ready to explore the styles available in Las Vegas,
Give us a call
. As a seasoned
Las Vegas luxury real estate agent
, I am dedicated to helping you find the perfect place to call home. Feel free to get in touch if you want to looking to buy or sell in Las Vegas or if you would like more information about the area.