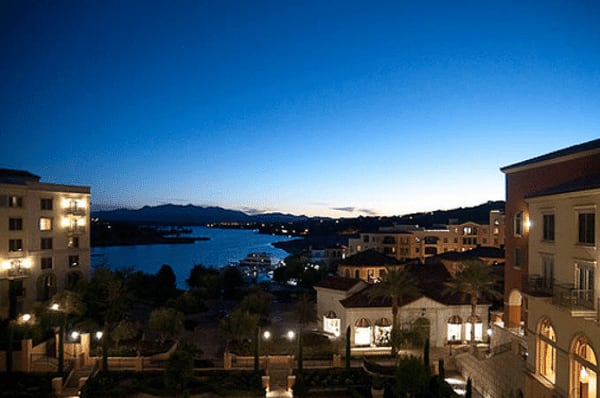 What Makes Las Vegas Real Estate a Perfect Vacation Home Investment?
Visitors flock to the desert oasis known as
Las Vegas
by the millions. Conventions, great weather, first rate entertainment and dining make this city a worthwhile destination for just about anyone.
But, what if you're looking to make Las Vegas a more consistent destination? If you're in the market for a vacation home in Las Vegas, read further. We'll help you decide (persuade really) on incorporating Las Vegas real estate in your vacation home choices.
Buying a vacation home is similar, yet not, to buying your primary residence. Factors such as costs, activities, lifestyle and environment all contribute to your buying decision. Since this is a vacation property we are talking about, you probably aren't concerned with community features like schools, (although Las Vegas boasts some pretty good ones) so we'll be talking about other Las Vegas attractions.
Regardless of zip code, buying a vacation home brings up some standard questions that should be answered:
Yes, the housing market is becoming more stable. The last five years have shown fewer fluctuations in the real estate market. The median home price is $203,000 and homes have appreciated 11.6% since January, 2014.
There are tax advantages of selling your primary home, moving into vacation home, then selling after two years. Owners can avoid capital gains taxes by going this route.
Property tax is approximately 1% of the market value
If so, online rental sites like
AirBnB
feature Las Vegas home or room rentals year-round. Although that site is targeting the vacation market, convention season is also a prime time to rent out your vacation home. There are hundreds of properties for rent on the site, and they cover the entire Las Vegas Valley. Over 5 million visitors flocked to Las Vegas in 2014, during convention season alone. The rest of the year saw over 41 million people in the city for a multitude of occasions.
Property Choices, What Type of Home Is Right For You?
Of course when talking about what type of vacation to purchase, Las Vegas comes through with a vast variety in this category. Options range from condos to penthouses to estates with acreage.
Condos in high-rise buildings offer spectacular views of the city and low maintenance. Balconies are often available to add to living or recreation space. Condos are also available on Lake Las Vegas, offering conveniences to the downtown area and a water view in the desert. Community pools and fitness rooms provide residents with luxury amenities on-site. Sip your morning coffee on your balcony, hit the gym, watch fish jump – all without leaving home.
Penthouses are also an option and these are available in all types of buildings, even mid-rise. Sky decks offer more opportunity for outdoor living. It's like a room with no roof, offering privacy without compromising your heavenly view.
Communities in Las Vegas offer the small-town feel for residents, but with the big city just minutes away. These enclaves have their own unique characteristics and attract residents who make for good neighbors. Here are a few we have highlighted, along with what residents love about their Las Vegas niche:
• Summerlin: Parks, lakes, farmers markets, dog-friendly spots, shopping centers close
• Green Valley: Friendly people, easy (relative) traffic, quaint shops, relaxed and casual environment
• Spring Valley: Central, easy to get to the entertainment/fine dining part of town, numerous entertainment options, dog parks
• Mountain's Edge: Walking areas, master-planned community, parks, views of the strip
Day Trips from Las Vegas are a fun way to take advantage of the natural elements the desert has to offer.
Mount Charleston
, a local favorite is just 30-40 minutes away. It is part of the Spring Mountains National Recreation Area where you can ski and snowboard during the winter. Camping is also popular for warmer months. And to take advantage of nature at a distance, cabin rental and rooms at the lodge are available.
Activities in Las Vegas are varied, from golf to major entertainment headliners, get active or go relax: the choice is yours. Let us know how you plan on taking advantage of all Las Vegas has to offer.
Ready To Take The Next Step?
We want to help you find your ideal vacation home.
Contact our team
today for more information!