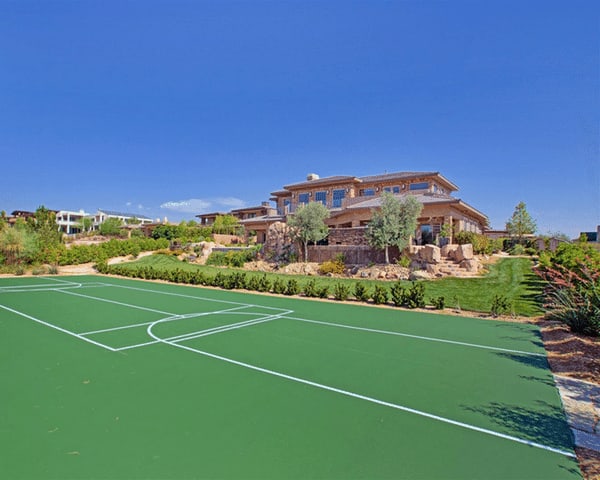 Competition is stiff in the "extraordinary features" category of
Las Vegas Luxury real estate
. When you consider that some homes have indoor shooting ranges, standing out from the crowd is challenging. But, this wouldn't be Las Vegas if we didn't have some seriously over-the-top finishes within the confines of a custom home.
If you can dream it, someone in Las Vegas can build it. We host the International Builders Show on a rotating basis, and those professionals bring innovation along with their show displays.


A bonus of the convention is the New American Dream Home, a program produced by the National Association of Home Builders. The physical structure is a showcase for new design elements, technology, and advancements in construction techniques.


The 2016 New American Home emphasizes the use of natural light, but without raising interior temperatures. Sierra Pacific, the window supplier for the project, created a new type of glass especially for the showcase, which allowed light but minimized heat transfer. That trait certainly stands out in the desert.


There are other ways to stand out in the Las Vegas luxury real estate market besides commissioning a supplier to custom make a component. Below are five ideas, in no particular order.


1: Sports
An
exclusive sports zone
on the property is one way to make your house stand out. Indoor racquetball courts are a draw because they're useful regardless of the weather. A regulation-sized basketball court would be attractive to a family with active youngsters.
For golfers,
a putting green in their backyard
means they can miss countless shots with no penalties. We've even seen luxury homes with baseball diamonds, bowling alleys, and indoor ice rinks. As usual in Las Vegas, anything goes.
2: Entertaining
Las Vegas is all about entertaining, and what's better than a dance floor for your guests? Yes, some homes in Las Vegas come equipped with a dance floor.


If the Copa Cabana isn't your top choice for entertainment amenities, providing an extended space for guests to gather will accomplish the same goal. Make your home stand out with a functional and beautiful transition from the outdoors to the inside of the house. Glass pocket doors that retract to allow guests to flow throughout the home without interruption are especially appealing.


3: Views
Maximize your view of the valley, whether that includes the skyline, mountains, a golf course, or Red Rock Canyon. The combination of natural resources and city lights make the Las Vegas panorama a highly desirable asset.


Most Las Vegas luxury homes accentuate the landscape, especially sunrises and sunsets. Access to these natural light shows will help your house stand apart from the rest.


Rooftop or elevated decks are like balcony seating at the opera; private, intimate, and with an unimpaired field of vision for viewing the desert sky.


4: Clout
Has your luxury property starred in a movie or television show? If it has, use that fact to make your home stand out. Las Vegas is the backdrop for
several TV series
, and countless films, and being a part of that action has its perks. You can relate screen appearances to provenance in the real estate market here in Las Vegas.
The same theory holds true for famous or infamous former owners. Homes built during the organized crime days of Las Vegas might have bulletproof glass, or a guest book filled with famous names.


5: The Environment
Highlight the environmental friendliness of your home, because green stands out in the desert. Referring to the International Builders show, an element of their showcase homes usually includes ecological stewardship. For these builders,
luxury and eco-friendly go hand in hand.


In addition to the energy efficient windows, the home design includes LED lighting, appliances that use minimal electricity, housed in a cabinetry system with the KCMA Environmental Stewardship Program certification. Indoor air quality is near perfect through the use of filters and ventilation systems throughout the home.


Then there is solar technology, putting our 300+ days of sunshine to use while reducing energy bills. Solar cells power everything from pool equipment to ancillary electrical systems in custom homes. A few luxury homebuilders in the valley offer a solar package with their design options.


Find your Las Vegas Luxury Dream Home
Like snowflakes, luxury real estate in Las Vegas comes in all shapes and sizes. From sky-high penthouses to underground bunkers, and every altitude in between, you can find it here in Las Vegas.


What makes a property stand out in your mind? I always enjoy hearing from fellow real estate enthusiasts.
Click here to contact me.