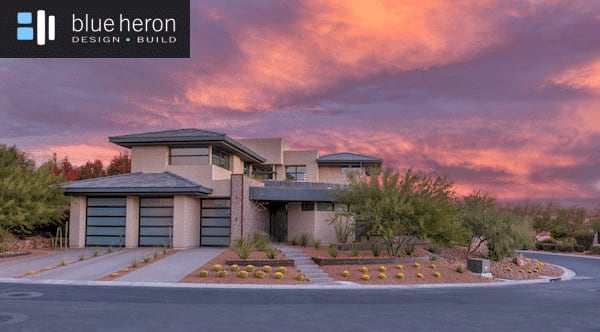 Blue Heron is a custom design build firm that brings luxury estates with contemporary desert style to the greater Las Vegas area. Because this family owned and operated company spends time getting to know each buyer, it creates one-of-a-kind homes in the city's most exclusive master-planned communities. Your needs, preferences and budget will be taken into consideration when investing in a Blue Heron estate, so you can enjoy every minute of seeing your new home come to life in Las Vegas.


Here's a glimpse into
Blue Heron Las Vegas homes
to help you envision the custom property you've always wanted in one of southern Nevada's top luxury communities.
Blue Heron in Las Vegas, Nevada
Because this premier design and build firm is run by Las Vegas natives, the team at Blue Heron applies its knowledge of the area to each luxury estate. This expertise is one detail that gives buyers peace of mind. With several generations of Las Vegas locals at your disposal, you'll learn more about the way this company works with the city's residential communities and stunning landscapes to create your dream home. You can start working with a Las Vegas dream homes specialist now to help you find the right Blue Heron home for you in this dynamic real estate scene.
Master-Planned Communities and Blue Heron Custom Homes
Because residential neighborhoods with Blue Heron homes are made for the city's elite, each home's design and architecture exudes extravagance and taste. The open floorplans pave the way for cutting-edge innovations, which lead to luxury estates with enchanting features like floating staircases and pocketing glass doors. Where each interior detail complements the home's exterior, you'll also discover spacious courtyards, lush landscaping and more in these high-end communities. Finally, easy access to the city's dynamic attractions also plays an important part in how these neighborhoods appeal to the Las Vegas elite, as insider access to golf courses, restaurants and more comes with living the good life in Las Vegas.
5 Active Blue Heron Luxury Residential Communities
Here's a look into 5 Blue Heron luxury communities, highlighting the way the homes and areas complement the premier neighborhoods and sparkling landscapes and vice versa in Las Vegas.
1. Sky Terrace
Sky Terrace is a Blue Heron active community with prices starting in the low 900s. This pre-designed neighborhood only has two custom home sites left, however, you can still make your mark on this gated community. The 44 homes in this neighborhood live above the Las Vegas Valley, making this mountainside enclave a surreal place to live. Whether you're drawn to its sophisticated architecture or exquisite desert landscape, Sky Terrace is a notable state-of-the-art community from Blue Heron.
2. Marquis Seven Hills
Marquis Seven Hills is the second of Blue Heron's active neighborhoods with prices beginning at $1.5 million. As this alluring neighborhood's 33 estate homes are nestled inside the acclaimed Seven Hills master-planned residential community, you'll be living the Las Vegas luxury life in no time. This secluded enclave is located between two fairways on the Rio Secco Golf Course, so elite status is a give-in when you call this opulent locale home. Because personal luxury is a priority in this gated Blue Heron community, you'll only find a high level of comfort in one of its two available homesites.
3. Horizon Lights
Horizon Lights is another active community with Blue Heron homes, with its 12 new houses facing the Las Vegas Valley. Because this private gated community includes new designs for contemporary desert homes, you'll fall in love with everything this convenient enclave has to offer its residents. You'll have easy access to luxury amenities inside the community as well as in Henderson and Las Vegas. Because these homes are also equipped with stunning sky decks, enchanting pools and more, you'll have everything you need to live comfortably without leaving home.
4. The Bluffs
The Bluffs is the fourth of Blue Heron's active neighborhoods with prices beginning at $1.3 million. Once you experience the views of the valley from this private gated community, you won't want to live anywhere else in Sin City. The 39 mediterranean-style homes that rest on this hillside overlook the mountains and the Las Vegas Strip, so you'll be living amidst this enchanting setting both while at home and out in the community. Because the city's exquisite atmosphere influences every home in this neighborhood, you'll find breathtaking landscapes around each turn everywhere you go while at home.
5. Midtown Modern
Midtown Modern is the fifth and final Blue Heron active community with prices starting at $1.5 million. With its limited offering of four modern estates, this private cul-de-sac epitomizes the exclusivity of Las Vegas life. The mid-century design and modern architecture makes this gated community a hotspot for locals in the market for luxury living in downtown Las Vegas. Because this exclusive area is also near local attractions like the Arts District, you'll love the way it inspires your passions and style every day.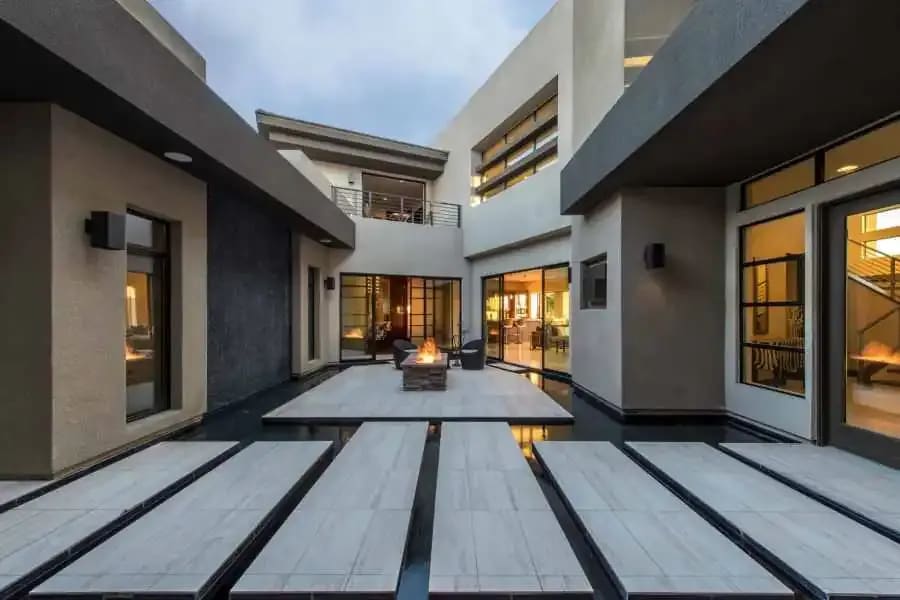 Blue Heron and the Las Vegas Landscape
In addition to using each community as inspiration for interiors and exteriors, this firm incorporates the desert into its designs.
Blue Heron's custom Las Vegas homes
are made to enhance the neighborhood, so homes are built with the area's future in mind. Because each property also illustrates the firm's devotion to sustainable design, they're made to support surrounding areas. The aesthetic cues pulled from the Nevada nature reveals how every
Blue Heron
property in the heart of the Mojave Desert is designed to be ecologically adept and enhance each community.
The Seamless Indoor and Outdoor Design
The way Blue Heron blends indoor spaces with outdoor ones in its homes is also a nod to the Las Vegas environment. Because this trend is a top selling point for buyers in the Las Vegas real estate market, you'll find it in nearly ever Blue Heron house. The company's architects and interior designers look for ways to bring the outside in and vice versa to create seamless connections. If you're planning on making outdoor living a part of your Las Vegas household, you'll enjoy easy transitions between the inside and outside from every room in your home.


Blue Heron and Green Building
Because Blue Heron is committed to building open-air homes with improved energy efficiency, you'll appreciate the drive to preserve and enhance each property's natural surroundings. The team makes sure its houses are oriented to conserve energy, working with the landscape to create a comfortable place to live in southern Nevada. With innovations like passive solar design incorporated into each household, Blue Heron utilizes architectural strategies that make long-term sustainability easy. These adjustments include changing up window and door placements to formulate spaces with adequate sunlight, stunning views and much more.


Discover Designer Homes by Blue Heron
The chance to customize your home from start to finish is one perk of working with this award-winning firm. Because
Blue Heron
is committed to customer satisfaction, its enthusiastic team will be by your side throughout the whole process. You can learn more about
Blue Heron
designer homes by
looking at the firm's world-class designs and cutting-edge architecture
. Once you're familiar with these properties, take the next step toward building your dream home by
contacting me
to discuss a specific
Blue Heron
property or community.
Blue Heron Living in Las Vegas
If you're looking for a custom home designer and builder you can depend on in Sin City, Blue Heron is the way to go when creating a practical, elegant place to live in the Las Vegas Valley. The custom homes in these active communities illustrate the intersection between aesthetics and functionality, where attention to every detail creates an exquisite, one-of-a-kind home every time. By working with the acclaimed team of designers, architects, and more, you'll build a home that meets the Las Vegas real estate industry's standards and your highest expectations.


I would be happy to answer any questions you may have about
Blue Heron
Las Vegas homes and communities, so please don't hesitate to
Contact me
and set up an appointment today.