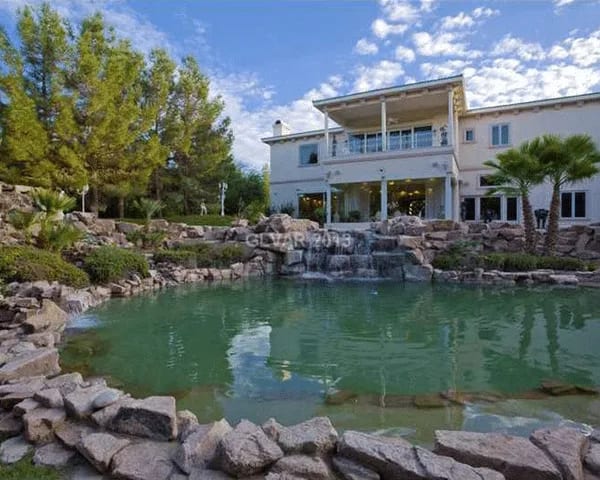 If you have ever been to Las Vegas, you know that it is always blanketed by celebrities performing in the many casinos along the Vegas Strip. Yet some of those celebrities not only perform in Las Vegas, they have also made the city their home. From actors, to musicians, to the latest reality show stars, Vegas is home for many famous people.
Since our clients are also deciding to make Vegas their home we thought it would be fun to make a list of the most famous Las Vegas celebrity residents. While there are many more stars that makeup the over 2 million residents of this glamorous city, these are among the most famous Las Vegas celebrity residents.
Celebrities that make Las Vegas their home
Actors
Hollywood is the film capitol of the world but Vegas is also high on the list. Two of the celebrities that made our list of famous Las Vegas residents include Nicolas Cage and Rita Rudner. Nicolas Cage has a history with the city of Las Vegas that goes beyond his home's zip code. His movie credits also celebrate this exciting locale.
Rita Rudner is one of the performers who grace the stages of Las Vegas casinos performing stand-up, but she has also had a long career in film and television. She has been performing as a comedian in Las Vegas for more than a decade and living there for nearly as long.
Singers
Wayne Newton is famous for his hit, "Viva Las Vegas," and has been
performing in Las Vegas
for the last 50 years! With a career that long in Vegas, it's no wonder that it is also the place that he calls home. Building a career and residency just as long as Wayne Newton is the world-famous Celine Dion. The famous songstress with the velvet voice performed in Las Vegas for a decade before taking an extended break. Fortunately for music lovers, she is back performing there with a contract through 2019.
Sports Stars
It may come as no surprise that two of our sports stars living in Las Vegas are world famous boxers. Floyd Mayweather Jr. and Mike Tyson are the most famous Las Vegas celebrity residents in the boxing world. Next are two legendary tennis stars, Andre Agassi and Steffi Graf who are not only long time Las Vegas celebrity residents but also a famous couple. Agassi was born and raised in Las Vegas.
TV Personalities
There are many TV personalities who live in Las Vegas but perhaps the most famous is the unforgettable star of the long hit series "Lifestyles of the Rich and Famous," Robin Leach. The former Brit and long time celebrity Las Vegas resident has lived a quiet life in the city's luxurious outskirts for many years.
Politicians
While not everyone knows their names, politicians are a kind of celebrity and we have picked the two most famous Las Vegas residents. Former Senator John Ensign resigned in disgrace after a shocking extramarital scandal and Harry Reid, a former boxer, served as the Senate Majority Leader for the last several years.
Entertainers
The list of celebrity entertainers taking up residence in Las Vegas is far too expansive to list here. Suffice it to say that when it comes to all around entertainers, Hollywood has nothing on Las Vegas. Some of the most famous Las Vegas celebrity residents are two magicians who have transcended pop culture combining a top rated comedy act with magic.
We are speaking, of course, about the famous magic duo Penn and Teller. Both men and their families have called Vegas home for many years. Still, even more renowned are the brother and sister duo of Donnie and Marie Osmond. Their Vegas act stretches back decades and they are still wowing the audience all these years later. While they both live in LA part of the time, Las Vegas is definitely their home too.
Where the Stars Live
When you live in Las Vegas the chances of bumping into a celebrity here and there are very high. Yet getting a view of where they live is next to impossible. That is because the most famous Las Vegas celebrity residents live in the luxury gated communities on the outskirts of the city.
These luxury estates afford them the quiet seclusion that celebrities in LA have a difficult time enjoying. As
local luxury real estate professionals
, our service area includes all of the most prestigious communities in Las Vegas where the stars live. Are you looking for prime Las Vegas real estate? Discover the private living these
exquisite communities
provide by contacting us today.