Purchasing a luxury home in Las Vegas can be a convenient choice for those who want to live in the heart of this city that's on 24/7. Enjoy the amenities of
affluent communities in Nevada
, or choose to stay within walking distance of the city's world-famous frenzy – from exciting clubs to celebrity chef-run restaurants, luxury shopping to mega resort hotels, and The Strip's spectacular and neverending entertainment options including casinos and all-you-can-eat buffets.
Even when you choose a home in the suburbs, you're never far away from every delight available along the 3.5-mile strip. Nevada currently ranks 7th as the best state in the United States for its economic outlook, which takes into account the Silver State's tax policies and economic performance.
Bordered by California to the west, Utah to the east, Arizona to the southeast, Idaho to the northeast, and Oregon to the northwest, Nevada's prime location makes it a coveted location for luxury homes.


Las Vegas real estate market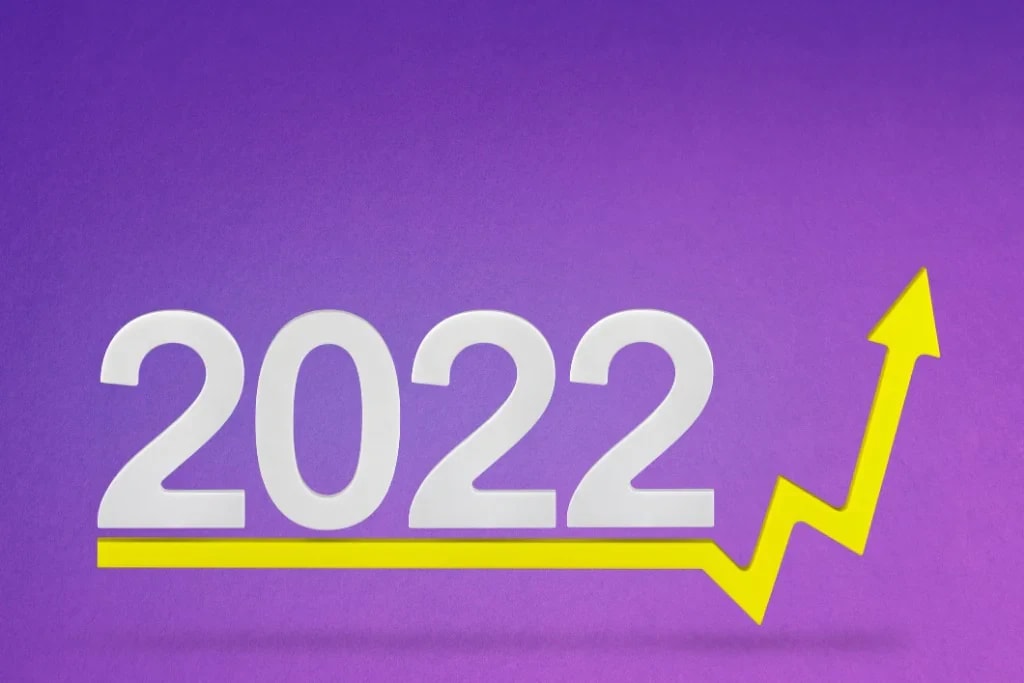 Let's look at some factors affecting the Las Vegas real estate market that make investors keen to buy a luxury home in Las Vegas.

Sin City is a popular destination for travelers from all over the world. Tourists are drawn by the vibrant nightlife, 24/7 wedding chapels, speedy marriage licenses, and exciting gaming action. They spend billions of dollars each year in Southern Nevada – or $35.9 billion pre pandemic.
Which is why investing in real estate property here appeals to a lot of people because Las Vegas has no personal income tax and very low investment property taxes. Condominiums, penthouses, vacation homes, luxury estates, lake homes, villas, and many more are among the city's many investment options.
Even as Las Vegas suffered the highest unemployment rate in the US when businesses started to shut down during the early onslaught of COVID-19 (30% against the national average of 14%), the real estate market saw some of its highest sales in terms of home prices.
Today, Las Vegas continues to ride the wave, with an influx of new residents selling their properties in more expensive housing markets and bringing millions of dollars in equity to relocate to Las Vegas. Here's
how the Las Vegas housing market stands
as of February 2022. Falling inventory continues to drive prices up.
The median list price of homes in Las Vegas was $485,000, representing nearly 25% year-over-year growth.
Data from NeighborhoodScout.com shows that Las Vegas real estate appreciated by around 212.88% in the last 10 years. On average, the annual appreciation rate in this market is set at 12.08%. Investors will be glad to know that this figure means Las Vegas ranks among the top 10% nationally for real estate appreciation.
Since mortgage rates are still low, homebuyers can decide to buy now Or pay cash for luxury properties they're interested in before prices go even higher. Low interest rates allow investors to take advantage of t investment properties that can serve as second homes and vacation housing for employees who still enjoy the option of working remotely.
Top 5 benefits of owning a Las Vegas luxury home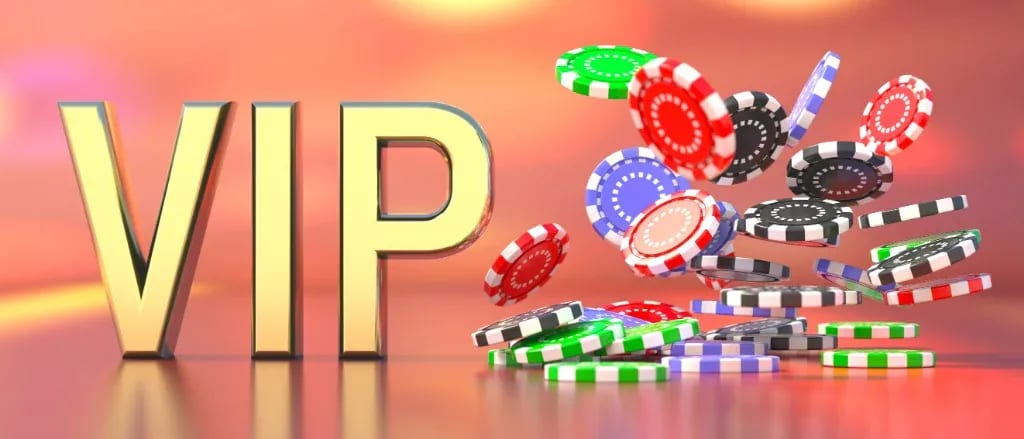 For real estate investors searching for assets with higher returns, luxury homes present an opportunity to include top-notch accommodations in their portfolio.
A luxury home in Las Vegas has the potential to increase in price and offer patient investors the opportunity to re-sell when the time is right. Look for million dollar properties in desirable neighborhoods. It is crucial to think of a home purchase as a long-term investment so the quality of the property is key. Look at the building materials used, the luxurious touches that say you have a great investment property in your hands.
Here are five reasons why you should consider owning a luxury home in Las Vegas:
1. Tax benefits
Purchasing a luxury home in Las Vegas is not only a cost-effective way to live a comfortable and exciting lifestyle, but it gives you the opportunity to take advantage of Nevada's no state income tax.

Retirees and families will benefit the most from living in a state that is tax friendly. In addition to not having to pay income tax, there is no sales tax on food and medicine. Retirees will also appreciate the fact that Social Security payments are not taxed and neither are withdrawals from retirement accounts.

The low cost of living here could entice you to consider moving to the Silver State. In fact, the cost of living in Las Vegas is more affordable compared to nearby areas like California or Scottsdale, Arizona.
2. Low property taxes
Moving to Las Vegas will allow you to enjoy property tax rates that are among the lowest in the United States. Nevada is the currently the
No. 9 state with the lowest property taxes
. Nevada's real estate tax rate is 0.60%, which is well below the national average of 1.07%.
Homeowners don't have to worry about steep property tax increases because of Nevada's property tax abatement law that applies a 3% cap on the tax bill of the owner's primary residence whether it's a townhouse, condominium or single-family house.
3. Lower price compared to other luxury markets
Affordable Las Vegas luxury homes are available for homebuyers who want value for money. Listings of luxury homes in Las Vegas are priced below the median home price of a comparable house in California. This makes luxury zip codes in Las Vegas a more attractive place to relocate instead of trying to penetrate the ultra-competitive real estate market in California.

Compared to Utah, real estate properties in Las Vegas are also more competitively priced. In fact, home sales in Utah broke all records in 2020 due to work-from-home arrangements implemented because of the pandemic.
4. World-class shopping and entertainment
Las Vegas, Nevada is more than a gambling mecca. Those seeking other pursuits can visit one of the many art galleries and museums found in the city. The Guggenheim/Hermitage Museum at the Venetian, the Gallery at Wynn Las Vegas, and the Bellagio Gallery of Fine Art all feature some of the finest of fine art collections. The Las Vegas Art Museum has also partnered with the Smithsonian Institute to provide impressive year-round exhibitions.

If brick-and-mortar shopping is more your thing, imagine 1.2 miles of retail shops. Which is exactly what you'll get when you visit Miracle Mile Shops in the heart of the Las Vegas Strip. If those 200 stores aren't enough, head to the Forum Shops at Caesars Palace where retail stores are set amidst the backdrop of Roman architecture. Check out the life-size replica of Michelangelo's David before you hit the Appian Way Shops.

Residents have endless options when it comes to experiencing the casino-fueled bustle of this 24-hour city. Be mesmerized by the daring acts of Cirque du Soleil or be entertained by old-fashioned burlesque shows featuring showgirls with sparkly costumes and huge headdresses. Whether you want to go out for classy cocktails at high-end lounges or go wild at hardcore dance clubs, you'll find them all in Las Vegas.
5. Outdoor attractions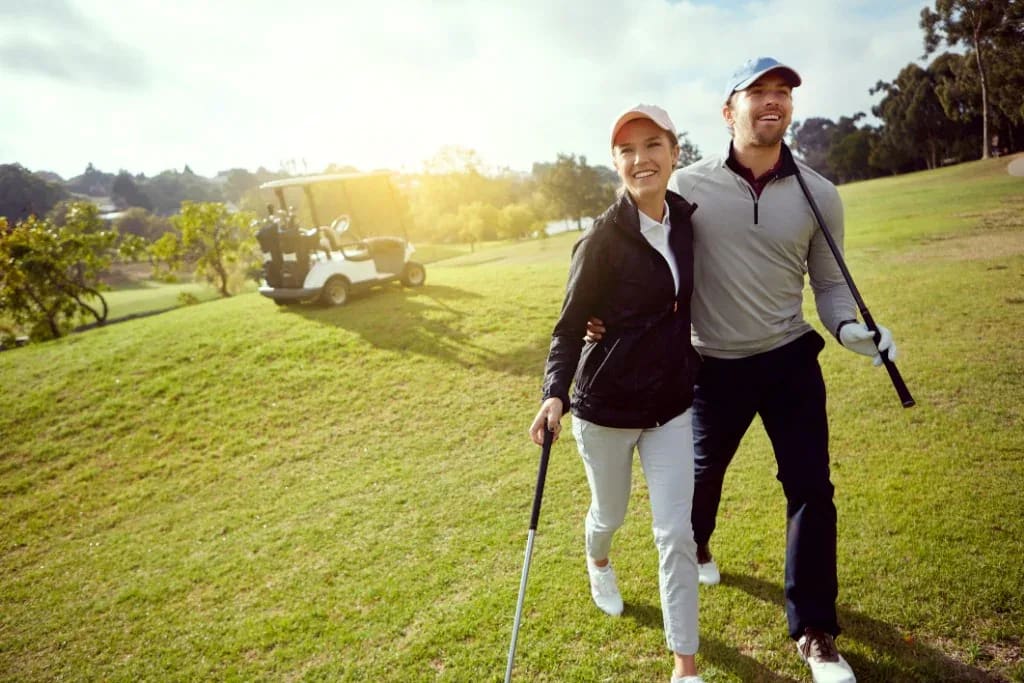 Outdoor enthusiasts will love living in Nevada, which is centrally located between California and Utah, two national park havens.
In just a few hours, you can drive to Utah's Zion National Park to be awed by 1,000-foot walls of delicately hued sandstone in Zion Canyon. Or drive to Northern California's Redwood National Park to experience being dwarfed by redwood trees rising more than 350 feet above the forest floor.
You and your family can also enjoy the postcard-perfect vistas of the Grand Canyon or the serene tranquility of Lake Tahoe. Experience water sports in Lake Tahoe's turquoise waters that shimmer like a mirage in the Sierra Nevada Mountains. s In winter, Lake Tahoe is best known as one of the United States' premier ski destinations, with more resorts and terrain than any other on the mainland.
Golfing enthusiasts will want to settle down in Lake Las Vegas and enjoy the palm-lined, waterside course called Reflection Bay Golf Club. Much of its allure centers on the championship golf course designed by world-renowned Jack Nicklaus as well as the mini-oases that surround the lake and its picturesque marina.
What used to be scorched desertscape is now a sprawling subdivision that attracts homebuyers for homes well worth their price tag. Multimillion-dollar homes now blend with luxe resort accommodations, pampering spas, and high-end shopping destinations, all designed to look like a charming village in the Italian Riviera.
Meanwhile, kids and kids at heart will have a blast trying flyboarding and bouncing around in the inflatable water park. Restaurants in Lake Las Vegas are acclaimed for their jaw dropping lake views that will make you forget that Nevada is mostly desert land.
Featured Las Vegas luxury homes
A luxury home in Las Vegas is much more than just a place to live; it's a residence with every amenity you could ever want, just steps away from your front door.

Living in upscale communities can let you and your family experience premium perks missing in other properties. These club-inspired facilities may include a state-of-the-art gym and a luxurious swimming pool. Enjoy the feeling of living with utmost privacy and security in your own abode.

Whether you are searching for Las Vegas luxury homes for sale with a pool or private enclaves in exclusive subdivisions, we at Simply Vegas can help you. To give you a picture of what you can expect, take a look at six properties we have listed.
Space for everyone and everything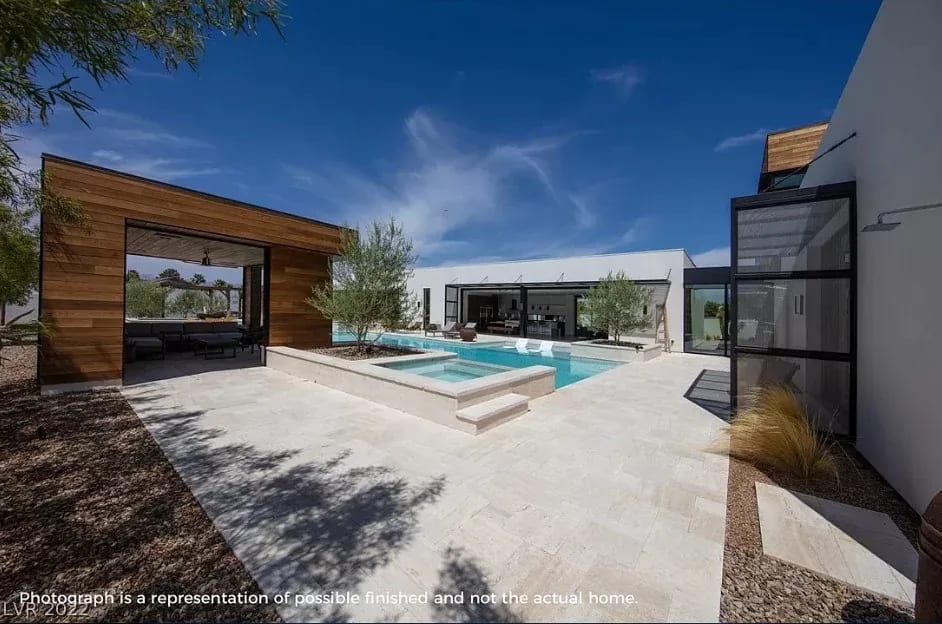 This Las Vegas estate boasts 5,822 square feet of living area sprawled on a half-an-acre lot. Parents with children will appreciate living in a residence with 4 bedrooms and 6 bathrooms. A beautifully designed pool lets you cool off and soak up the sun in style. You'll also have plenty of space for everyone and everything in the 4-car garage. Listed at $2.79 million, this property is perfect for homebuyers seeking value for money.
Remodeled to look modern, spacious, and family-friendly
2990 S Monte Cristo Way, Las Vegas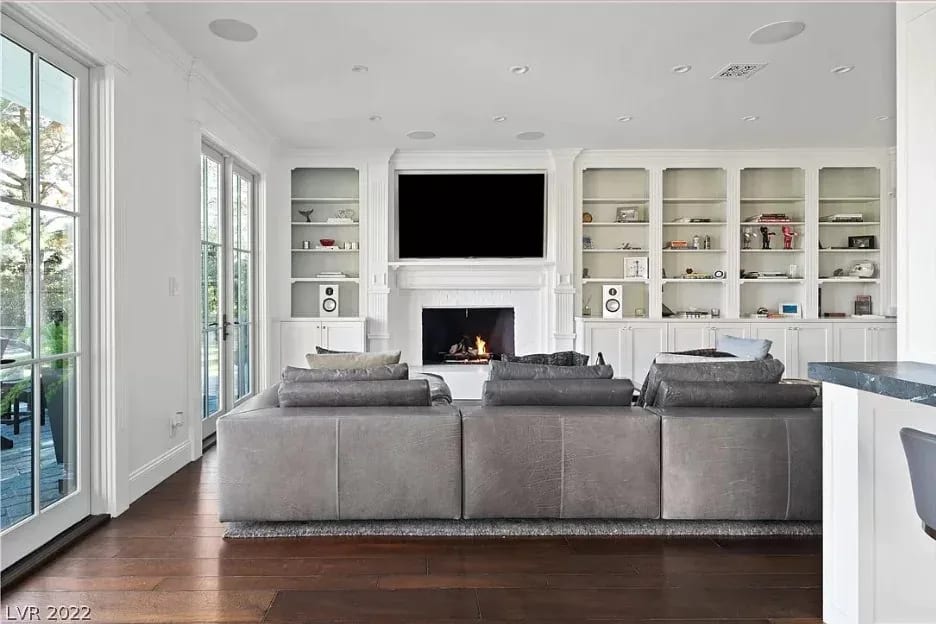 This classic home has been remodeled in order to give it an updated, modern look while staying true to its original architecture. The predominantly white structure sits on half an acre, with 3,467 square feet of living space. Light and airy, the home features glass doors that open to an outdoor swimming pool. A kitchen equipped with high-end appliances lies adjacent to the family room and breakfast nook. The layout encourages easy conversations among family members and a welcoming space for friends during casual get-togethers.
A gorgeous kitchen and fabulous bath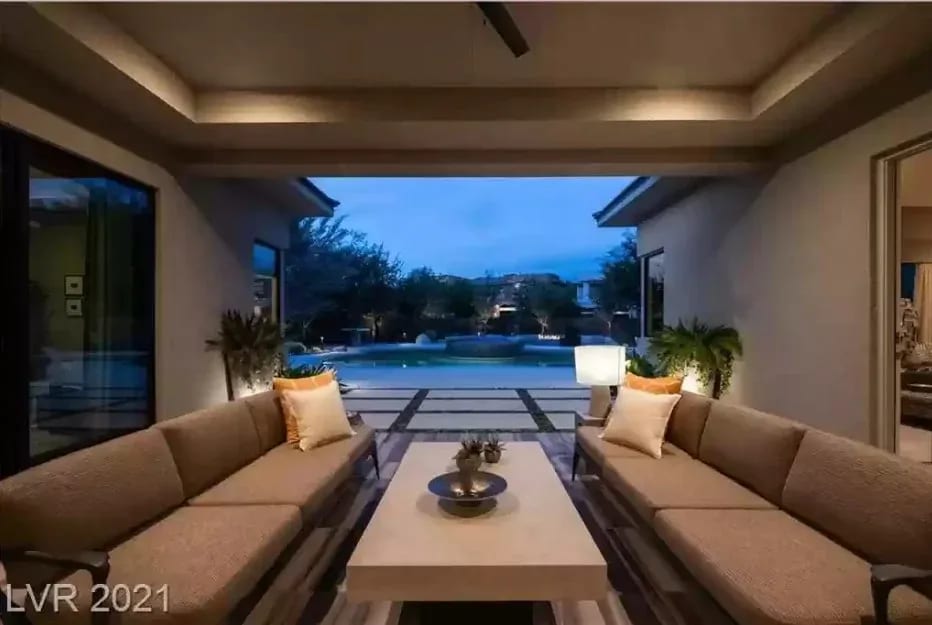 A Savant smart home automation system runs this 4,888 square feet property in the gated community of Summerlin South. The kitchen has elegant marble countertops and high-end appliances from Bosch, Subzero, and Wolf. You'll love lounging in the infinity-shaped swimming pool with a fire pit. Or you could soak your stresses away in a deep-soaking bathtub surrounded by gorgeous tiling, This one-of-a-kind listing sold for $3.35 million.
An elegant retreat with fiery sunset views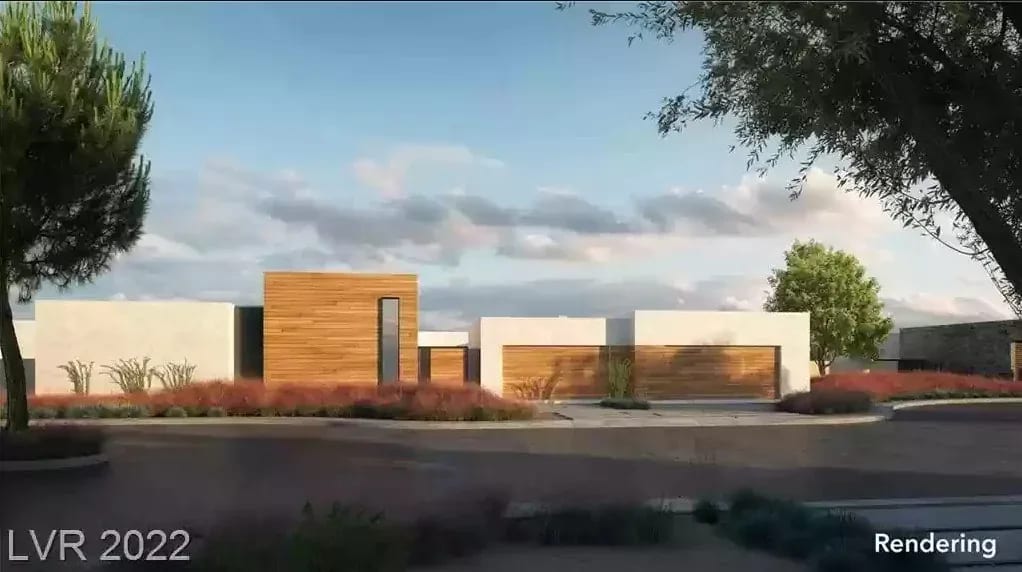 This 4-bedroom, 5-bathroom house elegantly incorporates wood and stone throughout the 4,110-square-foot area. Living in this west-facing property allows you to appreciate the fiery Nevada sunsets. When temperatures rise, cool off in the pool which features a wet deck furnished with chaise-style lounge chairs. The sleek bathtub in the spa-inspired main bathroom adds to the effortless resort-style living you can get for $4.15 million.
Redefining log cabins
6985 Stargazer Ridge Court, Las Vegas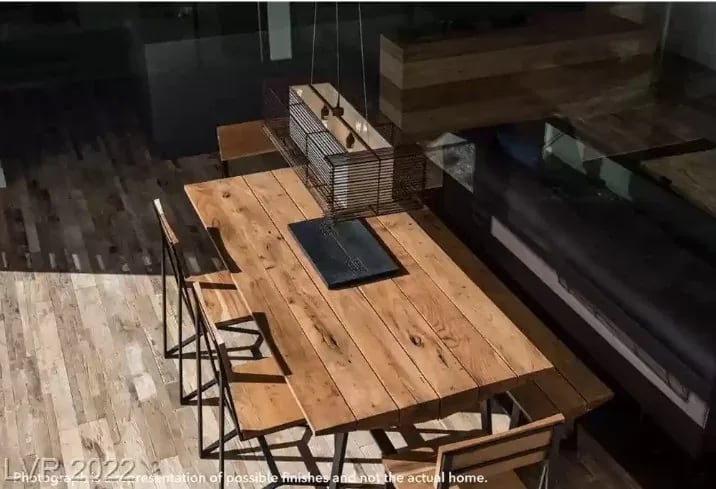 What could be more fitting than living in a stylish desert cabin in Nevada? This 4- bedroom, 5-bathroom home occupies 4485 square feet on a half-an-acre lot in a peaceful cul-de-sac. Enjoy mountain views from your very own swimming pool. Then retreat to your primary bedroom with a luxurious walk-in closet. The prime location and unique design of the house make the $4.49 million price tag of this listing well worth it.
A dedicated home office, game room, and majestic views
15 Painted Feather Way, Las Vegas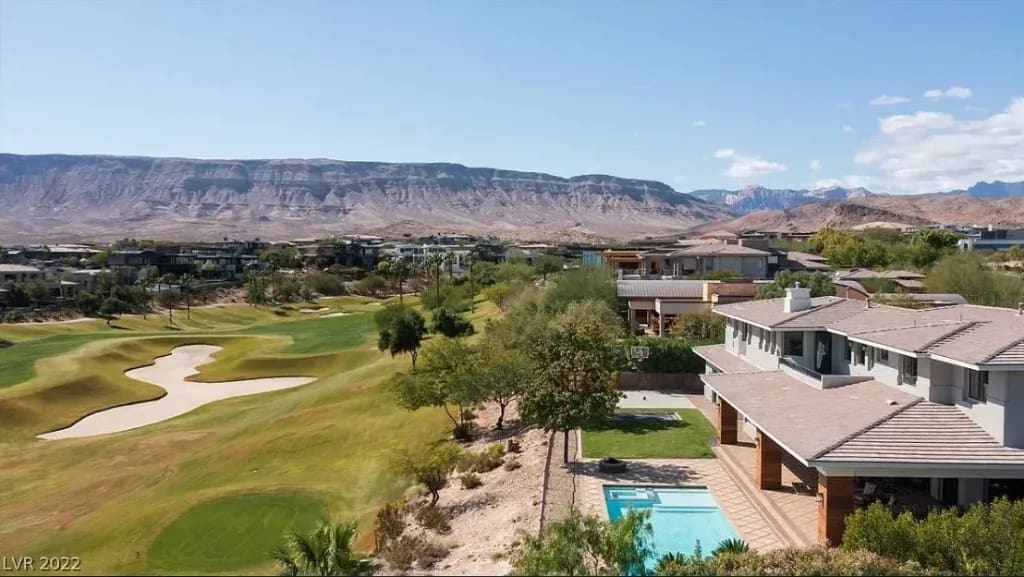 Imagine living in a premium spot of a gated community in the heart of The Ridges, the most renowned village in the master-planned community of Summerlin in Las Vegas. Security is paramount in this neighborhood, with guards providing protection round the clock. The 5-bedroom, 8-bathroom home in this area was built for entertaining and everyday living, with 7,843 square feet of livable space. A chef's kitchen is equipped with stainless steel appliances, a wide kitchen island, and plenty of storage. The home also features a dedicated office as well as its very own gym and wine cellar. Game nights will be even more exciting in the game room with a bar. Swim laps in your pool and then admire the excellent views of the golf course, the majestic mountains, and the Las Vegas Strip. The large patio is perfect for throwing barbecues or hosting cocktails at twilight.
These are just some of the listings of the most exquisite houses for sale in Las Vegas, NV. View these outstanding listings in person by calling Gavin Ernstone, one of the top Luxury home agents in Las Vegas, at
(702) 523-3677
.
Buy a luxury home in Las Vegas with Gavin Ernstone
If you are interested in buying a luxury home in Las Vegas, it would be best to work with a
highly experienced Real Estate Agent and an excellent negotiator
. As Las Vegas's very own Dream Home Specialist, Gavin Ernstone will offer you top listings if you're searching for the best real estate investment properties.