WELCOME TO RED ROCK COUNTRY CLUB, LAS VEGAS!
Located just about 15 miles northwest of the world-famous Las Vegas Strip, the Red Rock Country Club is easily accessible to Downtown Summerlin's array of shopping, dining, and entertainment centers. Outside its gates, you can take your pick of the numerous walking trails and biking paths of the master planned community, or spend a relaxing day at one of the many swimming pools that dot its landscape.


Red Rock Country Club Real Estate
If you have plans to invest in one of the available Red Rock Country Club homes for sale, sales activity for the past three months is encouraging. 41 sales have been recorded, with a median sales price of $1,345,000, and the median asking price per square feet is at $405.

The Red Rock Country Club features 1,000 luxury homes, condos, and other properties that range from $800,000 to $10,000,000 in price. Many of these have been built between 1999 and 2006. At least 87 of these luxury properties are custom estate homes that sit right on the ridge, while 80% of all the properties in the area are on the golf course. As one of the most luxurious Las Vegas golf communities, it boasts of not only one, but two Arnold Palmer-designed championship 18-hole courses, one of which is public, while the other is private.


With the lovely canyon walls of Red Rock as its backdrop, like the other gated communities in Summerlin, this guard-gated community features properties with expansive yards, decadent landscaping, and some of the most beautiful exterior features that you will find in the state. Real estate in the Red Rock Country Club community varies in lot sizes, which range from just about 2,000 square feet to over 10,000 square feet. Elevation starts at almost 3,000 square feet above sea level, which makes it a premier destination for home owners that want to have views of both the golf course and the city.


LIVING IN RED ROCK COUNTRY CLUB, LAS VEGAS


Living in the Red Rock Country Club accords members with several types of Red Rock Country Club membership plans, the first of which is the Golf Membership. The initiation fee for this membership tier is at $10,000, while monthly dues start at $975 per month to have reservation privileges to the Mountain Golf Course, as well as the public Arroyo and Siena golf courses.


Members will also be entitled to full access to the Sports Clubhouse, including the fitness center, group fitness classes, all nine tennis courts, all three swimming pools, and the Red Rock Spa, Tot Stop child care services, and a complete calendar of all Club social events. It also comes with private restaurant access to the Oasis Grill, the Palmer Lounge, and the poolside Cabana Grill.


Executive membership is also available with a $7,500 initiation fee and monthly dues fees at $680/month. Under this plan, you get essentially everything from the Golf Club membership, except you will only have five days advance tee time reservation privileges to the golf courses, and will need to pay green fees.


For the Sports tier, the Red Rock Country Club membership costs include a $3,000 initiation fee and a $399/month monthly dues for access to the Sports Clubhouse, private restaurant access, and a social events calendar. And then there's the Social Membership plan, with its annual pre-paid or pro-rated food minimum fees starting at $210 per month, which treats members to private restaurant access and the complete calendar of all Club social events.


Membership tiers also cover family privileges for immediate family members, including spouses and unmarried children under the age of 23.


Red Rock Country Club Amenities
The exclusive community also offers luxurious amenities for all residents. In this section, we will go over each one.


Clubhouse
The Red Rock Country Club has three clubhouses, the first of which is the Main Clubhouse. Spanning a sprawling 44,000 square feet in size, the Main Clubhouse serves as the premier stage for all social events in the community, including weddings, intimate celebrations, and even business dinners. It accords stunning views of the Las Vegas skyline and the surrounding mountain peaks.

The Sports Clubhouse hosts an excellent array of facilities for everything from tennis to private fitness classes. It is almost 10,000 square feet in size, and treats members and residents to vistas of the Red Rock Canyon National Conservation Area.

The Arroyo Clubhouse, on the other hand, provides a full-service golf and dining experience for members and daily fee players.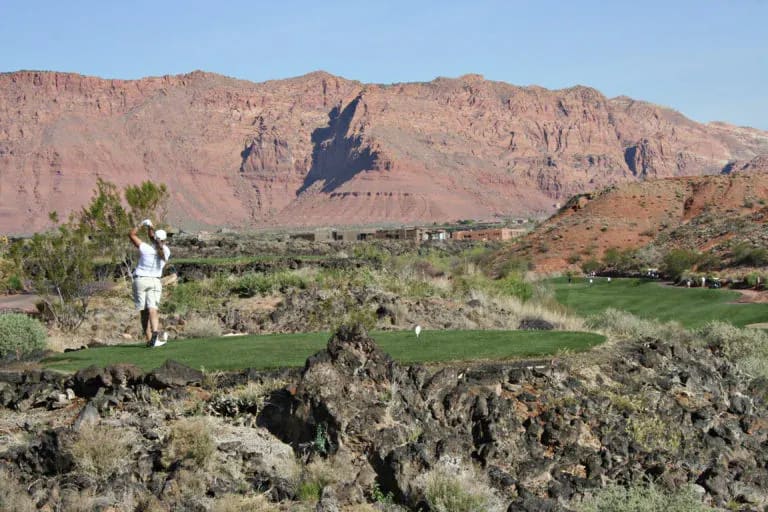 Sports
The Red Rock Country Club is home to two signature golf courses designed by Arnold Palmer, which feature five tee placements per hole for a truly elevated golfing experience. The private Mountain Course encompasses a 7001-yard par-72 area, while the Arroyo course spans a 6883-yard, par-72 area.

According to Arnold Palmer,"When you see the natural beauty and pure splendor of this area, it is easy to see that these courses are absolutely magical". Members can also access the sister golf course Siena, which is designed by architects Brian Curley and Lee Schmidt.

One of the largest league-based private clubs in the area, the Red Rock Country Club also has one of the most active private tennis clubs in Vegas. There are 9 outdoor lighted tennis courts in the community, which host more than 25 USTA/NTA teams each season, as well as 9 USTA sanctioned tournaments and the Davis Kup of Las Vegas Charity Tournament. It is also the official training site for Darren Cahill and the Adidas Players.


Fitness Center
For those interested in Pilates, yoga and personalized fitness programs, the Red Rock Country Club has certified personal trainers to help you customize your training. You can schedule private classes with personal instructors. The fitness centers are open from 5 AM to 8 PM on Mondays through Fridays, and 6 AM to 8 PM on the weekends.


Social & Dining
When it comes to socializing with other members and the residents, the country club hosts various social events year-round. One of its recent events was a roving wine pairing party in partnership with J. LOHR Vineyard. Some of the other events on the horizon also include a Memorial Day pool party and an All-You-Can-Eat barbecue on Father's Day.

When it comes to dining, this gated community offers three choices: the Palmer Lounge, the Oasis Grill, and the Cabana Grill. There are also various dining events for members and their invited guests, such as the Morning Sunshine – Weekend Breakfast, Happy Hour Fridays, Three Course Thursdays, and the Prime Rib Carvery every last Sunday of the month. Parties of up to 12 can dine in the regular rooms, while larger parties can treat themselves to a private dining experience with a pre-selected menu.


Weddings & Events
Looking to have one of the famous Red Rock Country Club weddings? You'll be joining an esteemed list of people who have had the honor of staging their special day on one of the country's most award-winning venues. These distinctions come from some of the top wedding platforms such as WeddingWire and Wedding Chicks, as well as entertainment portals like Pop Sugar and MSN.

With the country club's flagstone brick building, desert landscaping, lush golf greens, and exquisitely maintained grounds, weddings will have the perfect backdrop for their special ceremonies. The venue can hold up to 300 guests, and create custom menus planned by their Director of Catering Sales, who has more than 600 weddings in his resume.

Other events are also accommodated, from business meetings to pool parties. The Board Room can accommodate up to 12 guests, and the Sunrise Room has the space for up to 60 guests, and the Arroyo Room accepts up to 180 guests. There are no room rental fees for members, but a food and beverage minimum will be exercised based on the event's day, time, and season.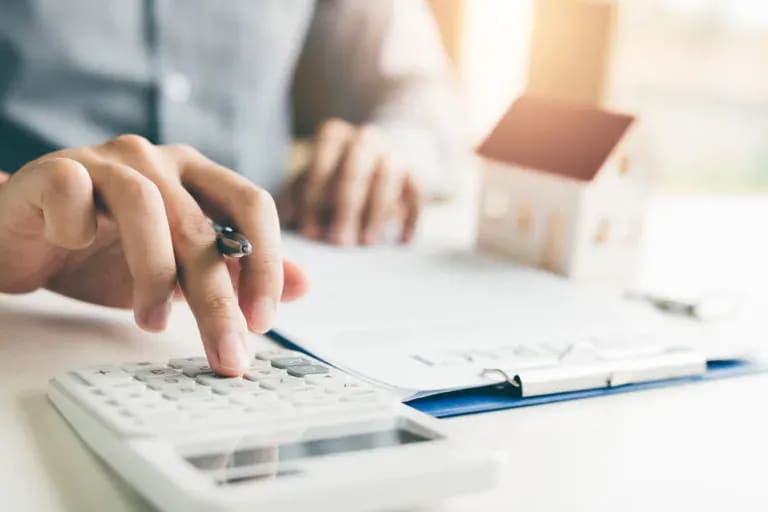 Investing in a Luxury Property in a Gated Community
Making a real estate investment must be a rewarding process, and even more so if you're investing in a luxury property. There are many reasons for this. First, you need to protect your capital outlay by making the right decision and choosing the right property.

Additionally, the chance to live in a community like the Red Rock Country Club should not be squandered by settling for a home that isn't exactly your dream home. And if you have future plans, you would want to future-proof them by calling the right real estate shots now.

To make the most out of your decision to buy a home or a condo in a guard-gated community like the Red Rock Country Club, consider these tips.


Prepare your finances.
The most important thing that you must do to successfully get started with the process is to get your finances in order. According to realtor.org, the median listing price for a property in the Red Rock Country Club is at $1.44M, and the median price per square feet is $386. This is about a 26% increase year-over-year.

To get a listing under contract, it is best that you prepare all the financial documents that you will need to contact a seller. These will include your income and assets statements, your debts and liabilities history, and a pre-approved mortgage.

If you can afford to purchase a property in cash, secure proof from your portfolio manager; if you're enlisting financing, a pre-approved mortgage is a requirement, as some sellers will only entertain offers from buyers with secured financing.

Identify your short-term and long-term goals.

It is also beneficial to determine your specific real estate goals. If you want to buy a home that you and your family will use as a summer house, for instance, your search should be streamlined to include the best properties for that purpose. However, if you have plans of selling the property or converting them into condos that you can rent out in the future, you should opt for a luxury estate that can turn over a significant profit in the future.

Additionally, knowing your goals will inform the other aspects of the process. If you have plans of reselling, for example, and you want to undertake a few renovation projects in the future, then you should be apprised of the rules and regulations for renovations.

Be meticulous when searching for listings.

Finding your dream home hinges upon carefully vetting your options, so when searching through listings, spend time in finding out as much as you can about the featured properties. It is necessary that you base your search on your identified goals, so that you are sure that you will end up with the property that you truly want.

Also, don't forget to factor in your preferences. For instance, if you'd like a home in the Red Rock Country Club that is located closer to downtown Summerlin or the city center, search through listings in the ideal location.

Similarly, get to know the property as much as you can. More than just looking at photos, check if there are other ways that you can use to see the property up-close, such as a virtual video tour. This will help you better assess the state of the home, and will inform your decision-making. Also, don't hesitate to contact the seller or the seller's listing agent for information about the property. Some sellers will even offer a live video chat for your convenience.


Make your offer and sweeten up the deal.
Most sellers of condos and properties in communities like the Red Rock Country Club can afford to wait for a while until they find the perfect buyer with the perfect offer. For many of these sellers, just giving them their asking price may not help you edge out the competition for the property and get the contract.


When making your offer, find out how you can sweeten it by:


Having all the requirements at the ready
Understanding why the seller is reselling their home and aligning your goals with theirs; and
Waiving contingencies, when applicable, to ease the speed of the closing process


Find a trusted luxury real estate agent.
Finally, don't forget to enlist the necessary kind of help by hiring a real estate agent that will help make the process hassle-free and successful for you. The right agent will:


Have a long history of delivering rewarding results to clients, both buyers and sellers of properties
Have extensive experience in the specific area that you want to invest in
Have deep knowledge on real estate market conditions in guard-gated communities like Summerlin and the nearby areas
Have a comprehensive listing of homes, condos, townhouses, and other properties that you may be interested in
Have a strong network of other agents and real estate professionals, as well as escrow and management professionals, to facilitate compliant and fast transactions; and
Have high standards for customer service

Your real estate agent should be able to assist you with every part of the process, from streamlining your options to settling on an offer price. Additionally, your agent should be able to give you the knowledge that you need to vet listings, evaluate pros and cons of specific properties, and guide you toward making the best choice according to your objectives and your budget.


FIND YOUR DREAM HOME WITH SIMPLY VEGAS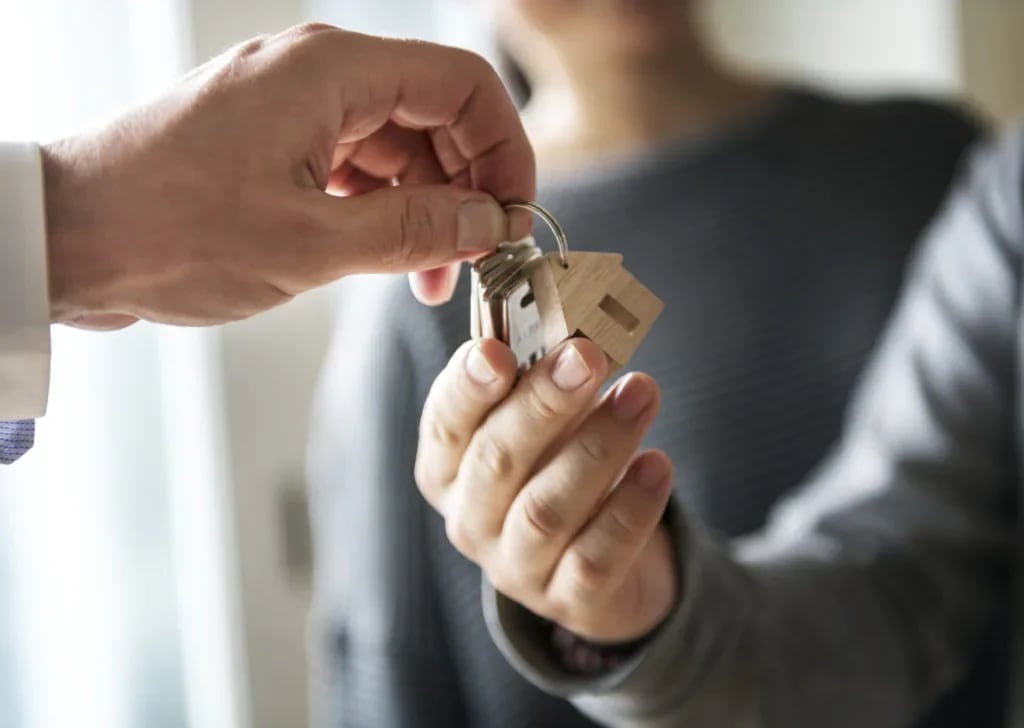 One of the top names in Las Vegas luxury real estate, Simply Vegas is your trusted real estate company for making the right investment in the Red Rock Country Club. The company is headed by one of the best real estate agent in Las Vegas, Gavin Ernstone, who has over 25 years of experience in selling luxury properties in the city. In 2019 alone, he recorded more than one hundred million dollars of closed saled, logged more than 500 million in transactions, and facilitated the successful processing of more than 2,500 transactions in real estate.

Whether you are intending to sell or buy a property, Gavin has the local knowledge necessary in helping you achieve your real estate investment goals. Specializing in the niche market of luxury real estate, he consistently sells multi-million dollar homes in the Red Rock Country Club, The Ridges, and MacDonald Highlands. He makes sure that each client receives the same level of personal service that he is known for in the industry.

Gavin personally guides clients towards successful results by mixing and matching your lifestyle and standard of living with the best condos, homes, and other properties in the luxury communities in Vegas. With his help, you are sure to find the perfect property in the perfect location with the perfect design and the perfect amenities for your goals.