As mentioned above, Del Webb originally planned and built Anthem Country Club. The houses that Del Webb built were designed with curved walls, niches, rotundas, and large overhangs.

When Pulte Homes Corporation acquired Del Webb for $800 million in 2001, the company streamlined the architecture for subsequent homes in Anthem Country Club.

Energy efficiency became the driving idea and the builders switched to a cleaner, more squared-off design, eliminating all basement options and preferring low-E vinyl clad windows, among other design changes. But whether they were built in the Del Webb era or the Pulte era, homes in Anthem Country Club are built on spacious lots. Custom home lots range from ⅓ acre to over an acre.

Most homes here typically sit on lots that are larger than the norm in Henderson. And since the washes running through the golf course and the properties were never built over, the community never lacks for open, natural, walkable spaces.

While there are different styles and sizes of homes in Anthem Country Club, all of them are nothing short of impressive. From single-family homes to custom residences, you'll find something for you in Anthem Country Club. Prices typically range from $500,000-plus for production-model homes and can go all the way up to the multi-millions, depending on the features of the property.

A good number of homes are single-story, maximizing the scenic views of the beautiful surroundings. It's communally agreed upon by homeowners to not allow tall houses so as not to block anyone's view and infringe on any adjacent property's privacy.

When it comes to architecture style there's a range, but all impeccably done. A Tuscan-style home sits beside a sleek Modern one. A Mission-style Revival home is flanked by an equally gorgeous Minimalist residence. These homes don't just offer good views; they are quite the view themselves.


Life in Anthem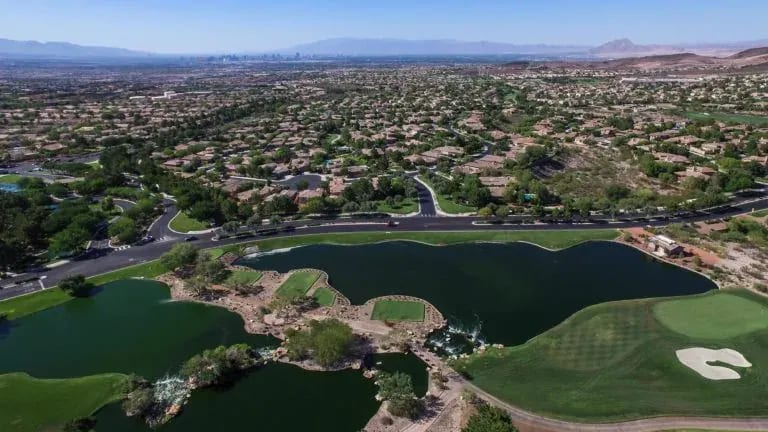 If peaceful walks along tree-lined streets with scenic nature views is what you enjoy, then Anthem Country Club is perfect for you. Getting in your steps with a light jog or a brisk run is a treat when you're in such beautiful surroundings. Walking the dog is a good way to take in the wonderful landscapes and possibly meet other dog-loving neighbors as well.

A balance has to be struck though between exclusivity and convenience. In order to retain the special appeal of Anthem Country Club, there are no commercial establishments within walking distance. If you want to shop for groceries, get some school supplies for the kids, or do any other errand, you'll have to take the car. Of course, for many, if not all residents, this is not a problem and this practice has allowed Anthem Country Club to preserve its idyllic charm

This is not to say that there is a shortage of retail opportunities, just that it is kept beyond the immediate housing of the residents. The nearest airport is McCarran. As for other public transportation, no public transportation passes through Anthem Country Club, something you'd expect from a luxury guard-gated community.

It should be noted that Henderson, is considered as having some of the lowest crime rates in Nevada and both violent crime and property crime are on the decrease. Safewise states that violent crime fell 12% between 2019 and 2021, while property crime fell about the same amount in the same time.


Schools
Anthem Country Club is surrounded by some of the top public elementary, middle, and high schools.

Elementary school.These 3 schools are among the 6 public elementary schools within the district that are rated B+ and higher:


Frank Lamping Elementary School (#28 in metro)
Elise Wolff Elementary School (#35 in metro)
Shirley & Bill Wallin Elementary School (#24 in metro)

Middle school.These 3 schools are among the 8 public middle schools in the area rated C and higher:


Brian and Teri Cram Middle School (#37 in metro)
Del Webb Middle School (#17 in metro)
Northwest Career & Technical Academy High School (#9 in metro)


High school.Anthem Country Club belongs to a district that has 7 A+ or A rated public high schools. These include:


Burk Horizon Sunset High School (#24 in metro)
Coronado High School (#7 in metro)
Liberty High School ( #28 in metro)


Anthem Country Club is also just an easy drive away from excellent private schools. These include Baby University NCA Bilingual for preschool, Merryhill Elementary School, and Southern Highlands Preparatory School.


Recreation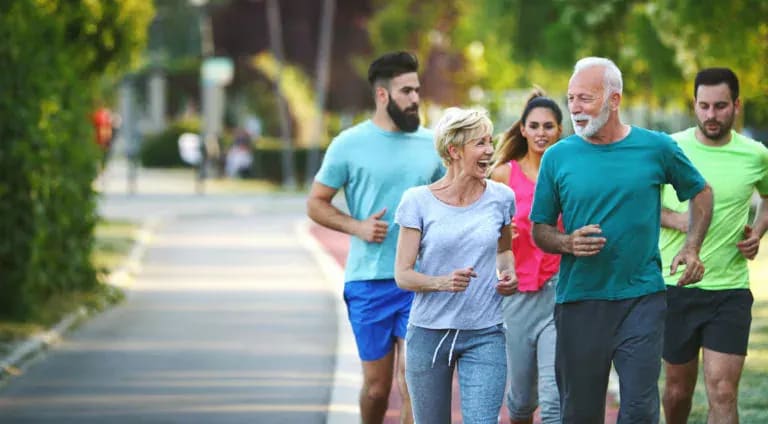 Anthem Country Club is built around its world-class championship golf course. This 18-hole course takes you through sparkling waterfalls, natural desert terrain, and scenic views of the nearby Las Vegas Strip and Black Mountains.

With five sets of tees, different ability golfers can find a hole that accommodates their level of play. The course offers varying levels of obstacles including 65 strategically-placed bunkers and 6 lakes. And being a private country club, its practice facility is 5-star.

What does 5 star mean?


All-grass driving range,
laser-measured distance markers,
a chipping green for practicing your short game,
a practice bunker to help you get out of one on the real course,
a practice putting green with a four foot elevation change that simulates the actual


And maybe best of all, all of your shots on the driving range point towards a scenic view of the Las Vegas Strip.

If golf is not the only thing you'd like to do, there are a lot of activities on offer at the Anthem Country Club for any member of your family. The country club has 6 tennis courts, a basketball court, and a sand volleyball court with corresponding coaches and programs you can sign up with for pro training or playing with other members of the community.

The 13,600-square feet Fitness Center is state-of-the-art. It has over 30 cardio machines ranging from elliptical bikes to treadmills. There's a complete array of strength training machines and free weights to aid you in your training program. If you don't have a program or you're not sure how to get started with your fitness journey, there are personal coaches you can hire and classes you can sign up for including yoga, group cycling, and boot camp. And while you're working out, you can safely leave small children over at the Tot Stop where there are lots of fun activities for kids to do while they wait.

The 25-meter lap lanes in the resort-style swimming pool are perfect for both exercise and leisure. There's a toddler's play area and wading pool for kids and the poolside Fountains Cafe for the adults. These facilities rival even some of the most luxurious hotels in Las Vegas, except here, you have access to them anytime.


Dining
Food in Anthem Country Club is served exclusively by the country club kitchen itself. Its varied menu offers a wide selection of cuisine that anyone in your group or family will enjoy. From the Breakfast Menu, to the Mixed Grille Lunch Menu, to the Snack Shack and Fitness Cafe Pool Menus, you'll never run out of good food choices. Of course, Anthem Country Club can also provide catering service for any special event you may want to hold.
If you're looking for more dining experiences, various restaurants can be found just a 5-min drive to the commercial center in Anthem, in the area straddled by Sunridge Heights Parkway and S Eastern Avenue. There's Belmont's American Eatery, Kneader's Bakery & Cafe, Tuscany Grill, and more. This is also the nearest area from Anthem Country Club where you can make runs for groceries, supplies, and other necessities.


A good time to buy
Everyone knows that across large parts of the country, it's a sellers market with demand outstripping supply and real estate prices soaring. Investment analysts like Norada predict that these trends will continue till at least the end of the year and possibly beyond. This may make some buyers hesitant to buy now and wait till supply begins to match demand in the hope of getting better prices. However, investment money is pouring in from other parts of the country with higher real estate prices as people look to enjoy better climes, housing and way of life.

There is a particularly strong interest in the luxury housing market which is set to increase continually which means that the best time to buy a luxury home in Nevada is sooner rather than later, preferable now. This strong increase in house pricing is only likely to continue as the pandemic abates and the country recovers economically.


Buy with confidence
There's simply nothing quite like living in Anthem Country Club. It'a pleasure living in one of the safest, most exclusive, and most luxurious guard-gated communities in the country. Idyllic, yet with a keen sense of living a healthy life, Anthem Country Club has created a community that enjoys luxury living whilst having lots of fun.

If you are interested to know more about living in Anthem Country Club or you have inquiries about specific homes in the community, don't hesitate to reach out to the Dream Homes Specialist, Gavin Ernstone.


FIND YOUR DREAM HOME WITH SIMPLY VEGAS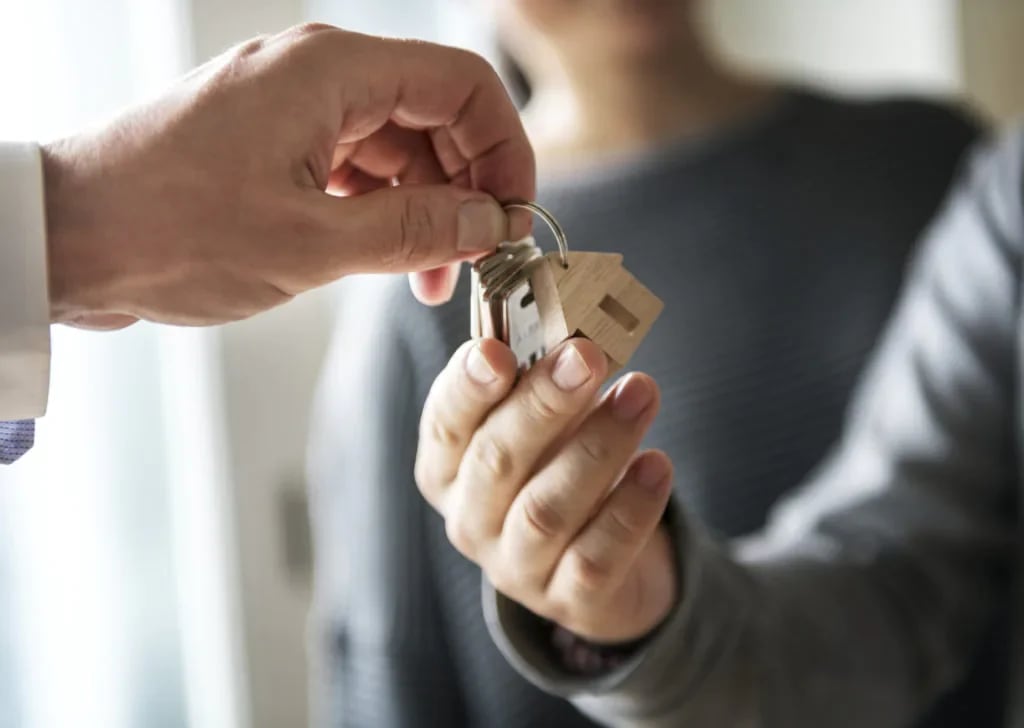 Gavin has over 25 years of luxury real estate experience in Las Vegas and has sold more homes over $2M, $3M, and $4M than any other real estate agent serving Nevada. More than anyone, Gavin understands that buying a home is a deeply personal and momentous experience for any individual or family. For Gavin, it's not just about buying a luxury home, it's about matching the right fine home for you and your lifestyle.|

Other luxury home neighborhoods you might also want to ask about are The Ridges, Southern Highlands, Macdonald Highlands, and Red Rock Country Club.

If you need a partner that attends to clients' needs personally, give Gavin a call: GAVIN ERNSTONE, THE DREAM HOMES SPECIALIST

The city of Henderson is highly appealing to home-buyers due to its resident-friendly amenities and close proximity to the general Las Vegas Metropolitan area. Over 200,000 people make their home in Henderson today, and a number of these individuals reside within the prestigious master-planned communities throughout the city.


ANTHEM COMMUNITY REAL ESTATE
Located at the heart of Henderson is an esteemed community known as Anthem. This master-planned community features Henderson's characteristic five-star amenities and some remarkable housing options. In fact, Anthem real estate represents some of the most sought after properties in the entire Las Vegas metro area.


Fast Facts – The Community of Anthem


Anthem is a master-planned community located in the popular suburban city, Henderson, and is located just 15 minutes from the famous Las Vegas strip.
Set on 4,755 acres and nestled high in the Black Mountains, Anthem offers residents unparalleled panoramic views and first-rate amenities.
The Anthem community is bordered by 48,000 beautiful acres of wildlife reserves, making it perfect for those who value wide, open wilderness and fresh mountain air.
Anthem is full of a number of convenient amenities, including full-size grocers, dry cleaners, post offices, pharmacies, banking centers, cafes, coffee shops, beauty salons, fitness centers and much more.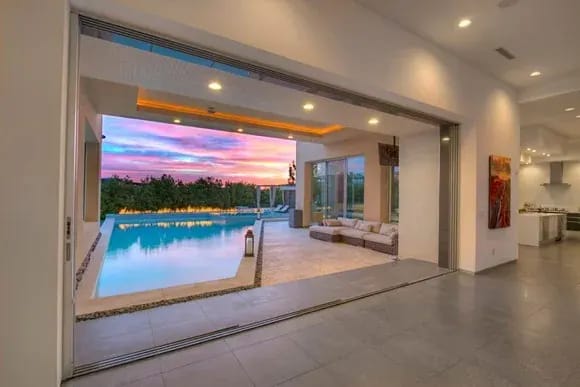 ANTHEM LUXURY HOMES
Within the perimeters of Anthem, you will find some of the most luxurious real estate options in all of Nevada. Anthem is largely considered to be a golf course community, featuring five courses, including a prominent par-72 championship golf course designed by Hale Irwin & Keith Foster. Likewise, the upscale homes here embody the ambiance and value one would expect from a country club setting. Many of Anthem's neighborhoods are designed around a resort-style theme. These master planned communities feature premium amenities, extensive landscaping and a variety of custom home designs. These dream homes truly transform imagination into reality through innovative features and unique details. Many Anthem luxury homes showcase intriguing architecture with distinctive colors and special touches that put these properties in a league of their own. When touring premier real estate for sale in Anthem, you can expect to find many high-end features like courtyards with built-in waterfalls, gourmet kitchens, marble flooring, wine cellars, personal gyms and much more.


COMMUNITIES AND NEIGHBORHOODS IN ANTHEM
There are a number of great reasons to consider investing in Anthem real estate. The community is located close to Las Vegas and offers plenty of amenities for families, couples, retirees and individuals alike. Within Anthem are 5 distinctive neighborhoods, which are outlined below.


Anthem Country Club
Anthem Country Club is a prestigious guard-gated community that is home to a variety of country clubs. Residents of this private golf neighborhood have access to renowned amenities, including a championship Hale Irwin golf course, resort-style pools, gourmet dining and much more. Homes here range in price from the mid $200k range to multimillion dollar estates. The community includes a mix of elegant tract homes and striking custom properties with stunning views of The Strip. At the heart of Anthem Country Club is the Hale Irwin – Keith Foster designed par-72 golf course. This 7,267-yard championship golf course meanders through the beautiful desert terrain and picturesque canyons, accentuated by immaculate landscaping, sparkling waterfalls and 6 lakes. The course features dramatic elevation changes that take advantage of sweeping panoramic views of the surrounding mountains. The course is accommodating to players of all abilities and is complemented by full practice facilities. The Country Club itself is simply spectacular, providing residents with a hub for socializing, working out and enjoying various other activities. It features a beautiful resort-style swimming pool, spa facilities, a high-end fitness center, a variety of fitness classes and a full tennis program. The Club also maintains a Social Calendar with monthly activities and events to encourage residents to get to know each other better. The homes in Anthem Country Club range from around 1,200 to well over 10,000 square feet. Stylish production homes are grouped into 4 collections here, and the custom estates sit behind a second set of gates. These custom homes offer some of the most breathtaking views of all Henderson real estate. There is plenty of open space in Anthem Country Club, which means many of the homes here sit on larger than average lots. This is truly a picturesque community. If you're looking for a high-end neighborhood that offers a quiet, serene setting, then you should definitely add Anthem Country Club to your list of places to consider.


Coventry at Anthem
Coventry at Anthem is a family-friendly community offering real estate that caters to a variety of lifestyles. This area is perfect for families and those who enjoy outdoor recreation. The community is centered around Harmony Park, which offers residents a multitude of recreational activities including; hiking, biking, frisbee golf, basketball and soccer. Another family-friendly feature of Coventry includes Sonatina playground, where children can partake in a number of fun activities. The playground features basketball courts, a roller hockey and skateboard park as well as baseball and softball fields. Coventry at Anthem offers adults plenty of enjoyable activities as well. For the golf enthusiast, Coventry is located within 5 minutes of 4 different courses. Health conscious individuals and nature lovers can head over to Anthem's East Trail for a nice stroll or some vigorous exercise while enjoying some inspiring views of the Las Vegas Valley. In addition to its fantastic neighborhood programs, Coventry at Anthem features an array of great real estate options. The community has a number of modern and classic homes developed across approximately 55 acres. The home designs here offer a variety of different floor plans that range from approximately 1,600 to over 4,500 square feet.


Anthem Highlands
This residential area was developed along the southwestern border of Anthem and sits in its own beautiful rolling canyon. New homes are still being built in this community which already offers a phenomenal selection of real estate. From cozy bungalow-style abodes to luxury homes that span over 5,000 square feet, those considering moving to Anthem Highlands have 35 different floor plans to choose from. Many of these floor plans have been customized with unique variations and features such as 3-car garages, casitas, game rooms and much more. This community is ideal for individuals at all life stages, and is designed to accommodate the needs of families of all sizes and lifestyles. Woven throughout the many enclaves of Anthem Highlands are beautifully landscaped parks and walking trails for residents to enjoy. There is a newer shopping center conveniently located adjacent to the Anthem Highlands entrance. This commercial marketplace includes a complete grocery store, several bank branches, a fitness studio, drugstore, nail salon, dry cleaners, Starbucks and a variety of eateries. Anthem Highlands includes both gated and non-gated enclaves housing a mix both single and two story properties. If you're looking for a quiet residential family neighborhood with a lot to offer, consider homes for sale in Anthem Highlands.


Sun City Anthem
This age 55+ retirement community is made up of approximately 10,000 homes that sit high in the southern foothills. Residents have access to luxurious clubhouse amenities and recreational facilities. State-of-the-art fitness centers, community programs and tons of leisurely activities are why Sun City was recently voted #1 in 55Places.com's list of '10 Most Luxurious Active Adult Communities in America. Located just a few miles from the famous Las Vegas Strip, Sun City offers its more than 12,500 residents the utmost in premier amenities, facilities and resources. The community has its own TV station and a monthly magazine with newsletter to keep residents up-to-date on the latest happenings and activities. This high-end retirement community offers outstanding quality of life with a plethora of special events and attractions, miles of trails, open spaces and high-quality facilities that include world-class shopping, fine dining and renowned resorts. The homes here feature a variety of floor plans and many of these properties are situated on golf courses within the community. If you're looking for the ideal luxury retirement community, look no further than Sun City in Anthem!


Solera
Solera is also an active adult retirement community that offers Anthem real estate priced a bit more modestly than the homes of Sun City. The neighborhood consists of around 2,000 houses alongside a community clubhouse, fitness centers, pools and tennis courts. Situated beside Sun City, Solera offers residents some fantastic views of the Las Vegas Valley and the Henderson Black Mountains. Though it is smaller than its neighboring Sun City, Solera offers its own impressive set of amenities and services. The 24,000 square-foot clubhouse in Solera offers a fully equipped, state-of-the-art fitness center alongside an indoor swimming pool. There are plenty of opportunities for socializing and relaxing in the clubhouse's lounge, and a catering kitchen for small-get-togethers. There is also an arts and crafts room for the creative types and those who enjoy exploring new hobbies. There is also an abundance of opportunities for outdoor fun in Solera. Four tennis courts, four bocce ball courts and an outdoor spa are just a few of the outdoor recreational amenities Solera residents enjoy. Real estate in Solera at Anthem includes both single-family and attached models. Single-family homes here come in 5 different floor plans featuring 2 to 3 bedrooms and 2 bathrooms, with an attached 2-car garage. If you're over the age of 55 and interested in pursuing an active lifestyle in a beautiful setting, then Solera at Anthem may be right for you.