Welcome to Southern Highlands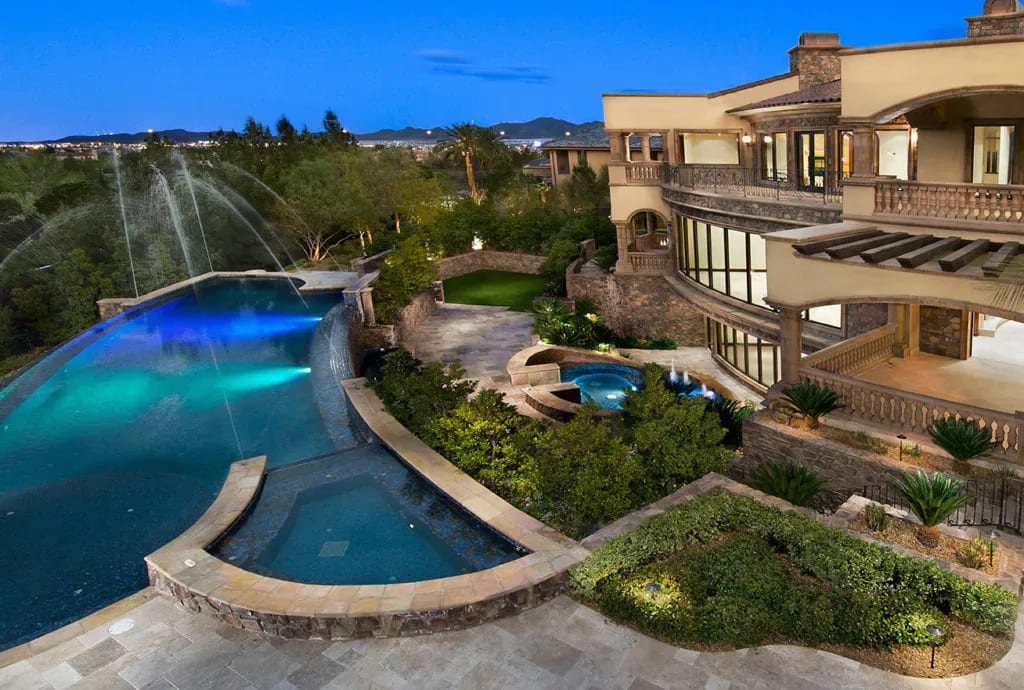 Developed by Olympia Companies, Southern Highlands traces its roots back in the 1990s and was then known as Olympic Highlands. The name was eventually changed to Southern Highlands with its centerpiece, the Southern Highlands Golf Club, opening before the turn of the century. Today, Southern Highlands is widely recognized as one of the best places to live in Las Vegas Valley and the entire state of Nevada. This massive master-planned community contains, aside from its own golf club, mixed-use spaces, neighborhood shopping and dining options, its own collection of top-performing schools, and seven green spaces scattered throughout.


HOMES FOR SALE IN SOUTHERN HIGHLANDS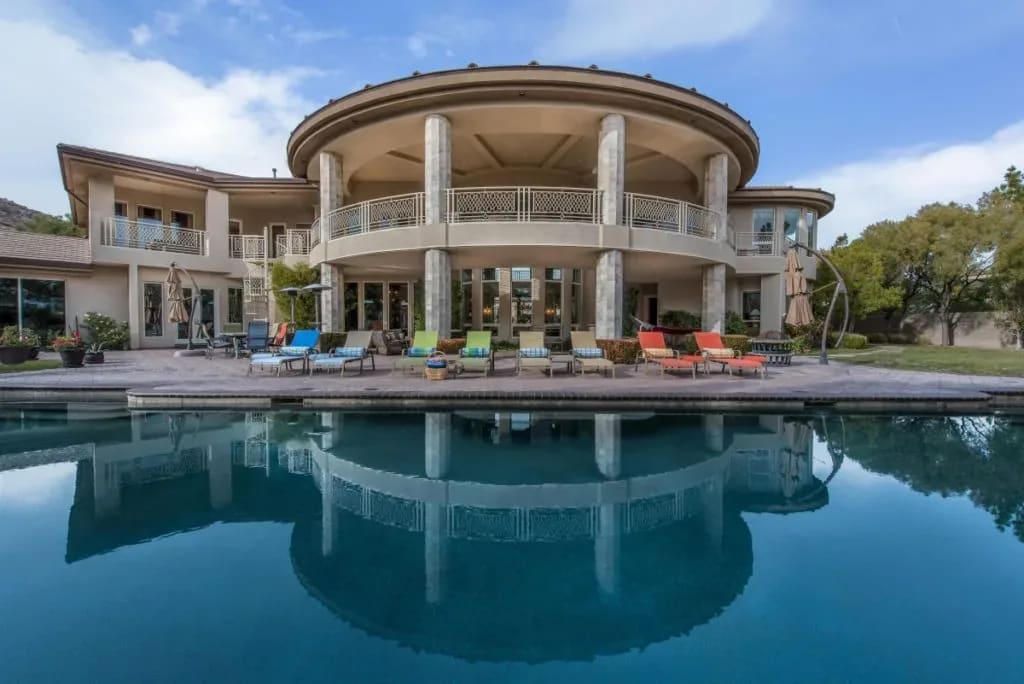 Home to over five custom neighborhoods, Southern Highlands has plenty to offer when it comes to excellent housing options near the Las Vegas Strip. The general theme of the community is inspired by the Tuscan countryside—you'll find plenty of homes with Mediterranean-style architecture throughout Southern Highlands.

On the subject of architecture, options at Southern Highlands are not limited. In addition to the quintessential Mediterranean residences of the community, Southern Highlands is also home to Victorian, contemporary, and ranch styles.

In total, Southern Highlands has over 350 custom luxury home sites. You have the freedom to choose the Nevada home builder you trust to make your Las Vegas luxury home a reality. You may also choose from any of Southern Highlands' new construction homes.


Neighborhoods at Southern Highlands
Estates at Southern Highlands
Estates at Southern Highlands offers over 60 custom home sites located near the emerald fairways of the Southern Highlands Golf Club. Lot sizes run anywhere between half an acre to more. This is the best place to be if you want to be close to the golf course or the heart of Southern Highlands.


Masters at Southern Highlands
Masters at Southern Highlands feature spacious single-family homes that offer a modern take on Mediterranean architecture. These residences were built by Lennar Homes, one of the most trusted home builders in the country.

Homes at Masters come with anywhere between 3,700 to 5,000 square feet of total living space. The Southern Highlands Golf Club is located a few minutes away, so is Interstate 15 and two schools. If you're a frequent flier, the McCarran International Airport is approximately 10 miles away from the neighborhood.


Foothills at Southern Highlands
Foothills at Southern Highlands is a neighborhood developed by Pacific Southwest Development. There are over 260 luxury homes located here, with sizes ranging from the mid-2,500s to 6,000 square feet. On average, homes at Foothills have three bedrooms, three bathrooms, and two- to three-car garages.


Tuscan Cliffs at Southern Highlands
If you're looking for a home with a more contemporary take on Tuscan architecture, consider Tuscan Cliffs. This neighborhood near the center of Southern Highlands features custom homes designed and built by two trusted names in home construction: Blue Heron and William Lyons Homes.

Tuscan Cliffs at Southern Highlands have a limited number of home sites available (less than 40), making the homes here rarer than other housing options in the neighborhood.


Royal Highlands at Southern Highlands
Royal Highlands is one of the larger subdivisions in Southern Highlands, with nearly 700 homes built between 2003 and 2008. These properties widely vary in size and come in different floor plans and configurations designed by American West, one of the largest home builders in Nevada.

The typical home in Royal Highlands features three bedrooms, two-and-a-half bathrooms, two- to three-car garages, and luxury features like swimming pools, granite countertops, and plenty of outdoor living space.


Olympia Ridge
Olympia Ridge is a gated neighborhood of single- and two-storey residences outfitted with premium features like stainless steel appliances, high ceilings, oversized sliding windows for seamless indoor-outdoor living, and raised cabinetry.

Home sizes at Olympia Ridge range from 4,100 square feet to over 6,000 square feet. Most houses in the neighborhood feature four to six bedrooms, perfect for growing families or anyone who wants as much personal space as possible.


Augusta Canyon
Located on one of the hillsides that surround the Southern Highlands Golf Club is Augusta Canyon, a double-gated community where you can find custom estate lots that range from half an acre to three-fourths an acre.

Since it's perched on higher ground than the rest of Southern Highlands, all lots and luxury properties in Augusta Canyon offer wonderful views of the Las Vegas Valley.

Ready to invest in Southern Highlands? Your next task is getting the best real estate company that can help you find the right properties in Las Vegas. Get in touch with Gavin Ernstone to explore your real estate options in Southern Highlands.


LIVING IN SOUTHERN HIGHLANDS, NV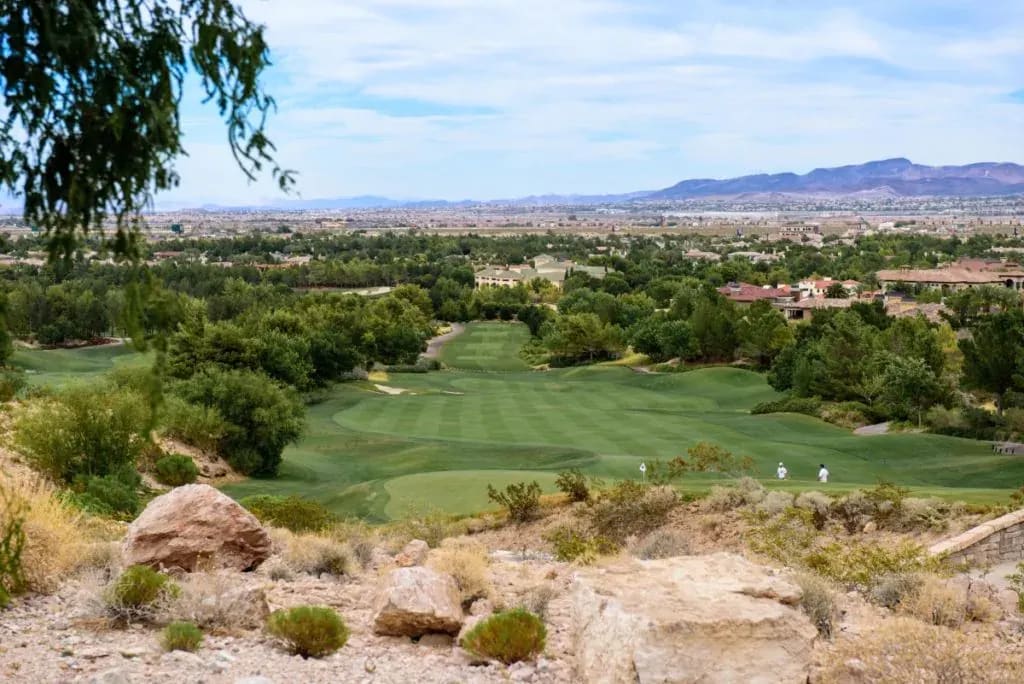 There are a plethora of benefits to living in one of the best master-planned golf communities in the country.


Enjoy a renowned golf course
At the Southern High lands Golf Club, members can enjoy the world-class golf course co-designed by famed architects Robert Trent Jones, Jr. and his father, Robert Trent Jones, Sr.

Ranked by Golf week as one of the top 50 residential courses in the U.S and one of Golf Digest's Second 100 Greatest Courses, Southern Highland's golf course enchants with its kinetic water features and challenges players of all skill levels with its bunkers and varying elevations. Make sure to enjoy the 11th fairway, where you can get a great view of the Las Vegas Strip.


Unwind at the gym or spa
The Southern Highlands Golf Club isn't only for golf enthusiasts. The 13,000-square feet clubhouse has a long list of premium features, including a 4,000-square feet fitness center. Work with a certified trainer to reach your fitness goals or sign up for any of the center's group classes. After sweating it out at the gym or in the club's tennis courts, sweat out those toxins at the spa's steam room or relax poolside in one of the club's cabanas.

The clubhouse at the Southern Highlands Golf Club also features a 25-meter lap pool, a separate children's pool, lighted tennis courts, and a playground.


Play, relax, and socialize at the park
Throughout Southern Highlands are seven parks that offer plenty of features and amenities to enhance the quality of your life in the community.


Olympia Sports Park is primarily for sports activities with a basketball court and lighted fields. Spectators and casual visitors can hang out in any of the shaded picnic areas or burn some calories in one of the workout stations located around the park. There are water features and play structures for kids and a hilltop trail you can take. The park is open from 6:00 AM through 11:00 PM.
Inzalaco Park is a cozy green space with a playground and a gazebo with a sitting area. The park also has restroom facilities and enough parking space to accommodate at least 30 vehicles. For quick walks or runs, there's a walking path that winds through the park.
Goett Park has everything: sports facilities, play structures for kids, a walking path that overlooks the fairways of the Southern Highlands Golf Club, a gazebo with a sitting area, and a seasonal water/splash park where residents can cool off during hot Las Vegas summers. The park is open from 6:00 AM through 9:00 PM.
Somerset Hills Park covers over 6.30 acres of Southern Highlands parkland and features a walking path, several play equipment, a park gazebo with some seating, tennis courts, barbecue facilities, and a water spray park that is open from May through September.
Dr. Harry B. Johnson Rose Park, often referred to as simply Rose Park, is nearly 3 acres of serene beauty located in the heart of Southern Highlands. Rose Park's main draw is its rose garden with benches erected around the area so you can take in the quiet and the bird sounds. The park also has a seasonal splash pad, a covered play structure, and romantic gazebos. It is open from 6:00 AM till 9:00 PM.
Jimmy Pettyjohn Jr. Park is a compact park that features a children's playground, a gazebo, and restrooms. It's fully gated and is one of Southern Highlands' dog-friendly parks.
Stonewater Park is one of the largest green spaces in Southern Highlands, covering 7 acres of parkland. Fully gated and dog-friendly, Stonewater Park has walking paths and plenty of open space where you can run, set up a picnic, and enjoy the rolling landscape. Its centerpiece is an all-grass amphitheater.


Cheer for the school team
Southern Highlands is part of the Clark County School District, one of the top performing school districts in Nevada and part of Niche.com's top 10 best school districts for athletes in the state. Parents can take their children to any of these schools in the area:


Celebrate at a local restaurant
After a big school game or if you just feel like it, celebrate at any of the homegrown restaurants at the Southern Highlands Marketplace or Fire Station Plaza. Enjoy the baby back ribs and soft-serve watermelon ice cream at Mama Bird Southern Kitchen or treat the kids to Rise and Shine's sweet cup o' bread. Stop by Zest Bistro & Bar or Spaghetty Western for great pizza, then enjoy the brews and pastries at Perk Up Coffee Shop. While you're there, you can pick up the dry cleaning or fill up the tank before heading home.


Get to know the neighbors
Every Sunday, you can buy local produce and support small businesses at the Southern Highlands Farmers Market. Find local brands such as Hammons Honey and Doty's Original handcrafted jewelry while enjoying a cup of artisanal coffee by Café do Paraiso. If you miss out on the market, you can still meet the neighbours at the annual yard sale or strike up a conversation when you see them at movie night at the park, stargazing night, or at the Memorial Day Celebration.


GETTING AROUND LAS VEGAS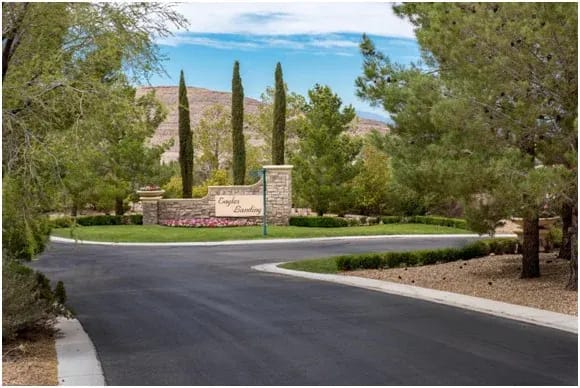 Managed by the Regional Transportation Commission of Southern Nevada (RTC), mass transit in the Southern Highlands area is highly accessible with 39 bus routes—including routes that go through residential areas. The RTC also manages traffic and roadways in Southern Nevada. Whether you are driving or commuting, you can easily run errands in and beyond Southern Highlands using the following services:


RideRTC–Download RTC's official mobile app to buy transit passes and plan your route whether you are headed to McCarran International Airport or taking a friend to Downtown Las Vegas. RTC has also partnered with Uber, Lyft, Waze, and Transit to help you buy passes and monitor arrivals and departures.
Parkand Ride–If you do have a car and want to save on gas, you can enjoy any of Southern Nevada's six Park and Ride facilities. Going out of town for a week? Park at the South Strip Transit Terminal, located near McCarran, and drive home after your flight back.
Interstate 15–Southern Highland residents can easily hop on Interstate 15 and drive to California and beyond. I-15 is also on the way to more improvements through the Tropicana Project.



There is a myriad of simply stunning luxury homes in Southern Highlands Las Vegas. From gorgeous Mediterranean-style mansions to sleek modular homes to classically Victorian designs, this pristine community has something to fit your individual tastes, lifestyle, and needs. Southern Highlands is a master-planned community with seven different neighborhoods and over 350 luxury custom estates. There are three guard-gated entrances offering residents unparalleled security and peace of mind.

This premier community offers an ideal setting for families of all ages and lifestyles. With plenty of open spaces and recreational facilities, including tennis courts and ball fields, there's always something to do with the kids or pets. Much of the community is connected by an extensive multi-use trail system, making it easy for runners, hikers, bikers and casual walkers to stay on the move.

There is plenty of shopping in Southern Highlands, as well as dining, and all the amenities you would expect in a luxury community, including a fire station and more. Luxury and tradition come together at the exclusive Spa Southern Highlands and the Southern Highlands Golf Club, both ranked among the best in the country. Residents can play some golf at the private club and then get pampered in style at the spa.

Southern Highlands also boasts some outstanding schools, both public and private. Some are already open, while others are currently under construction. There are plenty of entertainment events in the community throughout the year and indoor and outdoor activities for you and the whole family to enjoy. Additionally, Cox Las Vegas is proud to partner with Southern Highlands, giving residents access to an array of fantastic digital services.


Southern Highlands Las Vegas Luxury Real Estate
If you're considering calling this fantastic community home, there are a variety of Southern Highlands homes for sale to choose from. Whether you're looking for something chic and stylish to entertain guests or more of a private haven to relax and unwind in at the end of the day, you'll find it here in Southern Highlands.


If you're buying or selling a luxury home in Southern Highlands, Gavin is your local expert and knowledgeable guide to navigating the intricacies of a multi-million dollar real estate transaction. His responsiveness and professionalism is unparalleled and his insider's edge is essential in the competitive luxury housing market. Call (702) 523-3677 today to get started!